Marmaris Turkey Holidays can be described in three words, relaxing, family-friendly and sun-kissed. If you are planning a visit to Marmaris Turkey, you must not miss these 9 adventurous things to do in Marmaris for your best experience. I have written about the 7 best Turkey holiday destinations, the best family holiday to Turkey, and the thermal pools of Pamukkale it seem like I can't get enough of holidays to Turkey.
Rightly so, Turkey provides one of the best affordable luxury travel experiences. From its vast historical ruins scattered across different destinations to its turquoise blue coastline stretching hundreds of miles to its deep involvement in the spread of early Christianity and natural sites, Turkey is fascinating!
This post focuses on Marmaris Turkey Holidays.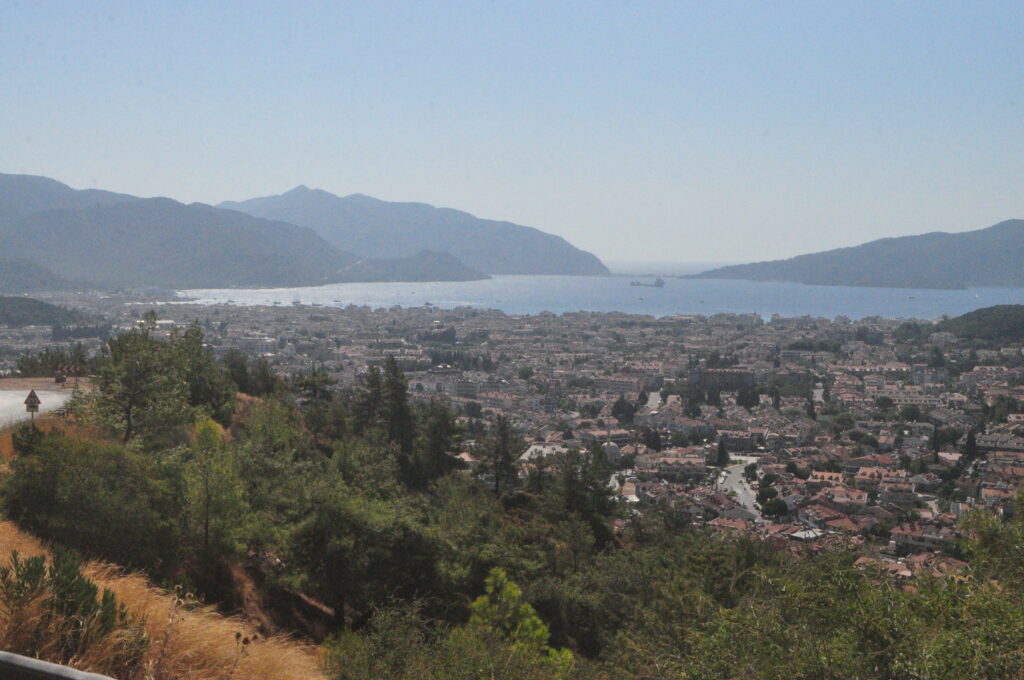 9 Adventurous Things to do in Marmaris Turkey Holidays
Marmaris is the ideal location for adventurous travellers. If you are looking to soak up in a mud bath or swim with nesting turtles or jump on buggy safari, you will feel right at home in Marmaris. Check out the 9 adventurous things to do in Marmaris that will make your holiday go from drag to fabulous.
Hit the Beach
Haggle at Grand Bazaar
Go on a Jeep Safari
Go Chase Waterfalls at Turgut Waterfalls
Walk like Jesus on Jesus Beach
Discover the secrets of the Phosphorus Cave on a Boat Trip
Make it fun on a buggy Safari
Get pampered at a Turkish Hamman
Visit Historical Sites on Day visits
1. Hit the Beach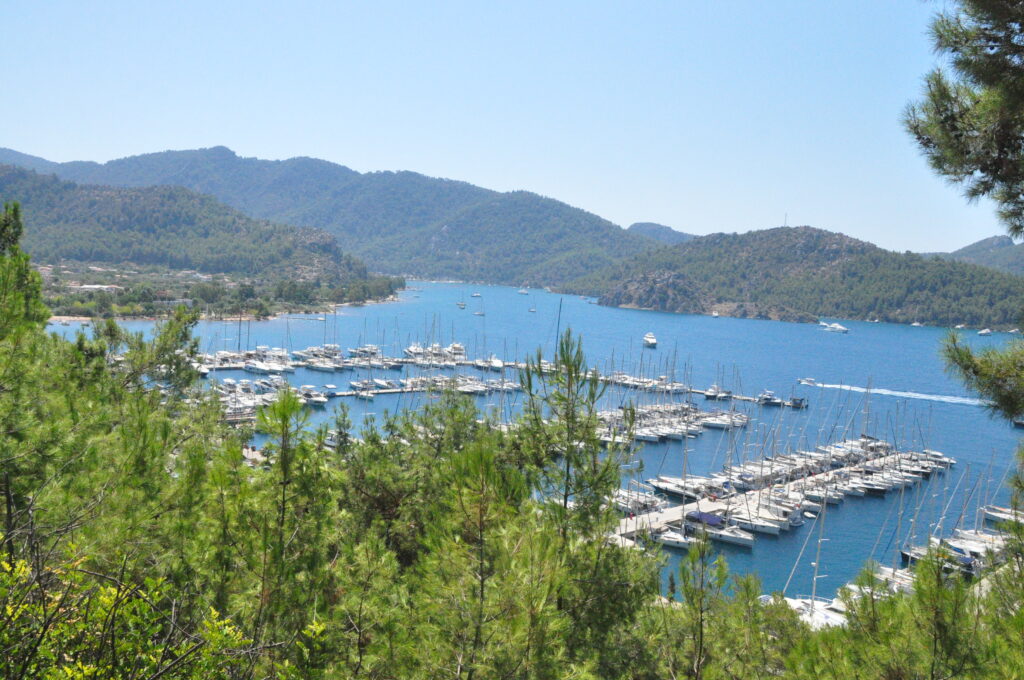 You can't go wrong with exploring the beaches in Marmaris with the number of beaches on offer. The crystal clear, lush sandy beaches have facilities that will cement your
Here are my top 5 beaches to visit for your best Marmaris Turkey Holidays.
#1. Marmaris Downtown Beach
Marmaris Downtown beach is your go-to beach if you are staying at any of the beach hotels that lie the promenade of this beach. The scenery is perfect and you will enjoy a variety of water sports adventures here such as Jet Ski, Paragliding, banana ride, private boat hire, flyboarding and speed boat. If you are looking to explore your adventurous side, this is the beach to visit. You can also enjoy a quiet time with a book and swim until 9 pm here.
#2. Cleopatra Beach
Cleopatra beach is just 16 km from central Marmaris and a must-see for history chasers. It is believed the Queen of Egypt visited this beach hundred of years ago during her visit to Turkey. If you are not interested in history, Cleopatra's beach is still worth a visit. The sand is the silkiest golden brown sand you will ever come across and it is located at Cleopatra's Island also known as Sedir Island.
#3. Icmeler Beach
Icmeler Beach is the beach to go to if you are looking for some peace and quiet on your best Marmaris Turkey Holiday. Icmeler Beach has a Blue Flag and it is cleaned every night so you are sure to get a clean beach whenever you visit. The scenery here is amazing and you can get lost in a book while watching the world go past.
#4. Turtle Beach (Iztuzu Beach)
At Turtle beach, you will see a rare species of nesting loggerhead marine turtles. You can only get to Turtle beach through a boat, you can either get a private boat hire to take you to Turtle Beach or go for a boat cruise, Turtle Beach is one of the stops they make. This is a protected area and the large population of turtles swim freely in the crystal clear waters.
#5. Jesus Beach
Although you will encounter crowds walking on water as Jesus did, you will enjoy your visit to Jesus Beach. It is a fascinating place to relax and glare at the amazing views around you.
2. Haggle at the Grand Bazaar Marmaris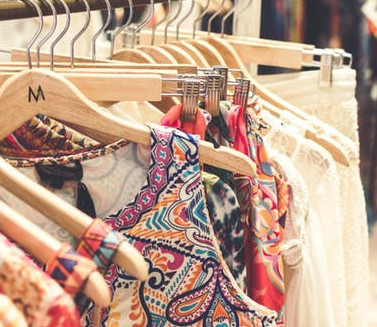 The Grand Bazaar Marmaris popularly known as Carsi Market is the shopping haven for you if you want to grab a bargain in clothing for your growing young ones. It is located in central Marmaris close to Marmaris Castle and you can buy all sorts of products here including Turkish carpets, mosaic lanterns, Turkish clothes, leather jackets, shoes, bags and watches.
Haggle your hearts out here. Top tip: always pay half or even better of the price you are told first.
3. Go on a Jeep Safari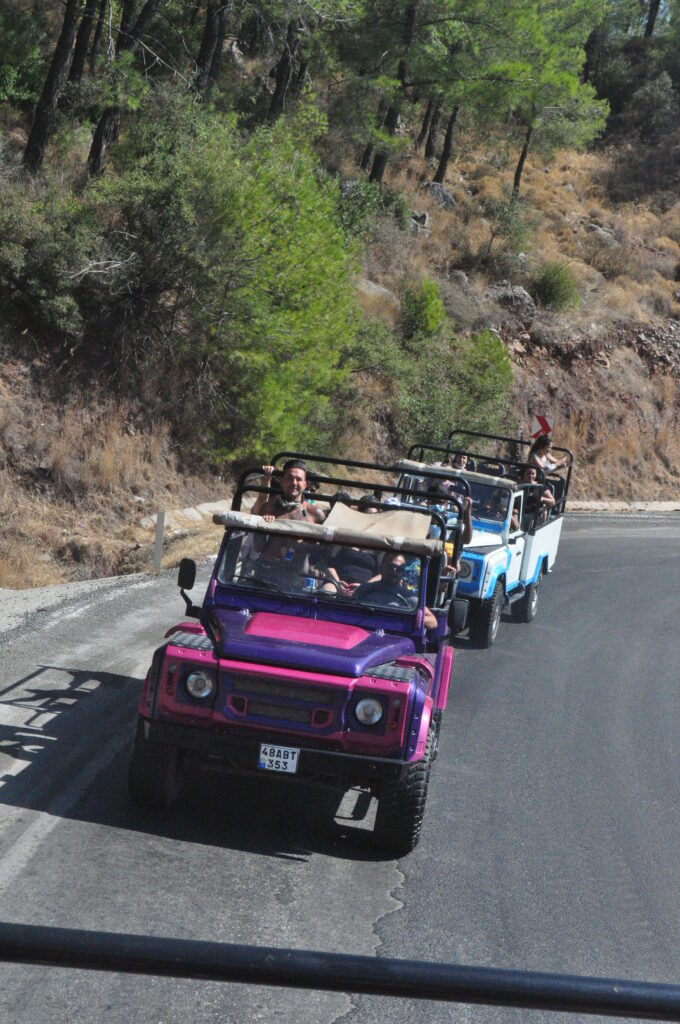 You want to cherish the memories from your best Marmaris Turkey holidays and there is no better way than to go on a Jeep Safari. This jeep safari is like no other, first, you are picked up from your hotel or the apartment you are staying at. You are taken to the Jeep Safari park where you are briefed about the activities for the day.
Then you are given a water gun for your first activity which is ……. you guessed it, water fight. This activity is an ice breaker which enables you to work as a team with others on your jeep to achieve success. You will need to nominate someone to refill the water in your water gun as well as someone to shield the children on board who might be too little to enjoy the ride.
The Jeep Safari in Marmaris is safe and driven by experienced drivers. The Jeep Safari activity starts at 9 am and ends at 4 pm.
4. Admire the scenery at Turgut Waterfall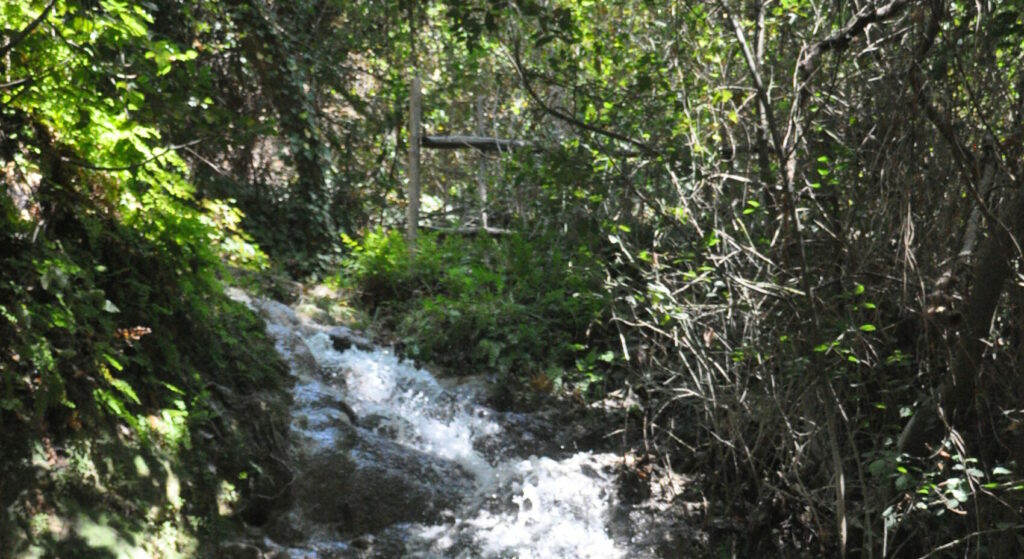 Schedule a visit to Turgut Village located in the South of Orhaniye, just about 35 km from Marmaris. Turgut Waterfall is a small waterfall when compared to Duden Waterfall in Antalya however it is a quiet waterfall where you can spend some time chilling on a hot summer day in its ice-cold water. Adventure seekers will love to dive into the pool beneath the waterfall and it makes up for a lovely day out exploring the surroundings of Turgut Village. The difficulty climbing up the waterfall is moderate but you must take care on the slippery surface and avoid falling.
5. Walk like Jesus on Jesus Beach


This is one of the region's most popular natural attraction. Many people visit Jesus Beach to walk on the sea that is just about 600 metres in length. Jesus Beach is known locally as Kizkumu Beach is an outstanding beach to visit. The water is salty and walking the length of Jesus Beach will take you about 30 to 45 minutes. There are pebbles in the sea and this makes it more challenging to walk barefooted. Jesus Beach is about 35 km away from central Marmaris and you can get a taxi, go on a jeep safari or hire a car to get here.
6. Get on a boat trip
The boat trip in Marmaris is one of the best boat trips I have ever encountered in the Mediterranean region of Europe. The boat trip in Marmaris explores the Aegean waters. The boat is docked at Tepe and explores different destinations in Mugla. First, there is Dolphin Island which is a region that belongs to the Turkish Navy and fishing is forbidden here. You will see the Dolphins in their natural habitat doing their thing. Then you will stop at Phosphorus Cave. You will be told your dreams will come true if you toss a coin into the Phosphorus Cave on your boat trip in Marmaris. Along the boat trip in Marmaris, you will see the Lycian Tombs of the Kings of Kaunos and learn about how the rich kings were taken up the mountains to be buried and how their tombs were raided for gold later.
After this, you will have a mud bath. This was the highlight of the entire boat trip in Marmaris. The mud is believed to have healing powers and the ability to make you look younger by five years. You will fully immerse yourself by rubbing mud all other your body and sitting out in the hot sun to allow the mud to dry out on your skin.  Once the mud dries out, there are dedicated facilities to wash off the mud. You will instantly feel the smoothness on your skin. You can also go for a swim in the thermal pool at the mud baths.
7. Go on a buggy Safari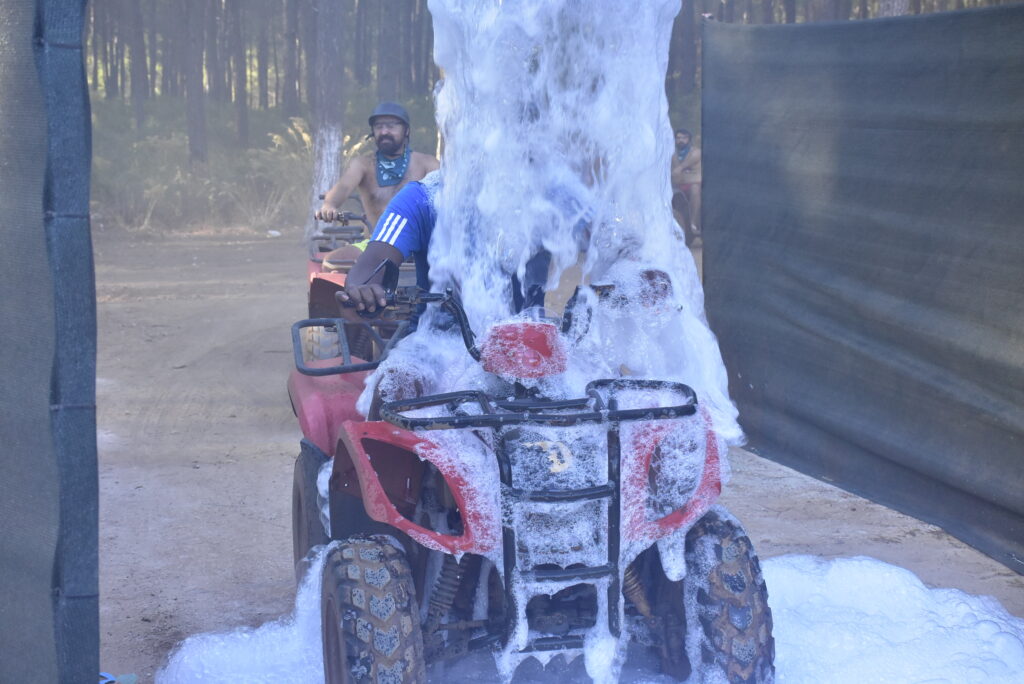 Schedule in an adrenaline-pumping day on the quad bikes. The quad bike is a fun way to get dirty while riding through the forests of Marmaris. The course is fairly challenging with breathtaking views. Enjoy the landscapes and beautiful sight that quad bike tour has to offer and feel at peace with nature.
8. Get Pampered at a Turkish Bath
Can you visit Turkey without having a Turkish Bath?