Top 5 affordable luxury destinations for families in 2021
This post explains the top 5 affordable luxury destinations for families to visit during school holidays because school holidays in the UK are a mixed bag of emotions and parents around the country worry about school holidays, especially because they seem to be frequent. Straight after a lovely two weeks of Christmas holidays, they throw you another week for February half-term, and just after that, there are another two weeks for Easter holidays and as you are gearing up for some time for yourself, you have the May half-term holidays and then the six weeks off for the Summer holidays. The options are to book a luxurious getaway where you can recharge during these school holidays. There are five luxurious destinations for families that will take the pressure off and ease you through your relaxing time.
The secret to a great and relaxing getaway with kids is what the hotel and destination have to offer. The last thing you want is to worry about preparing meals or keeping the kids entertained. With an array of hotels that promise fantastic kids' clubs and all-inclusive services, it can get difficult to determine which destinations truly offer value for money and meet their promise of professional services and family-friendly activities.  This guide provides 5 top luxurious destinations for families with information on how to get there, the best school holiday to visit, where to stay, and a 7-day kid-friendly itinerary for a stress-free holiday.
Top 5 affordable luxury destinations for families
Portugal
Top 5 affordable luxury destinations for families #1. Dubai
How to get to Dubai
Several flights ply the UK to Dubai routes. Although there are direct flights and connecting flights, when travelling with children, direct flights are the best option because they provide less time on the plane with disgruntled children. In addition, there are fewer chances of having missing baggage and a low chance of missing connecting flights, especially with high demand children. 
There are two popular direct flights from the UK to Dubai.  British Airways and Emirates. British Airways takes about 7 hours, and 15 minutes and Emirates offers a direct flight of about 6 hours, and 55 minutes.
With
Avios
credit, you can get a free or low-cost flight ticket with British Airways because they offer a frequent flyer program, where you earn more
Avios
points and redeem them for your flights.
Avios
is a reward system designed for frequent travellers of British Airways and Iberia. you can collect them from qualifying partners like rental cars with Avis, where you get three points per £1, Tesco Shopping and petrol also offer the collection of
Avios
. Partner hotels like Hyatt, Marriott, Langham, Shangri-La, Best Western, and Mandarin Oriental offers
Avios
points.
What you need for your travel to Dubai
Passport – International Passport with at least six months validity to enter Dubai
Visa – there
is
no advanced visa arrangement required for UK passport holders. They stamp passports with a 30-day visit Visa-free.
The best school holiday period to visit Dubai
Dubai is best experienced in Dubai's Wintertime, which is from October to March. Therefore, Visit Dubai during the October half-term, the December school holidays, or the February half-term holiday. The most favourable time to visit is the December school holiday time because it offers a longer period if you wish to combine a visit to Dubai with a visit to Abu Dhabi and Ras Al Khaimah.
Top Dubai Hotels with Creche Services and Kid's Club
There are several fantastic hotels in Dubai with a professional kid's club service. Some hotels provide creche services for children from a month to 15 years. 
The Burj Al Arab Jumeirah has a Kids club located on the 18th floor of Burj Al Arab Jumeirah.
It offers:
Places for children aged 3 and above.
A spacious playroom with soft toys, books, and creative activities.
Complimentary access to Madinat Jumeirah Kids Club.
Madinat Jumeriah Kids Club is sub-divided into different sections.
Sinbad's Kids Club – an aquatic wonderland with play areas and pools for different planned activities.
Visit Wild Wadi Water park  – a fun must-visit water park with over 30 rides and attractions.
Kids at Al Naseem – located on the ground floor, where fun activities take place.
Medinat Jumeriah offers a structured timetable program that will meet the needs of all children.
The activities include:
Yoga for Kids
Abra Tours
Baking and Pastry Class
Football Billards
Gardening for kids
Junior lifeguard program at Al Qasr swimming pool
Cinema night
Arabic theme kid dinner
Chinese theme kid dinner
Italian Theme kid dinner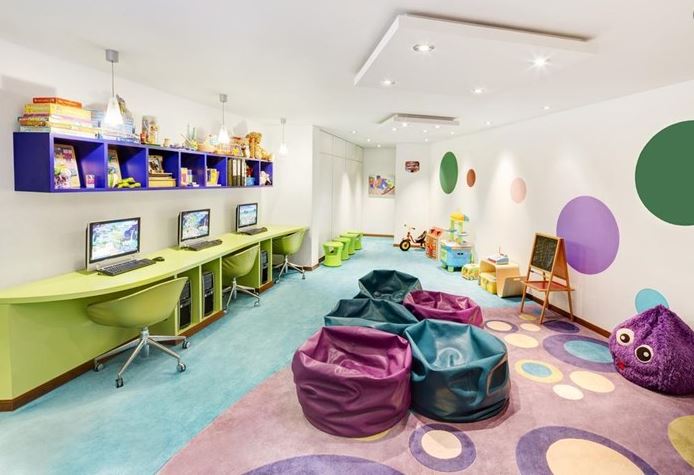 2. Atlantis the Palm, Dubai
Staying at Atlantis the Palm, Dubai comes with a complimentary visit to Aqua venture Water park but you can also enjoy a relaxing time by using the kids club at Atlantis the Palm, Dubai. The kids club offers top services for children aged 3 to 12 years and children aged 13 to 17 years in a dedicated space called The Zone. You can rest assured that your children will be well looked after because of the range of services on offer. 
The kids club activities are divided into the morning, afternoon, and evening sessions. There is a detailed timetable for children aged 3 – 7 years old and another for children aged 8 to 12 years old. They show 5 legends which are the activities the children will be doing at different sessions. 
Legend 1: Explore nature activities
Trip to The Lost Chamber Aquarium
Sandcastle building on the beach
Beach games on the private beach
Little pirate adventure
Beach football and volleyball
Legend 2: Fitness and Movement activities
Basic fitness
Ball-handling skills
circuit training
balance and coordination skills
Junior Yoga
Jumping training 
Legend 3: Arts and Crafts activities
Nature arts and crafts
Drawing 
Necklace making
Card creation
Newspaper craft
Legend 4: Active Play activities
Mini football
Dodge ball
Basketball
Indoor football
Circuit game
Tag tall challenge
Cross the river challenge
Lifesize tic-tac toe.
Legend 5: Mindfulness
Kids-friendly 7 day itinerary for a school holiday to Dubai.
These 7 days kids-friendly itinerary is a guide to enjoying the best of what Dubai has to offer. Dubai is great for everyone. From enjoying the breathtaking architecture and changing landscapes to massive shopping malls and impressive souks. You will thoroughly enjoy Dubai because they are things to see and do for every member of the family. Read my post on the top ten things to do in Dubai and my post on Dubai with kids for a comprehensive guide to the things to do in Dubai.
Suggested 7 days itinerary for Dubai
Day 1: Recover from the Jet lag – Dubai is four hours ahead of the UK. Stay at the hotel and enjoy the complimentary access to onsite water parks.
Day 2: Visit old Dubai, the Museum, and the gold souk.
Day 3: Go on a Desert Tour.
Day 4: Visit Dubai Parks and Resorts – Legoland, Bollywood, and Motiongate.
Day 5: Visit Dubai Miracle Garden and Global Village.
Day 6: Visit Dubai Frame, Burj Khalifa, and Dubai shopping Mall.
Day 7: Prepare to return, and relax in the hotel ahead of flights.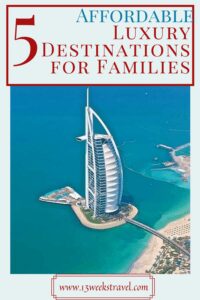 [lwptoc]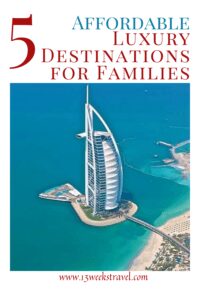 Top 5 affordable luxury destinations for families #2. Greece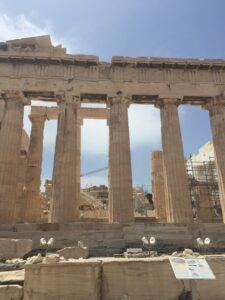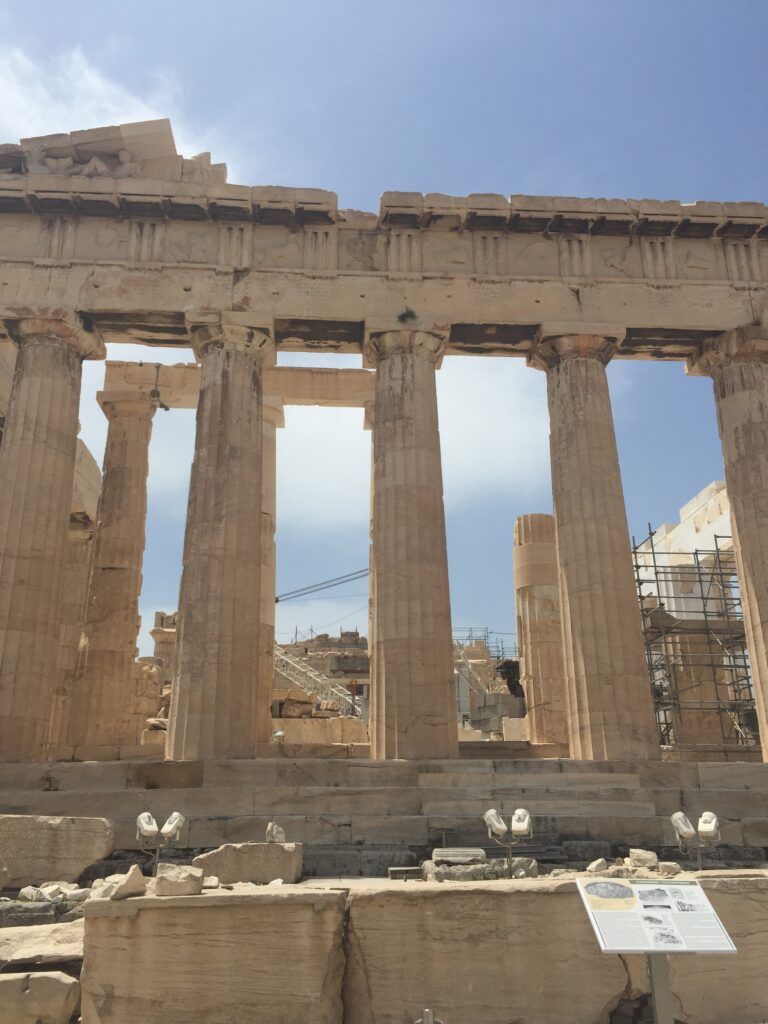 Where: Athens, Greece.
Hotel: King George, a Luxury Collection Hotel
When: May half-term school holidays
How much: £350 per person
Why: What's not to love about the historic capital of Europe? Every corner you look at, breathe some sort of history due to the various conquerors and occupants of the country.
My highlights are:
1. Acropolis – There are various things to see around Acropolis including the temple of Olympian Zeus, Hadrian Arch, the sacred rock of Acropolis, Parthenon temple, and Athena temple. I mean, get ready to be overwhelmed with the reality of walking in history.
2. Downtown – one of my favourite attractions here is the Panathenaikon stadium (which births the history of the Olympic games); the presidential mansion and the national garden.
3. Greek Islands
Although it's best to visit the Greek islands as an independent travel destination mainly because of the time you might want to dedicate to exploring each of them. Through a ferry, you can easily visit beautiful islands that are close by. Aegean was one of such islands. It was a refreshing small island for me to explore and ride my rented quad bike around the beach while gazing endlessly into the amazing scenery it offered.
Find out more about Greece with my post on All Inclusive Holidays Greece.
Top 5 affordable luxury destinations for families #3. Cyprus
Where: Limassol Cyprus
Hotel: Amathus Beach Hotel, Limassol
When: October half-term school holidays
How much: £195 per person
Why: Limassol is a charming and cosmopolitan city in Cyprus, popularly known for its cosmetic and fertility clinics. Limassol had seen lots of recent development recently especially the breathtaking waterfront development – Limassol Marine. Limassol Marine has a calm and lovely atmosphere designed with tourists in mind. You can enjoy an evening meal with a variety of local and international cuisines; walk through stylish shops that ooze of luxury; engage in water sports activities or just lazed around on super-rich yachts on display. You could also visit the old port which is full of history if that's your thing.
Find out more about Cyprus with my post on All Inclusive Holidays Cyprus.
Top 5 affordable luxury destinations for families#4. Turkey
Where: Antalya, Turkey
Hotel: Concorde de Luxe Resort, Lara, Antalya
When: February half term school holiday
How much: £175 per person
Why: Antalya is filled with fascinating history such as the ruins of Apollo's temple which once sat 15,000 people and Hadrian's gate. The influence of the Roman Empire on this part of Turkey is worth exploring. It is also the Eastern gateway to the Turquoise Coast. The modern residential buildings in Antalya are extraordinary and eco-friendly. I discovered that most of the houses have solar panels. There are a lot of things to do in Antalya but my favourites were riding the cable car, quad biking in the mountains, watching the waterfalls, and having a Turkish bath. You must have a Turkish bath in Turkey, right?
Read my comprehensive post on the best family holidays to Turkey.
Top 5 affordable luxury destinations for families #5. Portugal
Where: Algarve, Portugal
Hotel: Conrad Algarve.
When: April Easter school holidays
How much: £105 per person
Why: The words that come to mind when I think of Algarve is stunning, beautiful, calm, and laidback.
The kindness showed to us by the locals, when you ask questions was just amazing.
My highlight was visiting Zoomarina. Zoomarina is an educational and aquatic theme park. It offers adrenaline-pumping amusement park rides for adventurous fun-seekers. A Sand beach was calm with low traffic when we visited in April. A beautiful presentation with dolphins and sea lions made me cry. An educational presentation on tropical birds and a 3D display of the importance of recycling. I will encourage you to book the 2 days deal for Zoomarina. It is nearly impossible to see everything between 10 am and 5 pm.
Top 5 affordable luxury destinations for families: Final Thoughts
Here you have it, my top 5 luxurious destinations you can afford to visit during the school holidays.
Do you have more affordable luxurious destinations you'll love to add? Please leave your ideas in the comment section. I'll love to read them all.