Explore the 5 best things to do in Dubai with kids. Dubai is a dream holiday destination for most families and this was true for my family as well.  From theme parks to incredible family-friendly malls to breath-taking garden centers, Dubai has something special for everyone and read on to find out the 5 best things to do in Dubai with Kids. 
From the hotel stay at an all-inclusive luxury resort – Atlantis the Palm,  to exploring Aquaventure Waterpark (the water park) which came as complimentary when you stay at the hotel, creating treasured and mad memories in the 12 days we had allowed the children to be thoroughly engaged by exploring new cultures.
5 Best Things to do in Dubai with kids – #1 Visit Aquaventure Waterpark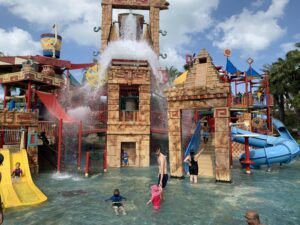 The first thing out of the 5 best things to do in Dubai with kids is to visit Aquaventure Waterpark. If you are staying at Atlantis The Palm, you will get a complimentary visit but if you decide to stay elsewhere, get a ticket online and experience all Aquaventure Waterpark has to offer.
It is great with kids of all ages and adventurous family man will particularly like this place. The rides are unique in their ways. There is Poseidon's Revenge – My husband's favourite where you step into a capsule that is equipped with terrifying trapdoors, then you wait for the floor to fall from beneath your feet and plummets you at speeds of about 40 mph before you're turned upside down.
There is Zoomerango – A less intense family ride that sits 6 people in a raft. It also has various mega drops and vertical zooms. It's the gentle highlight of the park.
The Tower of Neptune has more adrenaline-pumping rides including the Leap of Faith's ride which hurls you vertically down a clear water slide surrounded by Sharks at crazy rapid speeds.
There's also Shark Attack, a calm ride through dark tunnels and then suddenly, you make it into a huge tank filled with Sharks.
There is The Stringer, The Falls, The Plunge, and The Surge. All these ring rides are set at varying levels with excruciating joy, gasps, and heart-pounding moments at each ride.
In order to have maximum satisfaction, we spent three days at Atlantis, the Palm and Aquaventure Waterpark, and yet, we didn't have enough time to enjoy the fine white sand man-made beach which is exclusively for the use of the residents at the hotel.
The Atlantis Aquaventure is everything – the trills, the screams, the gasps, the fun. It is completely magical and that is why it is the first thing on our list of the 5 best things to do: Dubai with kids.
5 Best Things to do in Dubai with kids – #2 Experience the luxury of the Mall of Emirates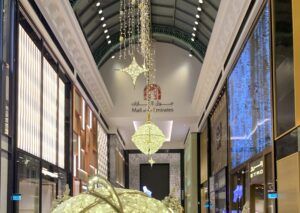 The next thing from the 5 best things to do in Dubai with kids is to experience the luxury, the culture, the restaurants at The Mall of Emirate. The Mall of Emirates is located along the popular Sheikh Zayed Rd, Al Barsha. It has a Metro /monorail stop – the Dubai Metro is new, sophisticated, and well run. It connects most of the major sights and comes with a specially designed carriage for families and women. Children under five travel free on public transport. Alternatively, you can get to the Mall of Emirates by Taxi. Taxis are comfortable, efficient, and affordable. There is a huge amount of supply and respect amongst the drivers at the Taxi ranks. Hence, it was easy to move around.
The Mall of Emirates is also home to five hotels which confused us when we arrived there because each entrance we saw was through one of the hotels so we thought we were at the wrong place.
We first visited the Magic Planet – which is a massive arcade with mind-blowing racing simulators, trampolines, video games, rides, bowling, amazing attractions, in fact, everything to keep children aged 4 to 16 and adults alike entertained for hours. We got a card on site which we loaded with 525 AED and we got 950 AED on it. It was a bargain for all the activities we were able to do. The card is then swiped at the entrance of each attraction. This made it easier for us to choose what we wanted to do in the midst of a lot of choices. We spent the entire morning at the Magic Planet then we headed to Ski Dubai after lunch.
The basic ticket entry for Ski Dubai comes with a full snowsuit, socks, and snow boots which is all the snow clothing you'll need except for gloves. It has a huge slope, chair lift, bobsledding, zorbing, snow tubing amongst many other activities, we felt like we were in the middle of The French Alps. We were beginners so we found an area where we could take some gentle turns and tumbles harmlessly. We also saw budding ski-champs like the ones that perform during the Winter games ski the 400 m and perform some amazing stunts.
The play area for children was super fun as well and my girls enjoyed the bumper cars the most.
The facilities at the Mall of Emirates are world-class. The mother's room was special. It was such a big space with comfy sofas, drinking water, baby changing facilities, baby food warming facilities, and a diaper machine if you wanted to buy one.
5 Best Things to do in Dubai with kids – #3 Get Adventurous at Dubai Parks and Resorts
The third thing from the 5 best things to do in Dubai with kids is to get adventurous at the Dubai Parks and Resorts. The Dubai Parks and Resort are located on the famous Sheikh Zayed Road again and is also the largest theme park in the Middle East.
It consists of three theme parks and a water park:
Motiongate
Bollywood Parks Dubai
Legoland Dubai
Legoland Water Parks
and Riverland Dubai, which connects the four parks.
It is easily accessible by taxi, bus, or the Metro. We took a taxi down with a prepaid ticket which gave us entrance to three of the four parks. We opted not to visit Legoland water parks because we had the complimentary unlimited entry into Aquaventure Waterpark anyway.
The three parks we visited are
Bollywood Parks Dubai

Motiongate

Legoland Dubai.
Bollywood Parks Dubai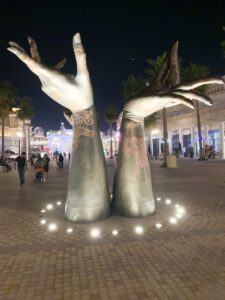 If you grew up just like me watching movies from Bollywood then Bollywood Parks Dubai will resonate really well with you. It bought back childhood memories where we would watch Bollywood movies without English translation and still enjoy the amazing storytelling.
Bollywood Parks is enchanting and it draws you closer to understand the colorfulness and vibrancy of its culture. It brings to life the magic of India's temples and palaces.
There are stunt-shows and 4D rides which we enjoyed but the dozens of live performances with music glaring was definitely the highlight here.
There was 'Stars on Steps' which is a live song-and-dance show to a backdrop image from elaborate LED screens.
There was 'Show Me Your Jalwa' which offers a chance for the whole family to work on their Bollywood dance steps.
There was the 'Kids Korner' which concentrated on choreography for children and it was led beautifully.
Bollywood Parks Dubai also offers beautiful replicas of the Taj Mahal ( a building in India that I'm still in awe of).
Motiongate