Turkey offers one of the best holiday destinations from the UK. The flight times are just over 4 hours from the UK, perfect for your little ones, the Meditteranean weather is fantastic and the food is glorious.
If you have decided to visit Turkey but you are not sure where you would like to stay in Turkey, this post on the best Turkey holiday destinations will provide clear guidance that will help you make a decision.
WHY BOOK A HOLIDAY TO TURKEY?
Turkey is home to endless historic wonders – from the Duden waterfalls to Hadrian's gate to the ancient ruins of the city, Ephesus to rock sites of Cappadocia. There are amazing sights and scenes everywhere you turn.
Turkey is home to lovely sand beaches, ancient Roman ruins, beautiful natural landscapes, and vibrant cultures. If you love architecture, you will be charmed by the Byzantine churches and ancient amphitheatres. If you are an entrepreneur looking to do Business, Turkey is the place to visit for unique products. If you are looking at options for cheap cosmetic surgery, Turkey is also the place to visit.
Turkey's location makes visiting and holidaying in Turkey a popular destination with British Holidaymakers. If you are after breathtaking scenery, ancient history and vibrant culture, visiting Turkey will be a good decision.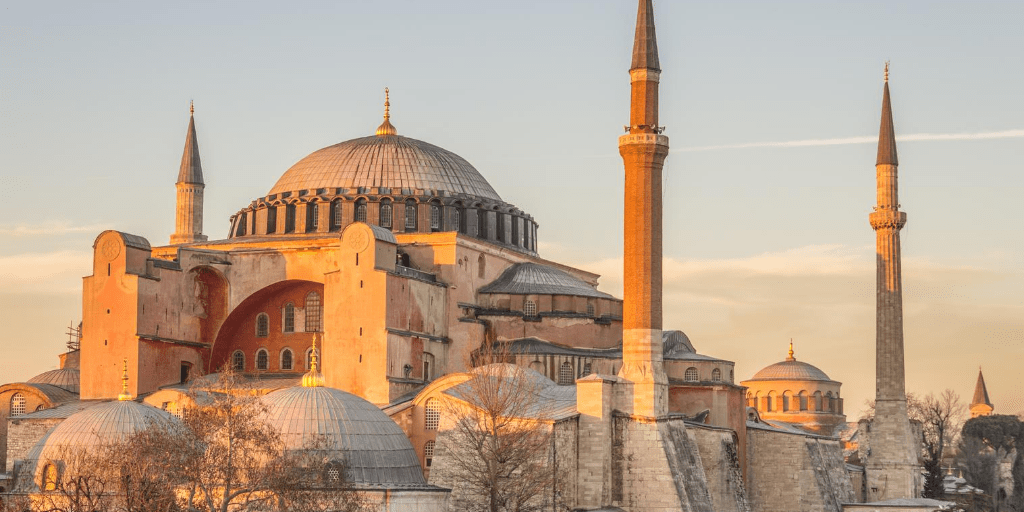 FUN FACTS ABOUT REPUBLIC OF TURKEY – THE COUNTRY
Turkey is a transcontinental country. It spans two continents – Europe and Asia.
It shares borders with interesting countries. To the North of Turkey. To the East of Turkey are Syria and Lebanon. To the South is Israel and Egypt, and to the West in Greece.
The capital of Turkey is Ankara.
Turkey enjoys the perfect Mediterranean climate – scorching summers and cool winters.
The first church in the world is found in Antioch, Turkey.
Santa Claus was born in Patara, Turkey.
The official currency is Turkish Lira, but Euros is widely accepted in tourist hotspots.
The official language is Turkish but there are over 30 languages spoken including Mesopotamian Arabic.
You will find one of the oldest markets in the world. The Grand Bazaar.
There is 18 incredible UNESCO World Heritage site. Great for the history lover.
Turkey is the home of Hazelnuts.
GETTING INTO TURKEY
BY AIR
Getting to Turkey by air takes about 4 hours 30 minutes and makes it an ideal UK family travel holiday destination. There are frequent direct flights between London and Antalya, London and Bodrum, London and Dalaman, London and Izmir with Easy Jet and Jet2 holidays.
Additionally, there are direct flights to Istanbul from London with British Airways where you can collect points.  If you wish to visit Turkey from outside the UK, there are about 35 International Airports for you to choose from. Your best bet is to look for flights going to these Turkey Airports – Ankara Esenbaga Airport, Antalya Airport, Sabiha Goken Istanbul Airport and Istanbul Ataturk Airport.
GETTING AROUND TURKEY
Is Uber available in Turkey?
No, The best way to get around Turkey is by hiring a car. Hiring a car is cheaper than taking a taxi everywhere.
DO I NEED A VISA TO TRAVEL TO TURKEY?
UK Nationals can get visas on arrival at Turkey airports.
A valid passport (issued within the last 10 years) with at least 3 months validity from the date of your arrival.
A visa ( depending on your nationality, destination, and length of stay)
A return or onward ticket
COSTS OF BEST TURKEY HOLIDAY
The cost of All-inclusive holidays to Turkey is about £350 per person. Your holiday can be cheaper if you have a different package. For example, if you decide to go self-catering or if you decide to choose half board rather than the full board.
BEST TIME TO VISIT TURKEY
The best time to visit is between May to August for its hot weather. If you fancy milder conditions, visit Turkey between September to early November. The best time to visit Turkey during an offseason is February.
BEST TURKEY HOLIDAY DESTINATION
Turkey is a fascinating transcontinental country that serves as the bridge between the West and the East. The famous Ottoman rule and the Turkish empire reign makes it an interesting destination for everyone. Culture lovers, food fanatics, sunbathing lovers, couples, families, and adventure seekers will love Turkey for its diversity and historic sites.
The best Turkey holiday destinations are:
Istanbul
Cappodocia
Bodrum
Dalaman
Izmir
#1. BEST TURKEY HOLIDAY DESTINATION: Antalya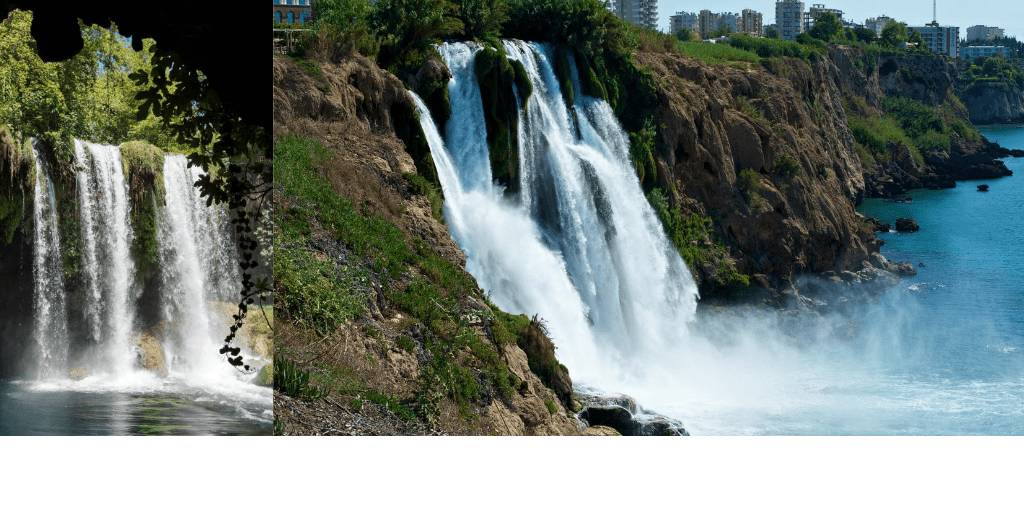 Where is Antalya, Turkey located?
Antalya is the tourism capital of turkey. It is located in the southwestern region of the Mediterranean, bordered by Taurus mountain. It is the second-most visited city in Turkey after Istanbul, over a million tourist visit Antalya yearly. The most prominent part of Antalya are:
The Old Town Kaleici
Konyaalti Beach (West)
Lara Beach (East)
The North.
Antalya is best for:
History lovers: who will love to visit Hadrian's Castle Gate, Hidirlik Tower, Antalya Museum, Yivli Minare, Roman Fortress, Aspendos, Perge, Olympos and Chimaera, Karain Cave
Beach lovers: You have at least a minimum of 5 beaches you have to see when you visit Turkey. Adrasan, Lara, Konyaalti, Topcam and Lara Beach Kundu
Adventure lovers: Hike Taurus Mountain, take a quad bike along the trail
Where to stay in Antalya, Turkey
Lara is the most popular area to stay at in Antalya. Here you will find an array of hotels in the most glamorous designs. Many all-inclusive resorts are located in Lara.
The best way to get around Antalya
To get around Antalya, use a minibus, they are the cheapest option because of the distances between places. Taxi are available and more convenient but they can get expensive.
The Best Things to do in Antalya
Marvel at the restored Aspendos theatre. Aspendos is a 15,000 seater Roman theatre that was the crown of glory in its days. It was the most preserved Roman Theatre when it was discovered.
Visit Hadrian Castle Gate believed to have been built for Emperor Hadrian when he visited Antalya in 130AD.
Explore Antalya Museum and learn about the fascinating Bronze Age and Byzantium era. Discover the finds from the excavation sites across the Turkish Coast.
Spend a day at Perge. The old capital of ancient Pamphylia – Asia Minor. Go back in history and understand the way life was for the locals.
Relax at the beach or go chasing waterfalls at Duden Waterfall.
#2. BEST TURKEY HOLIDAY DESTINATION: Istanbul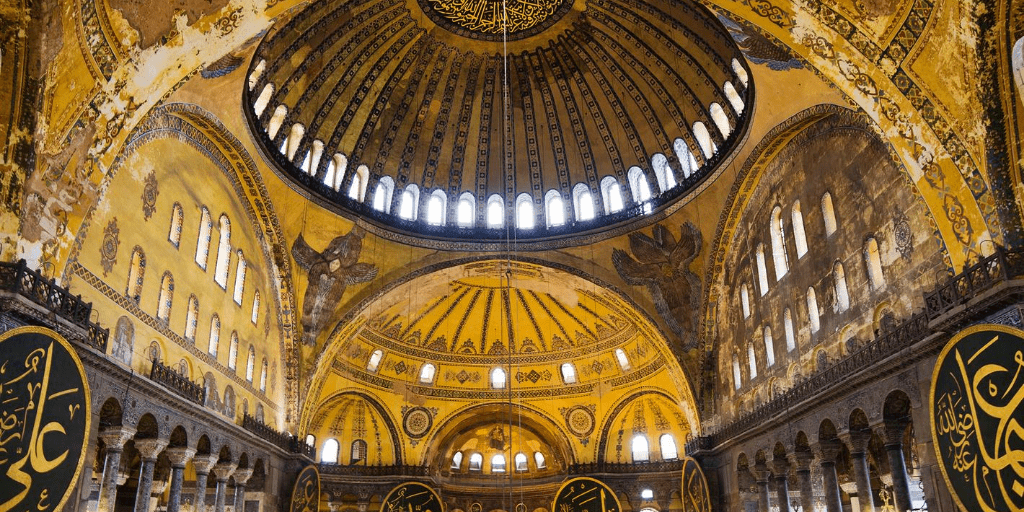 Where is Istanbul located?
Istanbul is located in the northwestern region of Turkey and is the only city in the world in two continents. Istanbul is the largest city in Turkey and most popular by all means. It was once ruled by the Greeks and named Constantinople. It was also the capital of the Byzantine Empire. The architecture in Istanbul reflects its rich history and gives a humbling experience with the fusion of Byzantine, Greek and Ottoman designs and architecture.
Istanbul is best for:
History lovers: who will marvel at its historical monuments at every turn.
City lovers: who wan to catch the vibe of a truly international city.
Where to stay in Istanbul, Turkey
Sultanahmet – Istanbul old town – great for families because it is close to tourist attractions.
Galata, Beyoglu – best for nightlife.
Taksim – best for nightcrawlers.
The best ways to get around Istanbul
The best ways to get around Istanbul are through the trams and the buses. Although the stops are not announced in the buses, using a google map will help you alert the driver when you need to make a stop.
Explore Hagia Sophia. This beauty was first a church, then it became a mosque and today it is a museum. Don't miss the Viking graffiti scratched on the balustrades in the south gallery, a virgin and a child flanged by two Byzantine emperors – Constantine and Justinian. It is located just on the exit through Vestibule of Warriors.
Wander around the Blue Mosque with its glorious blue Iznik tilework. Wear appropriate clothing and visit outside the praying times.
Marvel at the splendour and lavish design of the Ottoman Empire at Topkapi Palace Complex.
#3. BEST TURKEY HOLIDAY DESTINATION: Cappadocia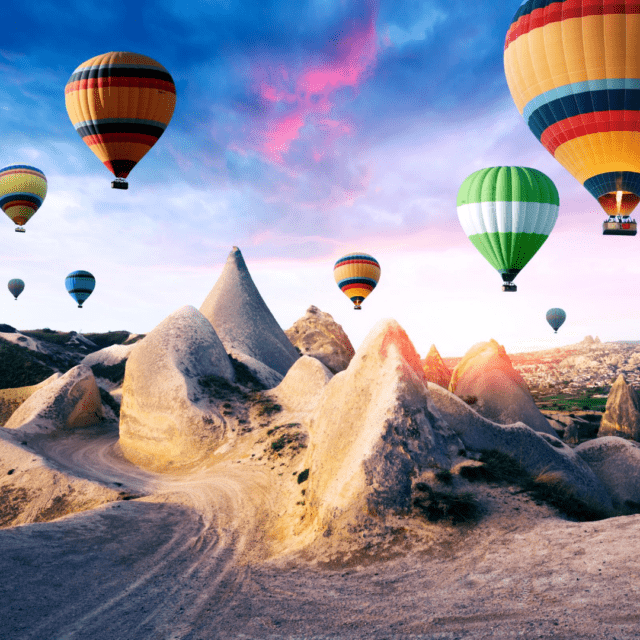 Where is Cappadocia located?
Cappadocia is located in the middle of Turkey – Central Anatolia. It is about 3 hours drive from the capital city of Ankara. It has direct flights from Antalya and Istanbul. Cappadocia is the perfect destination for a romantic holiday, adventure holiday and historical holiday. It combines the best outstanding landscapes with intriguing fairy chimney rock-cut houses, hills and monument particular to this region alone.
Cappadocia is best for:
History lovers: who will go bank to the 10th century to learn more about why the houses were designed this way.
Adventure lovers: who will have a choice between going on a horse safari or an ATV Quad Safari.
Where to stay in Cappadocia, Turkey?
The best areas to stay in Cappadocia are:
Goreme: best for the unique Instagram pictures of the hot air balloon, restaurants and nightlife.
Uchisar: best for luxury hotels and stunning views because it is located at the highest point in Cappadocia. Uchisar is also quieter at night and works out perfectly with for families.
If you are looking for the best hotel to stay at for the most stunning Instagram pictures, try the Mithra Cave hotel or the Sultan Cave Suites in Goreme.
The best ways to get around Cappadocia
The best way to get around Cappadocia is by renting a car at Goreme or hiring a private tour guide. There are also local buses
The Best Things to do in Cappadocia
Take the famous hot air balloon ride which takes you over the fairy chimneys and rock-cut houses.
Explore the valleys by foot with a group.
Visit Museums. There are 2 prominent museums that can educate you more about the history of Cappadocia. The UNESCO World heritage site – Zelve Valley Open Air Museum and Goreme Open Air Museum has an array of fascinating Byzantine art and Christian monks exhibit dating back to the 10th century.
Visit Uchisar Castle. It is located at the highest point region and you will see breathtaking views of Cappadocia.
Get adventurous and go on a 4×4 offroad Safari Ride or an ATV Quad Safari or just a simple Horse Safari.
If you are looking for romantic things to do in Cappadocia, watch the sunset and sunrise.
#4. BEST TURKEY HOLIDAY DESTINATION: Bodrum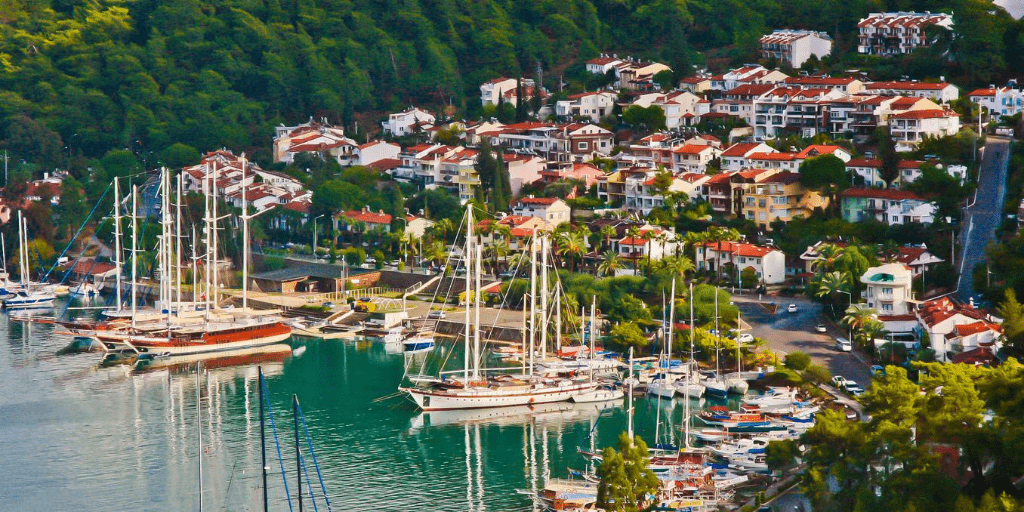 Where is Bodrum located?
Bodrum is located in the Southern coast of Bodrum peninsula in the southwestern Aegean region of Turkey. Flight time to Bodrum from the Uk is 4 hours, perfect for families with young children and the time difference is 2 hours ahead of UK time. Bodrum boasts of long stretches of golden sands, clear blue seas and lively coastal resorts. It is an upcoming luxury holiday destination.
Borum is best for:
History lovers: who will love to see the Medieval Castle of St Peter.
Beach lovers: there are several secluded beaches with stunning hillside olives.
Where to stay in Bodrum
The best areas to stay in Bodrum are :
Downtown – best for you if you seek the lively lifestyle.
Gumbet – this is a family-friendly area with a popular waterpark within minutes of walking.
Turgutreis – This area is best for you if you seek complete relaxation on your holiday.
Turkbuku – This is the perfect destination for luxury travellers. You will love the laid-back village feel in a stylish and elegant way. There is an air of sophistication in this area and it attracts many luxurious travellers. You can dine at the waterside restaurants along the marina or enjoy lunches and romantic evenings with your family.
With Jet 2 Holidays, you can stay at Bitez Beachfront Resorts or head to Torba for the best, peaceful mountainside village experience.
Getting Around Bodrum
To get around Bodrum, use a minibus, they are the cheapest option because of the distances between places. Taxi are available and more convenient but they can get expensive.
The Best Things to do in Bodrum
Visit the Castle of St Peter – Enjoy the views of the perfect bays. Explore a 7th-century Byzantine Wreck in its museum of underwater Archaeology.
Explore Bodrum Hamam – The stone-built Turkish baths.
Inspect the glamourous yacht in the harbour
Get on a ferry ride to Kos.
Re-enact the past life of natives by visiting Bodrum Amphitheatre.
#5. Best Turkey Holiday Destinations: Dalaman