This post is available in a video format 
If you have heard nothing about Zanzibar and you're wondering where this luxury family holiday destination is, then this is a post you want to read and save for later because you can enjoy the best family holiday to Zanzibar. Zanzibar has a beautiful and sad history at the same time. It was first discovered by the Portuguese like most African countries and you will still find the traces of Portuguese architecture. However, it was during the Omani rule that most of Zanzibar's town was developed as a result, the architecture is greatly influenced by Persian, Indian and Omani Arab culture. The stories of its slave trade past, the forceful drive of the Europeans out of its land, the take over by the Sultan of Oman, the revolution that followed and the merge with Tanzania makes Zanzibar a destination for your best family holiday.
Best Family Holiday to Zanzibar: How to get to Zanzibar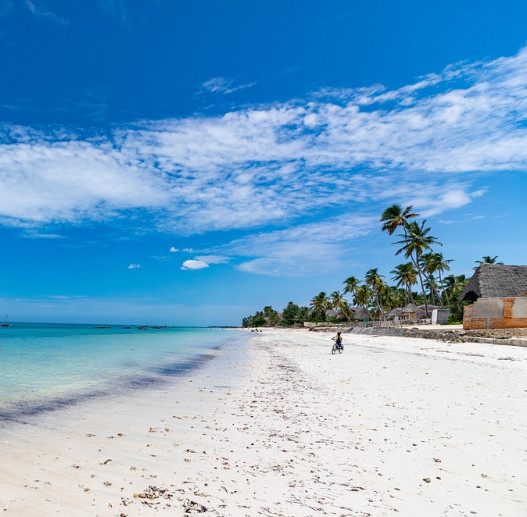 Getting to this exotic Archipelago island could be through a flight or a high-speed ferry if you arrive in Tanzania first. Flights from Tanzania departs from Julius Nyerere International Airport (most airports in Africa are named after a significant person) in Dar es Salaam.
If you want to visit mountain Kilimanjaro first, there is Kilimanjaro International Airport (KIA) in Northern Tanzania, Arusha with direct planes to Abeid Amani Karume International Airport (AAKIA) Zanzibar. The frequent flights with carriers like Emirates, Kenya Airways, Qatar Airways, Swiss Air, Etihad Airways and Turkish Airways takes about 1 hour and 30 minutes.
If you fancy a scenic view and you want to experience the lush white sand of Zanzibar shore the same way the Portuguese explorers did many years ago, take a ferry. It leaves from Dar es Salaam and arrives in Stone Town after 2 hours. The ferry consists of seats in different classes – The Royal class, the VIP class, the Business class and the Economy class. The fare is between $60 and $35 per person, thus, it is a cheaper option to flying.
There are direct flights to Zanzibar without going through Tanzania. For example, Qatar Airways flies from Doha to Zanzibar in just over 6 hours. Kenya Airways also has a direct flight through Nairobi and arrives in Zanzibar in 1 hour 40 minutes later. Oman Air flies to Zanzibar from Muscat in about 6 hours 30 minutes.
What you need for your travel to Zanzibar
For a smooth immigration control check-in Zanzibar, you will need:
An international passport with at least six months validity to enter Zanzibar
eVisa/ Visa – can be obtained online before travelling or you can apply for a visa in advance from the Tanzanian High Commission office in your country. They cost approximately $45 per single entry and valid for 90 days. There is an option for visa on arrival for citizens or passport holders of some countries, click here to check if your country is eligible. For example, South African citizens/Passport holders can get a visa on arrival at the cost of $50.
In addition to your passport and visa, you will need:
Yellow fever vaccination card
Official identity card
Copy of marriage certificate (if married)
Copy of birth certificate for children
Lastly, you need travel insurance especially if you plan to engage in extreme sports like kite-surfing or climbing Mountain Kilimanjaro.
The best time to visit Zanzibar
Zanzibar enjoys two fantastic dry seasons and it's a great place to visit all year round if you don't mind the rain between March and May. The best time to visit Zanzibar during a school holiday is either the December School holiday or the February half-term school holiday when you will be able to see the cutest baby Zebras. If like many people, you want to combine a visit to Zanzibar with a visit to Northern Tanzania to see Great Wildebeest Migration in Serengeti or for hiking the breathtaking Mount Kilimanjaro, the best time to visit Zanzibar will be from June to October.
Best Places to Stay Zanzibar
Zanzibar is a beautiful honeymoon destination and the hotels and resorts are designed to reflect the beauty it oozes.
Here is a list of the best places to stay in Zanzibar.
This was original designed for ABBA'a Betty Andersson as a getaway home but later became the ultimate honeymoon, couple getaway hotel in Zanzibar. It is easy to see why it is a top romantic hotel in Zanzibar, it has 15 private white coloured pavilions with a bedroom, bathroom, a gated garden and a plunge pool.
Kilindi is strictly reserved for guests over 16 years old and you will enjoy your peace here. There is plenty to eat here from breakfast to lunch to dinner. Don't miss the Desserts which will include a spicy creme brulee.
The facilities here include a free WI-FI, laundry services and a private guest ambassador to attend all your needs. There is a private beach just 2 minutes walk from the pavilions. The positions of the pavilions make this place the ideal getaway destination.
Other fantastic places to stay includes:
The Residence Zanzibar
Essque Zalu Zanzibar
Zuri Zanzibar Hotel
Family-Friendly Things to do in Zanzibar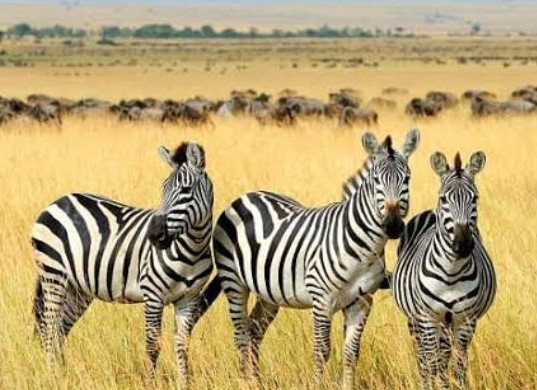 Zanzibar is one of the off-beaten destinations for an idyllic family holiday with the most simple yet beautiful beachfront resorts. To fuel your imagination and excitement about visiting Zanzibar further, the perfect description of Zanzibar looks like this: an exotic island with crisp, white sand, clear plains, friendly locals, rich ginger ale drinks, peaceful and beautiful views to wake up to every day.
Most tourists come straight from Africa's finest safari resorts or the National Parks and sometimes, they make a visit to Zanzibar the last thing to do on their list in Tanzania. As a result, there is little information about what to do in Zanzibar. This list gives you a comprehensive list of must-do things in Zanzibar that will make your visit go from drab to fab!
The Ultimate Things to do in Zanzibar
Best Family Holiday to Zanzibar: Visit Stone Town

If you have heard about Freddie Mercury (the lead vocalist of the rock band Queen) then you have unconsciously had a link with Stone Town because Freddie Mercury was born in Stone Town, Zanzibar and he lived there with his family until they escaped from the Zanzibar during the sad and historic Zanzibar revolution. The story of Freddie Mercury alone makes Stone Town a fascinating and intriguing place to visit.
Stone Town served as the last open slave markets were humans described as slaves were shipped out of Africa in unimaginable, crammed dhows by the Omani Arabs who were only invited to eat at the table when the locals were looking to do away with the Portuguese. The Omani Arabs came into Zanzibar to help send the Europeans away and overstayed their visits by 200 years. The Omani Arabs also committed several atrocities including capturing and selling indigenous Black people during the slave trade. Stories of the many atrocities filtered down to the indigenous Black people and they started to plan their freedom which they finally executed in 1964.
To experience Stone Town in-depth, please book a tour but if you want to go wandering yourself, don't miss:
The Old Slave Market 
This is a must-see for anyone visiting Zanzibar, It is a place that will make you pause and think about the hundreds of thousands of lives that were snatched from their families, imprisoned, tortured, haggled for a price or product, sold off to face their new destinies in places thousands of miles away from what they knew.
The Anglican Cathedral Church of Christ
The church was built by former slaves who needed a job after the abolition of the slave trade in 1873 on the land flowing with blood and echoes of screams from the humans who were captured. This is symbolised on the altar by a white marble circle surrounded by red.
The Mercury House
This is where Freddy Mercury was born and it is located on Kenyatta Road in the heart of Stone Town. It has a small monument with pictures of Freddy Mercury and a few personal stuff, it's the Island claim to an icon who ironically was expelled from the town with his family.
Tippu Tip's House
Tippu Tip was one of the most powerful and richest slave traders in Africa from the Swahili community. His house is located along Suicide Alley but it's not open to the public. A tour guide might briefly mention it as you stroll down the streets the alleyways of the spice market town of Zanzibar.
The House of Wonder
The House of Wonders was built in 1883 by Barghash bin Said. It has some interesting fact, for example, the door was designed to be so wide so that the Ruler(Barghash) could go into the building on the back of his elephant. The House of Wonder is now a museum open to the public and it displays fusions of its glaring past and influences from the Portuguese, The Indians, the Omani and Swahili people.
The Old Fort of Zanzibar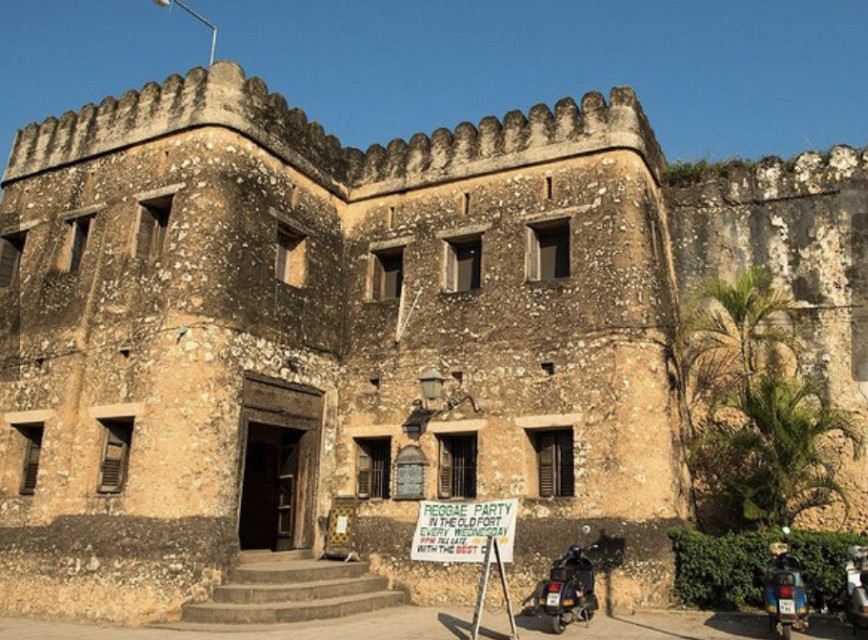 The Old Fort of Zanzibar is a UNESCO World Heritage Site and it was built by the Omani Arabs when they helped fight the Portuguese off the island in 1698. It is located at Mizingani road, on the main seafront and has been modernised to include an open-air amphitheatre used for local shows and events.
The Forodhani Gardens
The name suggests a garden but you'll be surprised to hear that it is not a garden rather, it is a food/ culinary lover heaven where you're encouraged to try the different local delicacies.
The Old Dispensary
The Old Dispensary was designed to be a hospital by an Indian architect (the design is hugely influenced by Indian Architecture with open spaces and balconies) for Sir Topan but unfortunately, he passed away before completion so it was re-purposed to be a dispensary.
Peace Memorial Museum
The Peace Memorial is a beautiful colonial Art Deco building that holds a few cultural artefacts and historical narrative about Zanzibar. Again, you will find that the architecture in Stone Town is juxtaposed from its different influences.
Best Family Holiday to Zanzibar: Explore Jozani Forest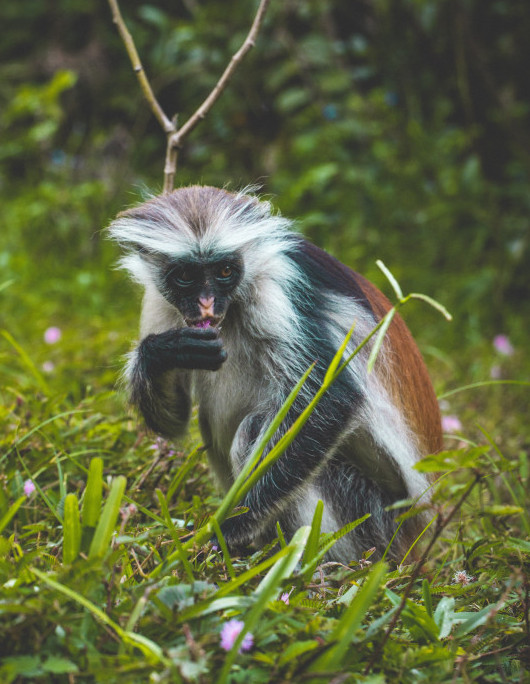 Jozani Chwaka Bay Forest is Zanzibar's only national park, a famous habitat to endangered red colobus monkey and the only place to see these monkeys in the natural habitat. The other animals that reside in this forest are the Sykes Monkeys, Bush Babies, Tree hyrax and Zanzibar Leopard. The national park is open daily from 7.30 am to 5.00 pm. There is an entrance fee of about $10 which includes a tour which is not restrictive so you can go off and explore the mangrove broad walk yourself. The paths are all well placed and well-marked although you are not allowed to feed the animals, it is a good day-out for the family to explore an African Forest.
Best Family Holiday to Zanzibar: Visit Prison Island
Take a day trip to Prison Island which has been used for different purposes over the years. First, it was used as prisons for lords of humans (slaves) who continued to engage in the slave trade after its abolishment. Then, it became a quarantine station to Indian workers who continued to fall ill due to yellow fever and malaria as they worked at the Railways in Uganda and the Eastern region. When it was no longer needed, the Europeans in Zanzibar used Prison Island as a resort. Today, it is a place to see giant tortoises which locals reckon are about 150 years old.
To get to Prison Island, take a 25-minutes boat ride from Stone Town or book an in-depth tour with a chance for a short snorkelling session. The island is open every day from 9:00 am to 4:15 pm. There is an entrance fee of $4.
Best Family Holiday to Zanzibar: Dine at The Rock Restaurant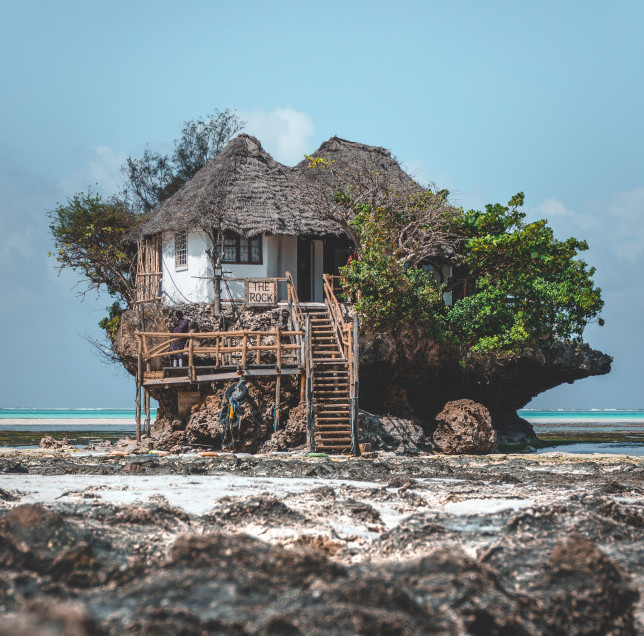 Visit this stunning location for pictures and enjoy the ambience of dining in the middle of the Indian Ocean. Getting to the Rock is an experience in itself, once on the beach dependent on the tide you will either need to get the small boat over to the restaurant or you will walk up but there are no guarantees on getting back the same way you came as the tidal changes in Zanzibar are notorious so you may have to do the opposite to get back to shore once you've finished on the Rock. If you're staying at an all-inclusive resort, opt for cocktails and appetisers on the sun deck area at the rear of the Rock. Make a reservation in advance through their website to enjoy the delicious cocktails and attentive service.
Best Family Holiday to Zanzibar: Go diving
If you are a fan of diving, you will feel at home in Zanzibar. The best spot for diving on this island is at Mnemba Atoll. It is located off the north-east coast. It is a great place to dive for all levels of divers and has the most amazing colourful corals. The sights underground are spectacular and crowd-free so you might also get the opportunity to see dolphins and humpbacks whales.
Tips for diving in Zanzibar:
Use sea sickness tablets.
Have at least 24-hour rest between your dive and your flight.
Take a waterproof camera or a GoPro to capture those memories.
Treat the coral with respect – don't touch them because they are sensitive and it takes years for them to regenerate.
Best Family Holiday to Zanzibar: Visit Remote Beaches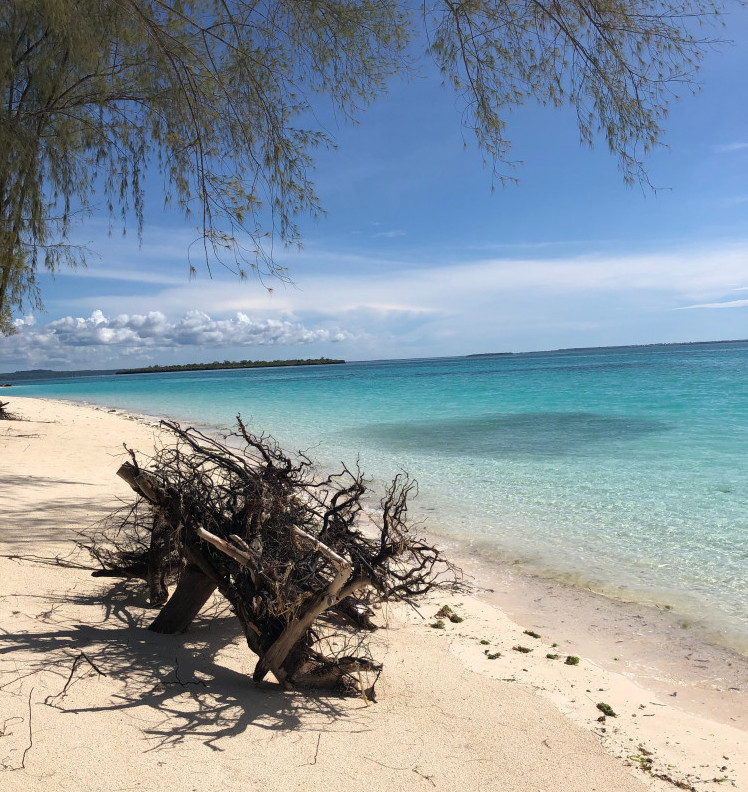 Do you want to experience complete isolation and pamper your family? Then visit these two remote beaches.
Matemwe Beach
Matemwe Beach Village is on the east coast of the island and home to the most exclusive luxury resorts and honeymoon destination on the island. It is a beautiful blue water beach perfect for long walks at sunset. It has small beach bungalows and views of seaweed plantations.
Pingwe Beach
Pingwe Beach is a clean and safe beach located on the East coast by Chwaka Bay on the Michamwi Peninsula. It is ideal for relaxation and long walks but there are little amenities so sometimes feels deserted. Combine a visit here with dining at the Rock restaurant.
Suggested itineraries for a family holiday to Zanzibar
Day 1: Relax and recover from the long haul flight.
Day 2: Head to Stone Town.
Day 3: Visit Prison Island.
Day 4: Explore Jozani Forest.
Day 5: Go diving and kite- surfing(adults)
Day 6: Hit the beach and dine at the Rock restaurant
Day 7: Relax and prepare to leave.
Summary
This post covers how to enjoy the best family holiday to Zanzibar. It explains how to get to Zanzibar, the travel documents required, the best time to visit Zanzibar, family-friendly things to do in Zanzibar and suggested itineraries for a 7 day visit to Zanzibar.
A family holiday to Zanzibar combines the best opportunities for relaxation as well as a chance to delve into some historical adventures. A trip to Zanzibar will not disappoint and chances are it will be much more for you than expected.
Let me know in the comments what will inspire you to take a trip to Zanzibar?
Pin it for later!