10 Best Things To Visit in Abu Dhabi
Imagine a family holiday in the UAE?  Dubai will properly be your first choice and rightly so, there are amazing things to do in Dubai with Kids. But just two hours' drive away from Dubai, Abu Dhabi is equally worth a vacay with your family. Here are the 10 best things to visit in Abu Dhabi, after all, on a larger scale, it's one of the world's richest cities.
Dig a little deeper, you'll find that it's big on its art, cultural and historical stature as well. Many family-friendly attractions, cool accommodations, and delectable dining choices further make this capital city a perfect getaway for all members of your family. So, are you ready for a family holiday in Abu Dhabi? This guide will prepare you for the 10 best things to visit in Abu Dhabi for an epic Abu Dhabi holiday.
If you are not sure about the travel advice to Abu Dhabi, I suggest you read my travel advice guide to Abu Dhabi.  Use this post to find all the top things to do in Abu Dhabi and you will surely fall in love with my top 10 things to visit in Abu Dhabi.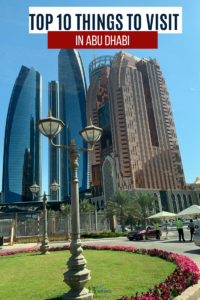 10 Best Things To Visit in Abu Dhabi
#1. Visit the stunning Sheikh Zayed Mosque
This is more than a religious point of interest. It's one of the world's largest mosques and is greatly recognized as the identity of Abu Dhabi. So be sure to make a stop here – your family and little ones won't be disappointed a bit wandering around this colossal white majesty. 
Reflecting various architectural styles from across the world, it's overall an architectural masterpiece finished with over a thousand columns, 80 plus domes, four huge minarets, and of course rich details and experiences such as lunar lighting, the largest of its kind hand-knotted carpet, and massive chandeliers gilded in 24-carat gold and studded with millions of Swarovski crystals. 
#2. Check out Louvre Abu Dhabi Museum
Call it an architectural gem or a classic museum – Louvre Abu Dhabi Museum on the Saadiyat Island Cultural District well lives up to all your imaginations and beyond. After all, it's the Arabian world's only universal museum. 
So come prepared to take in some of the artistic masterpieces by some of the world's most celebrated artists like Leonardo Da Vinci and Van Gogh to name a few. And its marvelous white structure designed by Jean Nouvel is definite to blow you away with its perforated domes that create a rain of light effect. 
#3. Discover the Age-Old Emirati Past and Traditions at Qasr Al Hosn
This is another spot that you should visit during your family vacation in Abu Dhabi. With its roots tracing back to 200 years, it's one of the region's oldest landmarks. Once a defense structure and later the seat of government and also a royal residence, it had donned various roles throughout its existence. 
There is also one age-old sandstone structure that is retained to its original state. In its museum section, you get to take in the marvelous displays collected even from the pre-historic era. More experiences and attractions await you in this complex, such as the Cultural Foundation, the House of Artisans, and the Bait Al Gahwa. 
#4. Spare a day for action and thrill at Yas Island
A must-visit for families seeking the daredevil kind of fun and adventure, Yas Island is however for all age groups and abilities. Yes, it's not only home to the world's first Ferrari theme park and other attractions like Warner Bros Abu Dhabi and CLYMB Abu Dhabi, but also holds kids' favorites including KidZania Abu Dhabi. 
#5. Take a mangrove kayaking adventure
Abu Dhabi is never away from unspoiled nature and serenity. Located just 10 minutes away from the city center, Mangrove National Park is one attraction that proves it.
For a closer look at its well-protected biodiversity, set out on a kayaking tour that is a must-do for nature enthusiasts, marine lovers, and bird watchers alike. 
#6. Get amazing city skyline views from Observation Deck at 300
This observation deck on the 74th level Jumeirah at Etihad Towers is deservedly worthy of a trip for the stunning cityscape views that it offers. In fact, it's one of the best places to catch with Abu Dhabi's mix of modern, historical, and cultural sights. 
#7. Have the most relaxing and fun moments at Corniche
This waterfront promenade overlooking the Arabian Gulf is one of Abu Dhabi's most charming and happening spots in the heart of the city. Complete with football fields, kids' play areas, volleyball courts, and watersport facilities – this place is unmissable for families and little ones. 
#8. Enjoy an adventurous Desert Safari Visit
A sum-up of adventure, nature, and unequaled tranquility, a desert safari is a journey into Abu Dhabi's pristine desert landscape. You can expect this escape to be as laidback and thrilling as possible with its cool blend of activities and experiences including a 4X4 dune bash, camel ride, sandboarding, Shisha smoking, and henna tattooing.  Moreover, you can sink your teeth into a lavish BBQ dinner when you go on an evening or overnight desert safari. 
#9. Spend some time at Emirates Park Zoo
A family holiday is incomplete without visiting a zoo, and luckily, Abu Dhabi boasts of one of the country's best zoos, Emirates Park Zoo. It shelters about 1800 animals across its various themed sections. This covers both indigenous desert animals and exotic inhabitants by way of Asian elephants, anaconda, crocodiles, white tigers, and Siberian tigers. 
#10. Don't Miss Emirates National Auto Museum
The quirky pyramid-like museum is a treat for the car and motor enthusiasts in your family. There are over 200 classic vehicles on display here. And all these are from the personal collection of the royal family member, HH Sheik Hamad Bin Hamad Al Nahyan. 
There are so many outstanding things to do in Abu Dhabi, however, with this list, you can narrow down your choices and find what suits you and your family best.
Key Information for your travel to Abu Dhabi
Quick Abu Dhabi Facts
Abu Dhabi is the seat of the UAE government and holds many prestigious federal official offices. 

Arabic is the official language, but English is widely spoken all over the city. 

UAE Dirham is the currency of Abu Dhabi. 

Abu Dhabi's time zone is GMT+4. 

It boasts of over 200 islands, with its coastline stretching for more than 700 kilometers.

Abu Dhabi literally means the Father of the Gazelle. 

Abu Dhabi is one of the world's richest and safest cities. 

Abu Dhabi's culture, customs, and traditions are deeply entrenched in Islamic roots.

It's the major producer of oil in the country. 

It's also one of the region's largest producers of dates. 

Dubai steals all attention when it comes to its mind-boggling buildings and architecture. That said, Abu Dhabi is a well-planned and advanced city with some intricately breathtaking structures to its credit. 

Abu Dhabi is about 150 kilometers away from Dubai.
Best Time To Visit Abu Dhabi 
Abu Dhabi is a place which you can visit during any part of the year. If outdoors interests your family and kids, the most recommended time to visit here is between November and March. Visiting Abu Dhabi in April – May is also still pleasant. However, harsh heat begins to take over the city with the onset of summer (which continues till September – October) and this reaches its height in July – August.  With that being said, you can still make a visit here with tons of indoor leisure and entertainment options. The bonus is that you'll get to enjoy huge savings on your accommodation, airline and visa fee, sightseeing, shopping, etc when you visit here during the summer months. 
The Travel Document You Need for your holiday in Abu Dhabi.
Passport And Visa Information For Your Family 
Make sure that your passport is valid for at least six months from the date you plan to visit Abu Dhabi. And this is applicable to every member of your group. 
Depending on the duration and purpose of your visit, apply for a 30-day tourist visa, 90-day tourist visit visa, 30-day multiple-entry, or 90-day multiple-entry visa. 
The Visa fee is waived for your minor kids (below 18) traveling to Abu Dhabi or UAE between July 15 and September 15. 

It's highly recommended to apply for your Abu Dhabi or UAE visa through an experienced and professional visa company. 
How To Get Around Abu Dhabi?
Public Buses
Abu Dhabi's Department of Transport (DOP) runs bus services all over the city. They are well-maintained, spotless, and extremely cheap too. With a dedicated section for family, it's great to travel with your little ones. You'll find the main bus terminus close to Al Wahda Mall at East Road. 
Taxis 
Taxis in Abu Dhabi are meticulously operated by the Centre for Regulation of Transport by Hire Cars (TransAD). And when traveling with your kids, it's ideal to opt for exclusive taxis available for families. 
Private Transfers 
This is most recommended for first-timers and those with very limited time in Abu Dhabi. But make sure that you pre-book your private transfers through a reputable service provider. Subject to your preference, they come with or without a driver. But if you plan to get behind the wheels, you should definitely bring your international driving license. You can further take an all-inclusive, fully guided Abu Dhabi city tour; this is another sensible alternative for those who don't know the route or are not sure about what to include in their Abu Dhabi travel program. 
Best Family-Friendly Hotels In Abu Dhabi
Ritz Carlton
With the most legendary landmarks such as Al Maqta Creek and Sheikh Zayed Mosque in its backdrop, it's one of the most recommended places to stay during your family travel in Abu Dhabi. Besides high-end in-room comforts, it offers a variety of kid-specific facilities such as a babysitting service, kids club, and adventure pool perfect for little ones. 
Yas Viceroy
Set over the iconic Yas Marina F1 circuit, this imposing hotel at Yas Island is striking for its avant-garde and dazzling wavy design. Fascinatingly, this is partly built on water and land, making it one of the region's most distinctly stylish accommodations. These are complemented by an array of family-friendly facilities. 
Four Seasons Hotel at Al Maryah Island
For a water retreat like no other with family, this hotel with its breathtaking waterfront location is one of the ultimate choices. The added perk is that it's in close proximity to Abu Dhabi city centre. 
Khalidiya Palace Rayhaan by Rotana
Lying along the Corniche Road and right adjacent to attractions like Emirates Palace and Heritage Village, it's one of the most premium accommodation options in Abu Dhabi. And not to mention its family-specific attractions such as Flipper's Kids Club, dedicated children's play area, and pools. 
Qasr Al Sarab
Looking for an enigmatic family retreat away from all crowd and noise of the city? Escape to this breathtaking resort which sits amidst the unparalleled desert sands of Rub al Khali or the Empty Quarter. With so much to do and experience here, you can be assured of a blissfully memorable stay here. 
Final Thoughts About The Best Things To Visit In Abu Dhabi
Suffice to say, Abu Dhabi is a dynamic city packed with family-oriented attractions and activities. No matter you're planning for an exclusive Abu Dhabi trip or considering a visit here as an extension of your Dubai or UAE holiday, this city is a definite must-go with your family. So visit Abu Dhabi – it wears its multiple personalities with utmost grace and style, ensuring that you'll have one of the best family vacations of your lifetime.