Imagine going on holiday and ending up been fined, deported or jailed because of ignorance. Doesn't sound right? Well, it happens but you can avoid it with my best travel advice for Abu Dhabi. I don't mean to scare you but when visiting such a beautiful, affordable luxury city like Abu Dhabi, you need to be aware of the local laws of Abu Dhabi (including your personal conduct), the safety tips for Abu Dhabi (including climate changes), the health tips for Abu Dhabi (medical facilities) and the travel requirements for a pleasurable holiday in Abu Dhabi.
This post may contain affiliate links see my affiliate links policy for further clarification.
Know before you go: Travel Advice for Abu Dhabi
The travel advice for Abu Dhabi has broken down into four key points that you need to know to avoid the chances of getting fined, arrested, deported or jailed. The four key points that you need to be aware of are:
Local Laws
Safety tips
Health tips
Travel requirements
Money
Travel advice for Abu Dhabi #1. Local Laws
Ignorance is no excuse in Abu Dhabi and you really don't want to get on the wrong side of the law in Abu Dhabi so your best bet is to follow the rules and customs. The local laws in Abu Dhabi reflect Islamic practices and beliefs. During the holy month of Ramadan, you don't want to offend anyone because you will face serious penalties so take note of these local laws including:
Travelling with pork products
If you love your ham and smoked pork ribs, you have to forget about these and avoid hiding them in your luggage on your holiday to Abu Dhabi. They will be confiscated and you might face a fine.
Travelling with CBD oil products 
Check your skincare products, some might contain ingredients with CBD oil which is illegal in Abu Dhabi. These will be confiscated and you might face a fine. Take ethical made skincare products.
Travelling with dry substances
Dry substances such as dried tea, hibiscus flower can be mistaken for drugs, Abu Dhabi has a no-tolerance approach to illegal drugs. Do not attempt to smuggle or hide these illegal substances. You will be caught and you could face the death penalty or the minimum four years jail term.
Personal Conduct
Your conduct in Abu Dhabi must be prim, proper and modest. The travel advice for Abu Dhabi must be followed on personal conduct to prevent cases of arrests, fines or deportation. Apply some common sense here and avoid these things:
 Drinking and been under the influence of alcohol in public areas.
Wearing swimming attires in public places. You should wear swimming attires only at the beach or at the swimming pool. Choose modest swimwear and act with decency.
Showing intimate public display of affection like kissing.
Practising unauthorised preaching of your beliefs.
Spreading gossip on social media.
Swearing and making rude gestures to the public especially the police and officials.
Touching other people without consent.
Glaring at women and engaging in long stares.
Stalking
Engaging in unwanted conversations.
Photography
There are strong laws on photography in Abu Dhabi. You must consider these laws as an important part of the travel advice for Abu Dhabi. They include:
Getting permission and registering your drones before flying it.
Obtaining permission for any media activity relating to the production, transmission and distribution of print, video or audio information.
Taking photographs of people without proper consent.
Taking photographs of government and military installations is not allowed.
Driving in Abu Dhabi
To drive in Abu Dhabi, you need an International Driving Permit but if you are a UK national, you can use your UK driving license to obtain a rental car. International Driving License must be obtained before arriving at Abu Dhabi. Here are the things to note.
Driving in Abu Dhabi is safe.
Everyone drives in their lanes but there are speeding issues.
Maintain the recommended speed because there are speed cameras.
It is a criminal offence to drink and drive in Abu Dhabi.
If you are involved in an accident in Abu Dhabi, and no one is hurt, you can move your vehicle to the side of the road to avoid blocking traffic but it is illegal to leave the scene of the accident.
Travel advice for Abu Dhabi #2. Safety Tips
Abu Dhabi is a safe destination for you to visit with a low crime rate. However, as part of the travel advice for Abu Dhabi, you need to take sensible precautions in these areas.
Water Sports and Adventure Activities.
If you are a water sports lover, you will love Abu Dhabi. There are a variety of activities to do including sailing, kayaking, flyboarding, snorkelling, wakeboarding, water cable sports and paddleboarding. For your safety, take out comprehensive travel insurance that specifically covers adventure activities. I have reviewed the top 3 travel insurance in the UK here.
Harsh Weather Conditions
Abu Dhabi can experience harsh weather conditions between the months of June and September. There are possibilities of sand and dust storms. For your safety, stay out of the sun and always have a water bottle with you at all times.
Abu Dhabi also has foggy winters where visibility is reduced. Ensure you have car insurance if you need to drive.
Strong Current Conditions
Abu Dhabi has see lovely beaches you can swim at including The Corniche beach which is a public beach, Al Bateen beach and Saadiyat public and Saadiyat private Beach. Obey warning signs, red flags and fo not cross the barriers put up. Use Safety equipment like life jackets.
Travel advice for Abu Dhabi #3. Health Tips
Abu Dhabi has world-class health facilities. however, you will need travel insurance before you are treated, ensure you have access to funds that will cover the cost of your treatment. You also need to consider these things.
Health Checkup
Plan for your health check-up in advance before travelling to Abu Dhabi. You want to ensure that you have covered all health grounds before your travels.
Medication
If you need to take your medications with you for your visit to Abu Dhabi, you need to check that your medication is legal. Medication containing CBD will be confiscated. You also need to ensure that you have enough medication to cover you for no longer than three months.
Medical Care
If you require medical care in Abu Dhabi, you will need to dial 999 for emergency service. You also need to present:
Proof of medical insurance
An upfront Deposit
Guarantee of Payment
Travel advice for Abu Dhabi #4. Travel Requirements
UK Nationals do not need visas to visit Abu Dhabi. You need:
A valid passport (issued within the last 10 years) with at least 3 months validity from the date of your arrival.
A visa ( depending on your nationality, destination, and length of stay)
Proof of money to sustain yourself around £55 per day.
A return or onward ticket
Travel advice for Abu Dhabi #5. Money
The local currency in Abu Dhabi is Dirhams and if you are travelling to Abu Dhabi with over AED100,000, you need to declare it to avoid consification. Currently the exchange rate for Dirhams in the UK is £1 to AED 6. You can exchange your money at John Lewis Travel Money before you go.
.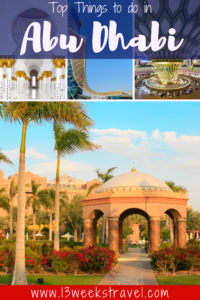 Is Abu Dhabi good for a holiday despite the travel advice for Abu Dhabi?
Yes! Abu Dhabi is an affordable luxury travel destination. It is rich in culture, traditional with an incredible skyline that spells wealth, opulent and luxury. Abu Dhabi's architecture gets me excited. Several of the buildings are simply beyond design comprehension, they make the impossible possible. Here is a list of the architectural wonders in Abu Dhabi.
Sheikh Zayed Grand Mosque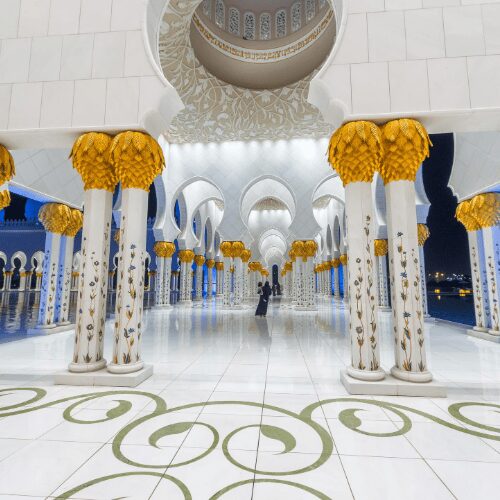 Etihad Towers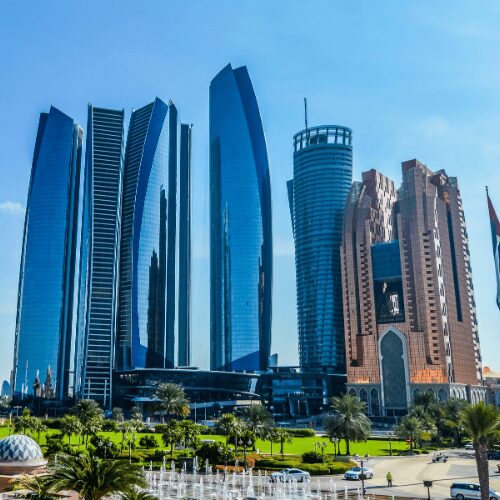 Capital Gate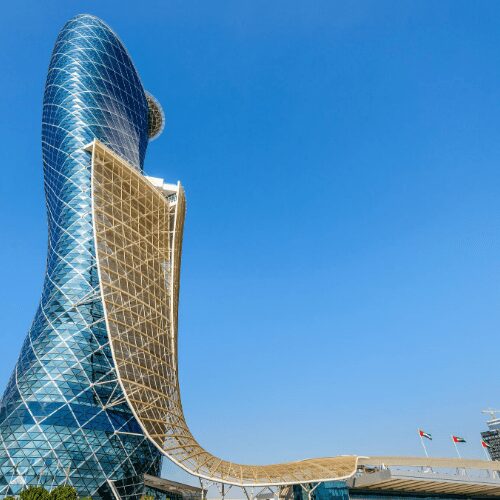 Aldar Building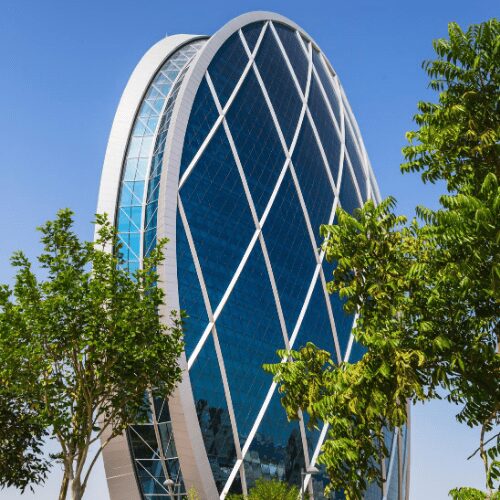 Yas Island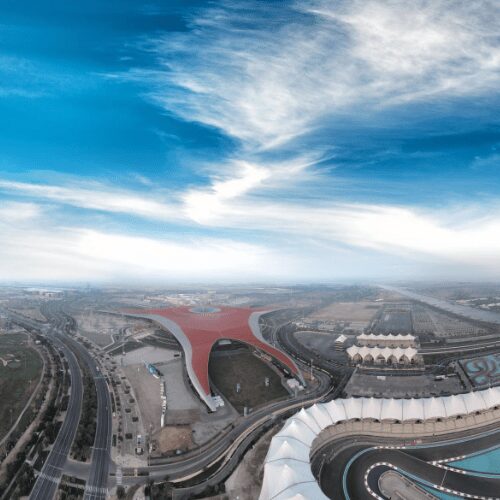 Ferrari World
The Emirate Palace Hotel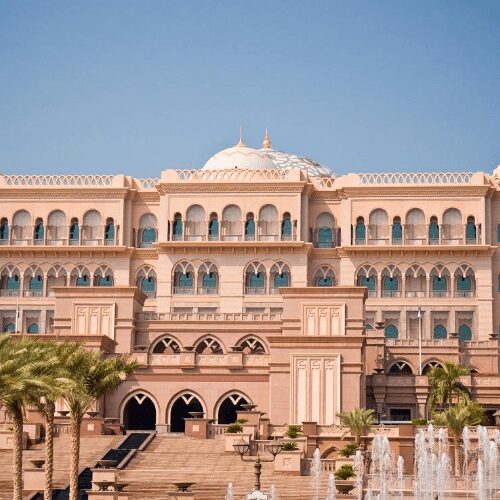 The Best Time to Visit Abu Dhabi
The best time to visit is during the Easter School Holidays (March or April) or October Half-term School Holidays. This is when you can experience the best comfortable weather for your all inclusive holidays to Abu Dhabi.
The May Half term School Holidays & Summer School Holidays have harsh weather conditions and it is best to avoid visiting Abu Dhabi at this time. however, if you just want an all-inclusive holiday to Abu Dhabi where you will be in the hotel only, then Abu Dhabi will be happy to welcome. You will need to rely on the entertainment provided by your all-inclusive hotel at this time because only the indoor attractions will be open at this time.
Christmas School Holidays and February Half-term School Holidays is a much cooler time to visit Abu Dhabi. With temperatures hovering between 28 and 32 degrees. Most attractions for families are open during this time,
Some Fun Facts about Abu Dhabi
Abu Dhabi is the second-most populous city in the UAE.
The currency used in Abu Dhabi is Dirhams.
It s situated on an island in the Persian Gulf off the central western coast.
Abu Dhabi means father of Gazelle – Dhabi means Gazelle in Arabic.
There are a 4 hours time difference between the UK and Abu Dhabi.
Abu Dhabi discovered oil in 1960 (theme time as Nigeria).
Abu Dhabi has 200 islands and 700 kilometres of coastline.
Abu Dhabi was designed by Japanese Architect Dr Takahasi in 1967.
There are more than 2,000 well-maintained parks and gardens. Lake Park is one of the most visited parks in Abu Dhabi.
Abu Dhabi produces Dates.
Abu Dhabi is the centre of wealth for the UAE and it contributes 66% of the UAE's wealth.
Abu Dhabi is home to the largest moto yacht in the world. Azzam. Azzam is owned by the Ruler of Abu Dhabi and the president of the United Arab Emirates.
Getting into Abu Dhabi
BY AIR
Getting to Abu Dhabi by air takes about 6 hours and makes it an ideal UK family travel holiday destination. There are frequent direct flights between London and Abu Dhabi through Etihad
Airways and The British Airways. The best part of travelling to through British Airways and Etihad Airways is that you can earn Points.com
". If you wish to visit Abu Dhabi from outside the UK, your best bet is to look for flights going to Abu Dhabi Airport.
Getting around Abu Dhabi – Is there Uber in Abu Dhabi?
Yes, there is Uber in Abu Dhabi and it is an affordable service. Getting around Abu Dhabi is safe. Taxi drivers are polite and their cars are very neat. For tours around Abu Dhabi, go with the Big Bus Tours Abu Dhabi
. They provide an exceptional hop on and hop off service around the city. They are a cheaper option to use when visiting all the tourist attractions in Abu Dhabi.
Top things to see in Abu Dhabi
Go on the hop on hop off bus
The hop on and hop off bus tours offered by the Big Bus Tours is a great way to see the attractions and the most famous landmarks, including the Sheikh Zayed Grand Mosque, Emirates Palace, Saadiyat Island and the Corniche. There is a pre-recorded narration in the language of your choice which walks you through the rapid development of Abu Dhabi.
Visit Soul Beach   
Located Saadiyat Island, it features sunbeds, parasols and a safety barrier after 400m. It is open every day and you can visit this beach as early as 8 am and leave by sunset. Entry costs Dhs50 per person on weekdays and Dhs75 on weekends, including access to a sunbed and a parasol.
See W Abu Dhabi
Yas Island. Your access to Yas Island theme parks which includes the three best theme parks in the world. Yas Waterworld, Ferrari World Abu Dhabi and Warner Bros.  Rates start from Dhs840 for two including breakfast and theme park tickets.
Get on your bike at Yas Marina Circuit
The popular TrainYas exercise sessions at Yas Marina Circuit are back open to the public. You can now walk, run or cycle the 5.55km track on Yas Island
Wave to the shore from a luxury yacht
How does going on a luxury yacht sound? Well, it is a 'must-see and do' activity in Abu Dhabi. There are tour operators that can provide luxury chartered yacht for your pleasure.
Take pictures of flamingos in the Eastern Mangroves
Marvel at these flock of flamingos in a beautiful ecosystem with lush mangroves.
Explore the golf courses
Channel your inner love for golf at Abu Dhabi Golf Course popularly known to host the Annual HSBC Abu Dhabi Golf Championship. Walk the course where legends of the game have played and have a go at playing golf.
Explore the roots of Abu Dhabi at Heritage Village
The Heritage Village is a cultural spot where takes you into the Emirati life from long ago. The open museums show traditional aspects of the life of Bedouins.
Visit the Souks
Haggle at the souks and get the best deal for soft pashmina, perfumes and spices. If you are staying at self-catering apartments, visit the fish souk too and get the best price for a fresh catch.
Visit UAE's First UNESCO World Heritage Site
Al Ain Oasis is a beauty to hold. It was built by Al Ain farmers many years ago and it uses traditional falaj water system for irrigation. There are wells which store the water to keep the almost 150,000 date palms blooming. You will also get an interactive experience into how these farmers have worked with their ecosystem for generations.
Go on Safari
You wouldn't think there is a safari in Abu Dhabi, well there is. Although it is a man-made safari, if you have not been to Africa, a safari in Abu Dhabi will do for now. Al-Ain Zoo is the largest man-made safari park in the world and home to the big 5 African animals, gazelles, meerkats, rhinos, giraffes and many more animals. You can choose to fo in a smaller SUV vehicle with an expert guide or you can decide to travel through in a truck.
Surfboard at Wadi Adventures
Abu Dhabi is big on water sports and at Wadi Adventures, you will feel right at home with the activities on offer including rafting, kayaking, snorkelling and swimming. Wadi Adventures boost of both land and water activities. If you are not keen on water sports, you can get your adrenaline pumping by climbing a giant wall and swing or going on an obstacle course.
Marvel at the Artwork at the Louvre.
The Louvre is a unique place to visit. From an architectural point of view, the Louvre Abu Dhabi is a must-see place. From a bird's eye view, the Louvre looks like a cover on the sea. The roof lights have intricate designs and the display of the most expensive art pieces in the world is impressive.
Have a wander at the Sheikh Zayed Grand Mosque
I left the best for the last. The Sheikh Zayed Grand Mosque is definitely a must-see iconic landmark. As an architect, It was interesting to see the different the architectural styles and influences from various Islamic countries such as Morocco, Turkey and Egypt.
Final Thoughts for Travel Advice For Abu Dhabi
This post looked at the important travel advice for Abu Dhabi and what you need to know before travelling to Abu Dhabi. It also looks at the reasons why you should visit Abu Dhabi and the top things to see on your holiday to Abu Dhabi. I have written about All Inclusive holidays to Dubai and the top ten things to do in Dubai. If you are looking to combine your visit to Dubai with a visit to Abu Dhabi, you will need to check out those posts.
Have you been to Abu Dhabi before?
Would you like to visit Abu Dhabi?
Let me know in the comments what your views on Abu Dhabi are.