Travelling light with fewer clothes for the family is a no brainer however rolling and squashing your clothes into packing cubes wrinkles your clothes. What's the solution?
Take a travel iron with you. They are small, compact, light-weight and will deliver an excellent power on your clothes more than travel steamers.
Not convinced? Read the 3 best rated clothes iron review to help you decide why you should not pay for laundry services at the hotel or be spotted wearing wrinkled clothes in your family photos.
The Best Rated Clothes Iron – Key features
Soleplate

The best travel iron soleplate can be Ceramic, stainless steel or Aluminium.
Easy of use

The Best Travel Iron should be easy to use with option of a cordless or a long cord travel iron.
They should have manual control, drip prevention or water tank.
Power

The best travel irons should have power indicating light and power of about 1000 Watts.
Safety

The best travel irons should have controls that can shut off if you accidentally forget to turn it off.
Choosing the best rated clothes iron: What to consider
When choosing the best rated clothes iron for travel, you need to consider the pros and cons of its key features and the price you are willing to pay for it.
Key Features:
Soleplate
Ease of use
Power
Safety
Price Range:
Inexpensive
Mid-range
Expensive
Best rated clothes iron: Key features
Soleplate
Soleplate is the flat, triangular part of the iron which helps with the smoothing out of wrinkles. It can be made with different materials such as ceramic, stainless steel and non-stick materials. Here are the pros and cons of each type of a travel iron soleplate.
Ceramic Soleplate
This soleplate have plastic or  metal bases that is covered in ceramic.
Pros:
Creates less static electricity – clothes don't cling to the soleplate.
Offers non-stick surface – so kind to your precious silk, lace and chiffon clothes.
Cons:
Ceramic soleplates get stained quickly by dyed fabrics.
Ceramic soleplates cracks and breaks quickly.
Stainless steel Soleplate
The stainless steel soleplate are commonly used in steam irons. They conduct and distributes heat quickly as they are made from stainless steel.
Pros:
Distributes heat evenly. 
Highly durable.
Easy to clean.
Cons:
Sticks to clothes when the heat is too high.
Melts chiffon, lace and silk clothes when too hot.
Non-stick Soleplate
The non-stick soleplate is made with either Aluminum or stainless steel base and coated with non-stick materials which glides easily on fabrics including light-weight materials.
Pros:
Never sticks on fabrics – great for polyster clothes like sportwears.
Affordable and practical
Powerful wrinkle remover.
Cons:
Coating of non-stick materials degrades with time.
Ease of Use
With new technologies making travel iron compact and digital, you want to consider the option of a cordless travel iron or a long cord travel iron. Read on to find out which is better.
Cordless Travel Iron
Cordless travel irons are more convenient to use but usually heavier because they come with a charging base.
Cordless travel irons are effective for travels within African countries or other countries in Asia and South America who have limited access to electricity.
Pros:
Convenient to use.
Effective for travelling to remote destinations.
Cons:
They don't sustain high temperature so clothes might appear not ironed.
Travel iron with cord
Travel irons with cord are lighter in weight and have high speed of heating to required temperatures.
Travel irons with cord are useful for travelling to countries with a more stable supply of electricity although you need to check for the volts capacity of the country you intend to visit.
Pros:
High speed of heating to high temperatures.
Even spread of heat temperatures.
Cons:
Access to sockets in hotel rooms might be limited.
Needs to be paired up with adaptors for countries in Europe and North America.
Extra features for ease of Use
Travel bag – for keeping travel irons safe and protected during transit. 
Comfortable handle: for ironing your families clothes on holiday, you will need a travel iron with a soft and comfortable grip.
Digital control – for setting the right temperature for specific clothes.
Manual control (recommended) – for manual setting of temperature.
Drip prevention feature – to stop leaking from travel irons.
Water tank – for the function of steam, great with clothes made of linen and cotton fabrics.
Steam Options – for vertical steam  and steam shot options.
Measuring cup – for adding water to the travel iron without spilling.
Power
Considering the power output, dual voltage capacity and power indicator light feature for a travel iron is key. 
The power output should range between 450 – 1000 Watts. Any less will require waiting for a long time before the iron heats up.
Travel irons with dual voltage capacity makes travelling to international countries like America and Canada easier because you can use the travel irons anywhere in the world.
The power indicator light gives a signal to show that the iron is ready to use and controls the temperature (if set) to show when the travel iron is too hot.
Top Tip
Look for travel irons with 240 volts for travels to Africa, Europe and The Middle East.
Buy a travel iron with dual voltage capacity.
Safety
When travelling with children, the safety feature of a travel iron should be a priority. The safety feature of a travel iron is to prevent you and your clothes from getting burned or scratched.
It should have an automatic shut off system that can turn off if you forget to turn the iron off.
Best Travel Iron: Price range
The best travel iron comes with the price tag.
Check out this table to help you decide on what you will get for your budget.
Inexpensive Travel Iron
They are the smallest in size.
Price range
under £15
Features Include:
Manual controls
Dual voltage system  (240 volts  and 120 volts)
Steam Shots
Power indicator light
Flexibility for various fabric types
Mid-range Travel Iron
They have extra features and lasts longer.
Price range
under £30
Features include:
Fast heating
Measuring cup
1-Touch Steam Control
Dry And Steam Ironing
Dual Voltage (100 & 240 Volts)
Small size For Travel
1 Year Warranty
Expensive Travel Iron
They are durable , with great power and steam shot options. Price range under £55 Features include:
 Power between 800 – 1000 Watts
light weight
Manual and digital controls
Dual Voltage support (120 Volts & 240 Volts) 
70 – 80ml water tank
Iron or vertical Steamer option
Continued steaming capacity
Better Warranty – from 2 years
 Travel Adaptor
3 Best rated clothes Iron Reviews (UK)
Looking for the best travel iron is very subjective but this travel iron review has been streamlined to ensure it covers what you are looking for as a family going away on holiday.
Your questions are:
How well will it iron your clothes?
How cheap is it?
How small is it?
This travel iron review answers these questions.
Best Rated Clothes Iron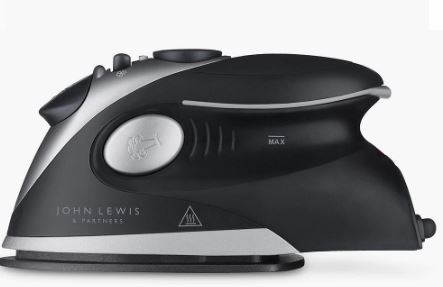 Overview: John Lewis & Partners Travel iron @ £20
John Lewis & Partners Travel Iron is the best rated clothes iron because it will deliver on its promise of ironing your clothes for a crisps and smart look. It has a dry and steam setting which makes ironing easy and quick.
Ratings:
 4.5/5

Buy Now

Main Features
Ceramic Soleplate
50L Water tank
Cordless
1.9m Cable length
0.69 kg weight
Anti-scale tank
1000 Watts Power
Pros:
Heats up instantly.
Works well on cotton and linen fabrics like shirts and shorts.
Compact and light-weight.
CONS:
Uncomfortable handle.
My opinion
John Lewis & Partners is a UK brand to trust. They have delivered quality time after time and this travel iron is another excellent product from John Lewis. It is sturdy in design, durable and offers 2 years guarantee. With its ceramic soleplate, you can be assured that it will be kind to your precious silk, chiffon or lace fabric. It will not stick or burn your clothes. It is great for use when travelling to Africa, Europe and The Middle East because it is cordless and it comes with a cute bag for safety. At £20, it is a bargain and I will suggest you grab yours.
Cheap Travel Iron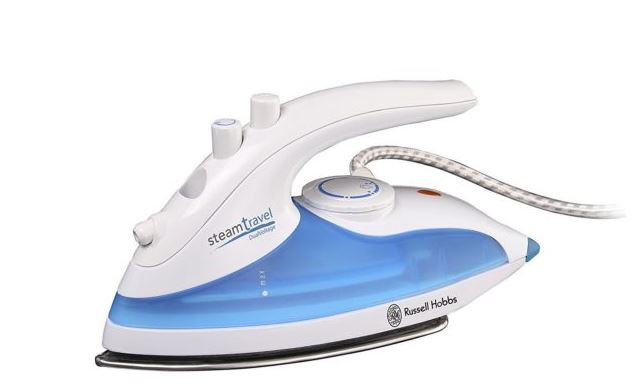 Overview: Russell Hobbs Steam Glide Travel Iron @ £11.99
This travel iron by Russell Hobbs is cheap and does the job!
Russell Hobbs are a leading UK brand in home wares and have a variety of travel irons on the market.
It will fit in your luggage even if you're only using a cabin box.
Ratings
 4/5

Buy Now

Main Features
Stainless steel Soleplate
80 ml Water tank
corded
0.66 kg weight
Steam facility
760 Watts Power
Pros
Heats up quickly.
Compact, fits in your bag.
Dual voltage capacity can be used in Europe, America and Canada.
Cons:
No Auto shut-off, you must remember to turn it off.
My Opinion
Russel Hobbs is a household name in home wares that means they are doing something right. This travel iron is compact at 0.66 kg, it fits in your luggage easily. It heats up quickly and glides smoothly down your clothes because it has a stainless steel soleplate. It is a great travel iron to take on your travels around the world because it has a dual voltage capacity of 120 Volts and 240 Volts.
You will need to take care with this travel iron because it does not have an auto shutoff and with its stainless stain soleplate, it will burn your clothes when it is too hot.
Best quality travel iron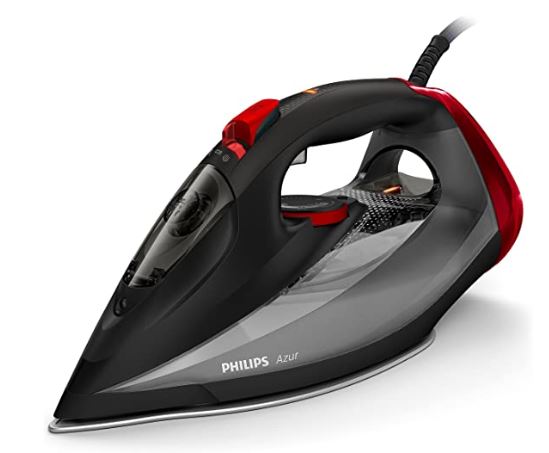 Overview: Philip Azur Steam Iron @ £55
Philip is another brand name in the UK but this travel iron is the leader in top quality and durability. It warms up quickly, and will removes creases in a flash. It offers an amazing 5 years warranty. This iron is the most ideal for long-haul family travel.
Ratings:
 4.7/5

Buy Now

Main Features
SteamGlide Advanced Soleplate
Safety Auto shut-off
5 star gliding system
4 star scratch resistance
300 ml Water tank
Dual voltage
1.56 kg weight
Advanced steam facility
2600 Watts Power
3m Power cord length
Calcium Clean
Pros:
Powerful performance.
Large water tank – You won't need to refill while ironing for the family.
Drip stop system to prevent leakage.
Steam boost that penetrates deep into the clothes.
Quic Calc release for cleaning.
Heats up super quickly with 2600 Watts power.
Cons:
Heat dial difficult to use.
My Opinion
If you are looking for a travel iron for a long-haul family travel adventure, then this travel iron is the best durable iron you will find. It powers up quickly and glides the clothes with 2,600 Watts. It has a drip stop system that keep clothes clean while ironing. The heat ideal is difficult to see if you are using this travel iron in the night. The safety Auto shut-off is perfect if you have children or if you forget to turn the iron off.
To conclude
Iron out your travel plans with my review of the best travel iron in the UK. This review post examines the key features of a travel iron, it explains what to consider when choosing a travel iron and explores the price range for travel irons in the UK. This post is the ultimate guide to getting the best travel iron and it answers your frequently asked questions on the best rated clothes iron, the cheapest travel iron and the best quality travel iron in the UK.
Would you consider getting a travel iron for your travels?
Let me know in the comments.