The best family travel insurance cover review is based on my decade long experience of travelling and buying family travel insurance. I have a love and hate relationship with insurance companies, the current unfortunate situation has brought out the best and worst sides of Travel Insurance companies. The stories from sites like Trust pilot is a reminder to why you need to know about the best family travel insurance cover out there. I have two examples (from Trust Pilot) of the worst and best experience from two travel insurance companies.
Horrible experience from David:
I used Money Saving Expert to find the best deal and, though I didn't choose the cheapest, I didn't read the small print and too late have discovered the policy, taken out at the end of January, doesn't cover us against the Government telling us we can't fly to Egypt because of the coronavirus. We booked our luxury 5 day Nile cruise direct with an Egyptian company and they will not refund our payment, only allow a postponement to later in the year which isn't possible for us. In contrast, the hotels (Sofitel, Marriott and Meridian) were brilliant, allowing full refunds even though I booked them as 'non-refundable'. So far British Airways are only offering a travel voucher but I am confident they too will agree a full refund if the Foreign Office advise against travel to Egypt. Be warned! Read the small print on your annual travel policy.
A fantastic experience from Alan Jones:
We were due to fly out for a week's holiday and jet2 cancelled the trip. Spoke to the travel insurance company and their representative was so helpful cancelling the policy and arranged a refund. Fantastic customer service and dealt with promptly.
Family Travel Insurance companies are always quick to take your money when you buy a policy, but a few are ridiculously slow to listen to your claim and pay up when needed. I have prepared this best family travel insurance cover review for you as a one-stop useful resource for everything you need to know about family travel insurance cover.
Insurance is an arrangement providing protection against the unforeseen. Read about my friend's unforeseen situation. Family travel insurance covers up to two adults (age 18 and above) and up to eight children (under the age of 18) all living at the same address. Some family travel insurance comes with 'kids go free' package while other family travel insurance covers multi-generational families including members of families who do not live together (stepchildren). Family travel insurance is one of the most important things to consider when you plan your travels.
What types of Family Travel Insurance covers are there?
This best family travel insurance cover review explains the two main types of family travel insurance available. They are:
Single trip, Insurance
Annual trip or Multi-trip Insurance
Single travel insurance cover as the name suggests is a travel insurance policy for a single holiday or one-off holiday per year. This is best for the family who love to enjoy a luxurious holiday once a year.
An annual or multi-trip insurance is recommended for travellers who travel more than once a year to destinations in their specific cover.
The choice of the best family travel insurance cover can be:
UK Travel insurance Cover: For UK citizen holidaying in the UK and Northern Ireland. It covers paid accommodation stays for over 2 days in the UK.
European Travel Insurance Cover: Including travels to all European countries and some countries in Africa like Egypt, Morocco and Tunisia.
Worldwide Travel Insurance Cover: Including countries around the world, some might include travels to Australia, Caribbean, Mexico, USA and Canada.
Is Travel Insurance Worth the Cost?
The plain answer is YES! A family travel insurance cover cost less than £30 for single trip insurance or about £100 for annual or multi-trip insurance. That means that if the unknown happens during your travels, you might claim up to £10 million. A claim of £10 million will depend on a LOT of things and the cover you have taken out!
What does the best family Travel Insurance Cover?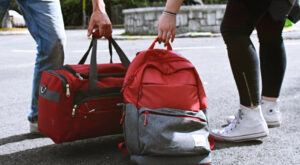 The best family travel insurance cover should offer at minimum up to £10,000 for the total cost of your travel and payment assurance for:
Medicals: if you or a member of your family falls ill on holiday. It covers the cost of your hospital needs to an extent.
Emergency Cancellations: if you cannot travel because of sickness or bereavement.
Baggage: If your baggage gets lost, stolen or damaged. It also covers the loss of your passport, loss of your driving license, loss or theft of your personal money and replacement of essential baggage.
Belongings: Including Money and gadgets.
24-hour Helpline: You want to reach your travel insurer regardless of the time difference from your destination. You want to speak to someone that will calm your fears and put your mind to rest.
Annual multi-trip package: If you travel frequently to different locations, travel insurance should be able to offer a multi-trip or annual travel insurance (recommended).
Single Trip: You also want an insurer to provide the option for a single trip Cover.
Activities: It is travel insurance, your package should cover your adventurous activities such as jet-ski, and some extreme sport to an extent.
Personal & Business Travel: If you are lucky to travel a lot for work, you want an insurance cover to provide a package and although your business should provide insurance for that; it is also wise to have a package which covers you for business travel and personal travel.
Delays: Delays up to 12 hours for outward or final inward international flights for specific reasons.
End Supplier failure: If you book non-refundable travel and accommodation and your supplier (airline, hotel, tour) goes burst.
There are also some specific covers that family travel insurance can offer based on:
The age of the traveller/s.
There is specific family travel insurance for the over 50s, 60s, 70s and 80s.
The pre-existing medical condition of traveller/s.
It is difficult to get travel insurance when you have pre-existing medical conditions, however, there are specific covers that cater to these needs like Travel Insurance 4 Medical.
The activities they wish to pursue (extreme sports, adventurous or Ski).
Do you wish to go on cruise travel?  A winter sports holiday or golf travel? There is specific family travel insurance for your needs.
The destination of travel (UK, European or Worldwide).
With over 3 million UK families visiting Disneyland World annually, USA is one of the top travel destinations for a lot of families. The cost of travel insurance to the US from the UK does not come cheap.
When should you get a Family Travel Insurance cover?
You should get a family Travel Insurance immediately you book your holiday but you can also get it last minute (not advisable) the day before you depart for your holiday.
Does the best Family Travel Insurance Cover Individuals?
Yes, with some polices.  Each individual adult gets covered so partners can go off on vacations.
Standard versus Premium Cover
The standard family travel insurance should provide an agreed payout for emergency medical cover, cancellations that weren't your fault, loss or damages or theft of baggage and cruise cover.
Premium Family travel insurance cover should have additional specks such as additional transport and accommodation payout, delay at departure payout, bankruptcies of travel provider payout, adventure and extreme sports payout, and better payout for damages or loss or theft of personal belonging including passports, driving license and baggage.
In most family travel, a standard cover is sufficient. We recommend a premium cover because of the unpredictable nature in the travel industry.
Best UK bank accounts with free travel insurance
Which UK bank account offers free travel insurance as a package as an incentive? Several bank accounts offer a free or complimentary Family Travel Insurance.
Barclays Premier
Worldwide, Multi-Trip Family Travel Insurance.
Up to the age of 80.
Access to 6 Airport Lounges a year.
Partner, Children up to the age of 18 and joint account holders.
£18 per month.
 
Natwest Premier Black Account.
Worldwide Family Insurance for up to 90 days, Winter Sports cover up to 31 days.
Up to the age of 80 years.
Unlimited access to over 1,000 airport lounges worldwide.
Children under the age of 18 and children under the age of 23 (if they are in full time education)
£31 per month.
 
Nationwide FlexPlus
Worldwide Family Insurance, Winter Sport Cover.
Up to the age of 69 years.
Wedding and Business Cover, UK and Europe Breakdown Cover.
Partner, Dependent children under the age of 18 and dependent children under the age of 24 in full time education.
£13 per month.
 
Halifax Ultimate Reward Account
Worldwide Multi-Trip Cover for up to 45 days, Winter Sports Cover.
Up to the age of 71 years.
UK breakdown cover.
Partner (living together), Children under 18 and 24 (if in full-time education).
£17 per month.
 
Club Lloyds Platinum
Worldwide Cover for 45 days, Winter Sports Cover for 31 days maximum.
Up to the age of 80.
AA breakdown cover.
Partner, Children under 18 years old.
£21 per month.
 
HSBC Premier
Worldwide Family Travel Insurance
Up to the age of 70.
Winter Cover and Business Cover.
Partner, Children under 18 or under 23 in full-time education and living at home
No fees.
Do you need another travel insurance if you have free travel insurance with your bank account or credit card?
The plain answer is yes.
The free or complimentary travel insurance covers the bare minimum and please read the fine print details and understand every detail to avoid disappointment. The bare minimum includes:
Baggage only, and no personal liability and money.
Limits – There are limits to how much you can claim and how much is on offer.
Purchases – Make a claim if you use bank cards for purchases.
More Excess – The excess they will require you to pay is usually higher than a traditional travel insurance excess and the payout is always smaller.
Although the bank account offers far more benefits than just travel insurance, it is best to buy another travel insurance for complete rest of mind.
Top Tip: You cannot take compensation twice so when making a claim, ensure you take advantage of the travel insurance with the lower excess fee and higher package.
How to claim on your Family Travel Insurance
Making a claim for your travel insurance should be straightforward. Nothing prepares you for the unknown and no one foresees what will happen when they plan holidays, therefore, it is important to get travel insurance.
To claim for your family Travel Insurance, you need to call your insurer immediately. Make sure you have these documents to hand.
A Police report claim – report all crimes to the police and get the papers as evidence. These days, we can use your mobile phone to scan pictures to your insurer.
Medical report: A hospital card, medical cost receipts and any other cost you might have incurred.
Evidence of Delays and Cancellation of flights: Flight numbers, exact dates of departure and return.
Any other document you think will help you be successful.
How can you have an unsuccessful Family Travel Insurance claim?
Your family travel insurance will be unsuccessful if:
You don't declare your pre-existing medical condition.
You travel against the advice of your doctor and FCO.
You travel to receive medical care abroad.
You do not take the necessary medication.
Remember to read the fine print carefully.
Useful List of Family Travel Insurance Providers
American Express Travel Insurance
Blue Bear Family Travel Insurance
Columbus direct Family Travel Insurance
Let's go insure Travel Insurance
Royal Bank of Scotland Travel Insurance
Top-Notch Cover Travel Insurance
Best Family Travel Insurance cover Review
I have picked my go-to choice of the 3 best Family Travel insurance for a comprehensive review.
Name of family travel insurance
AllClear Family Travel Insurance
AllClear Travel Insurance is great for families because there is no age limit on its cover. It covers Medical Expenses up to £15 million, Cancellation and Curtailment up to £25,000 and Personal Belongings up to £3,000.
£ 250
Annual Premium
Pro: Excellent Customer Service, Fantastic Medical Travel Insurance, Great for older age group, Independent trips are covered.
Cons: Only local hospitals can be used.
Overall Rank: 92%
Click Here
AllClear Travel Insurance places families at the heart of its travel insurance with its no age limit policy, it is aware that increasing number of people have a pre-existing medical condition and as a result, they have made considerations, which makes their travel insurance one of the most affordable.
Popular
Travel Insurance 4 Medical
Travel Insurance 4 Medical is excellent for its 24 hour helpline, 24 hour Medical Helpline with a UK based GP. It covers Medical Expenses up to £10 million, Cancellation and Curtailment for up to £7,500 and Personal Belongings for up to £3,000.
£ 215
Annual Multi-trip
Pro: Free cover for children under 18 years old, Polite and helpful staff, 24 hour Medical Helpline, No small print – What you pay for is what you get.
Covers up to 79 years old.
Overall Rank: 95%
Click Here
Travel Insurance 4 Medical; is the perfect travel insurance for the adventure seekers, city breaks lovers and the beach holidays fanatics. They provide a wide range of travel insurance cover including a motorbike cover.
Popular
Coverwise Travel Insurance.
Coverwise Travel Insurance is the best family travel insurance out there! It provides an unlimited medical expense cover, up to £5,000 for Cancellations and Curtailment and up to £2 million for personal liability.
£ 150
Annual Comprehensive
Pro: No age limit. Covers all pre-existing medical conditions, there is a choice of regions for the Worldwide Travel insurance rather than just countries. There is 24 hour worldwide support.
Cons: No mobile app.
Overall Rank: 98%
Click Here
Coverwise is the full package when it comes to family travel insurance, it has thought deeply about the needs of families and offers exceptional customer service for 24 hours. For £238, adults aged 80 and over gets a comprehensive worldwide cover. It also offers a 15 month cover for the price of 12 months. Finally, children up to the age of 18 go free!
Best Deal
Conclusion
The best family travel insurance cover depends on the quality of policy and the customer services provided. Although there are several family travel insurance companies out there, this post provides a comprehensive guide to all you need to know about family travel insurance. It explains, in a table, the best UK bank account with a complimentary family travel insurance and offers a useful list of family travel insurance providers.
Finally, this post gives a detailed review of the three best family travel insurance cover out there and a review of the newest, forward-thinking and tech-savvy travel insurance.
What is your experience of travel insurance?
Let me know in the comments, please.
Are you looking for more travel product reviews?
Read my review of the best-rated clothes iron for travel here.
Alpha Travel Insurance
£91
Coronavirus Travel Insurance
9.8/10
Multi-Trip Travel Insurance
9.6/10
24 hour Emergency Assistant
9.7/10
World-Wide Travel Insurance including USA, Canada and Caribbean
9.8/10
14 Days Cooling off period
9.7/10
Pros
Staycation Travel Insurance
30p a day per person for annual cover
Medical Cover up to £10 million, Gadget Cover and Business Cover
Simple and Straight forward
No upper age limit and Tailor-made insurance