If you're in the market for the best-rated travel steamer that will make you look smarter and professional in all your holiday photographs, this is a post that you must consider.
The reason I say this is that travel steamer is portable and light to pack in your luggage without losing space. Plus, the best-rated travel steamers don't cost an arm and leg. When I reviewed the best clothes travel irons for family travels, several of you suggested that you preferred a travel steamer. This post will review the best-rated travel steamers and conclude with the difference between a travel iron and a travel steamer.
How to choose the best-rated travel steamer – what to consider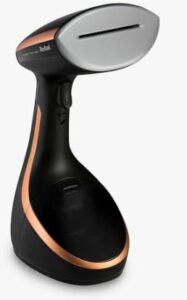 A travel steamer is designed to be portable and easy to use, but not all travel steamers are created equal. While some travel steamers are easy to use, some travel steamers take time. You can spend a long time waiting for it to heat and if you are travelling with your family, that's not what you want.
The top things to consider when planning to buy the best-rated travel iron are:
the ease of use
the sole-plate
the power
the value for money
The ease of use
A travel Iron should be easy to use, light and mobile.
The Power
The power required for travel steamers to do a brilliant job.
Value for money
A travel steamer should provide value for money.
12 Best-Rated Travel Steamers for clothes
12 Best-Rated Travel Steamers Final thoughts
The best-rated travel steamer is out there for travellers of every budget. The fundamental things to consider is the power, the soleplate and the easy of use.
I hope my post helps you find the best-rated travel steamer.
Let me know in the comments about your experience of travel steamers and travel irons. Which one do you prefer?