Santorini is a top location to visit for your destination celebration. If you are looking for options on where to stay, you have to look at Santorini Hotels with Infinity pools. We have all seen pictures on Instagram of Santorini hotels with infinity pools but often wondered what their names are or how to get there. Infinity pools in Santorini sit on the edge of Caldera cliff and create a magnificent view of the Aegean sea which merges seamlessly together when viewed at different angles. This creates a perfect atmosphere of relaxation and bliss. If you are searching for your perfect luxury holiday to Santorini and you need a list of the best hotels with infinity pools, this is the only guide you need.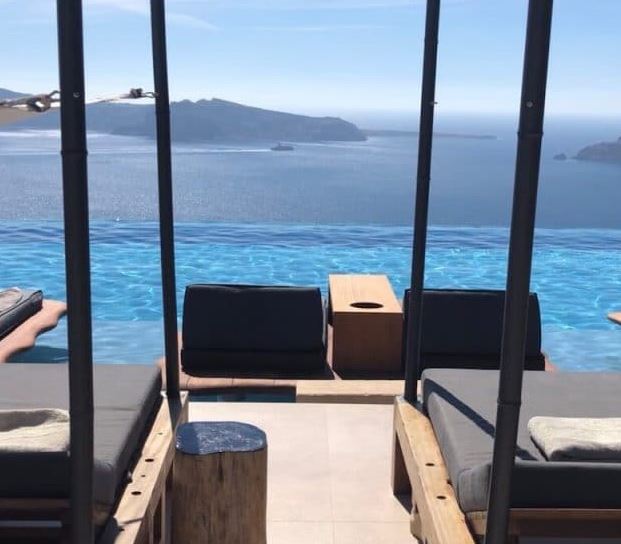 Where are the hotels with Infinity pools in Santorini?
Most Santorini hotels with infinity pools can be found in the Caldera settlement which is made up of Oia, Imerovigli, Fira, and Firostefani.
Where Is Oia?
Oia is located in Santorini, the popular Greek Island and a part of the Cyclades group of islands in the Aegean Sea. Oia is one of the most visited villages in Santorini and it is not difficult to see why the beauty of Oia is indescribable and best experienced personally.
The stunning views of Oia will be precisely how you have imagined it, straight out of a postcard. The buildings are whitewashed with blue domes, the streets are stone cobbled and the paths are narrow. Oia is popular with couples on romantic getaways however, families can enjoy Oia too.
On average, the number of visitors per year to Oia is about 30 million. That means that they have perfected the art of hospitality and you will the value you require.
Where is Imerovigli?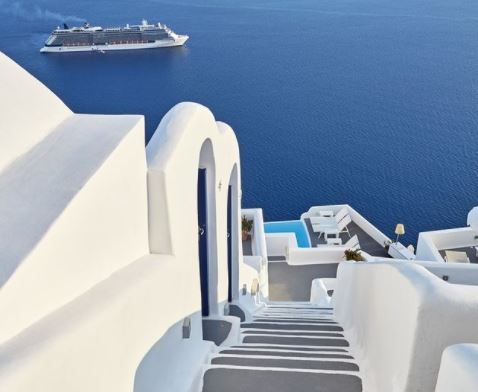 Imerovigli is located on the highest point of Santorini. It is also popularly referred to as ' Balcony on the Aegean' and the best-kept secret location in Santorini. While Oia takes the crown as a honeymoon destination with lots of tourists, Imerovigli is known as the dreamy village, with unspoiled views of the Caldera cliffs and Aegean sea.
Imerovigli prides itself as a peaceful, totally rejuvenating holiday destination with family-friendly luxury hotels. It is also a popular place for honeymoon seekers and there are ample locations perfect for stunning photography opportunities like the different stairway that reveals the entire views of the sparkling blue Mediterranean sea.
Where is Fira?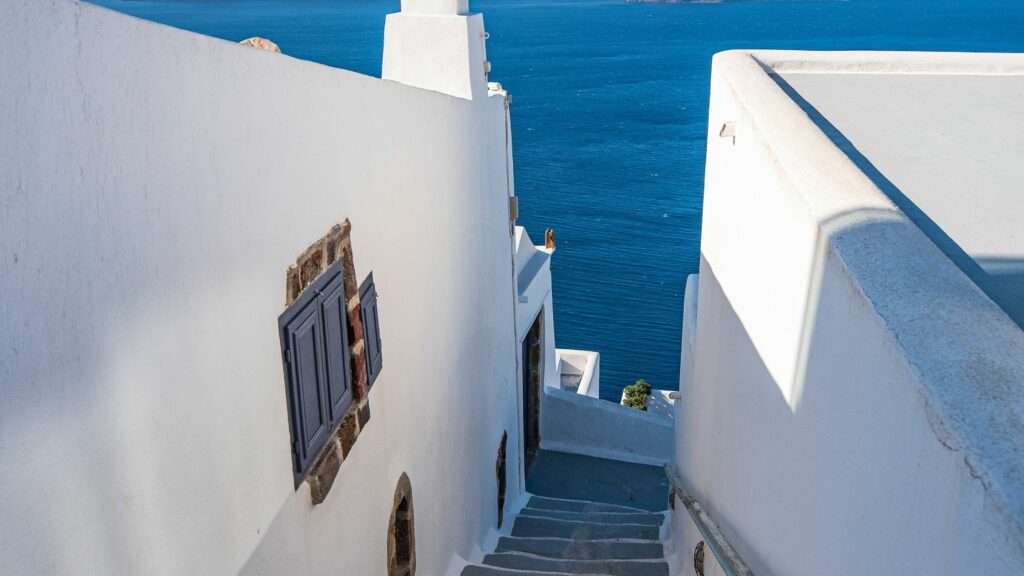 Fira is the breathtaking capital of Santorini and as such, is the biggest and most cosmopolitan settlement in Santorini. Here you will get the best views of the caldera cliffs and the variety of the activities on offer is level is enough to keep you entertained for hours.
It is a tourist hub with hundreds of tourists every year storming this beautiful part of the world. It is not difficult to see why it is a tourist hub, there are stunning views everywhere you look, from the cafes to the restaurants to the bars. They all have patios and balconies with breathtaking views so ideal for the average tourist to snap away.
The cruise ships also dock at the port of Fira, on the days they dock, Fira can feel a bit overwhelming with tourists. There are three ways to get around Fira. The first way is to climb the steep steps which can prove to be a challenge if you are don't fancy walking. Although it is great to walk down and use another means to come back up. The second way of getting around Fira is by using a donkey and the third choice is to use the cable car available.
https://www.instagram.com/p/CFmg1S6iCvE/
Where is Firostefani?
Firostefani is a small village in the north of Santorini and is just about a 15minutes walk away from Fira. Firostefani is considered the quiet part of Santorini and mostly for the exclusive visitors to the Greek Island. Its closeness to Fira means that you can enjoy the nightlight in Fira and take a short stroll back to your hotel in Firostefani to enjoy the peace and quiet of this beautiful part of Santorini. It also provides stunning views of the cliffs, the sea and the capital. Firostefani has some of the best restaurants in Santorini like the Mylos. Mylos is a stunning restaurant in Santorini built around the windmill with magnificent views of the Caldera from its terrace. If you want to visit Mylos during your visit to Santorini, you will need to book a table in advance because it fills up very quickly in the Summer.
35 Stunning Santorini Hotels with Infinity Pools for your Destination Celebrations
List of Santorini hotels with Infinity pools in Oia
Oia is the most popular village in Santorini, the Greek Island the Cyclades, with beautiful white shell design houses. Here is a list of Santorini hotels with infinity pools in Oia.
La Perla Villaas and Suites
Echoes Luxury Suites
Andronis Luxury Suites
Canaves Oia Sunday Suites
Amaya Selection of Villas
Canavas Oia Suites and Spa
Perivolas Hotel
Andronis Boutique Hotel
Aspaki By Art Maisons
Ducato Di Oia
Old Castle Oia
Santorini Secret Suites & Spa
Saint Legendary Suites & Spa
Art Maisons Oia Castle
Andronis Arcadia Hotel
Oia Sunsets Villa
Mystique
List of Santorini hotels with Infinity pools in Imerovigli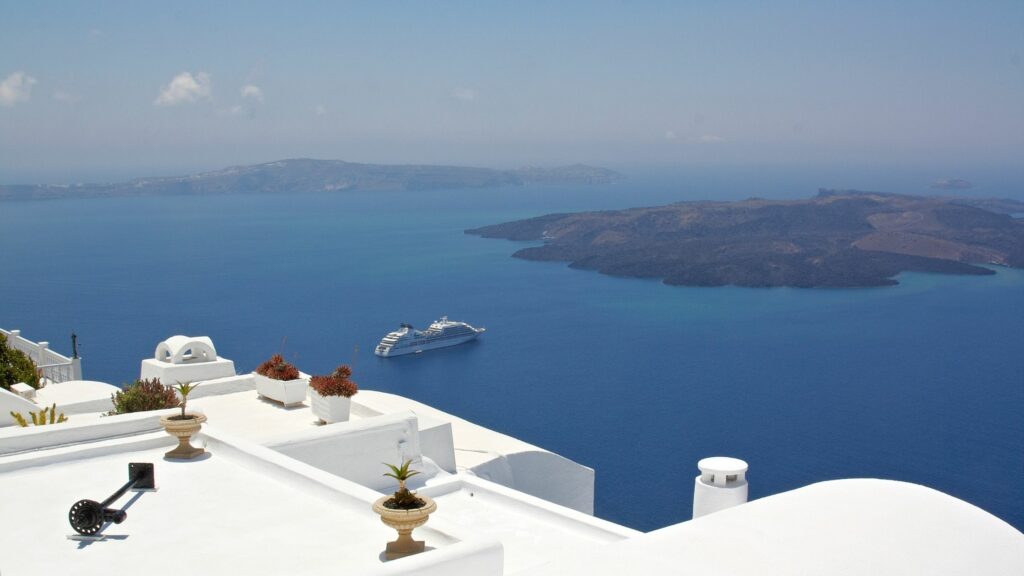 Anastasis Apartments. https://www.instagram.com/p/B1_RGIPogch/
Honeymoon Petra Villas
Pegasus Suites & Spa
Dreams Luxury Suites
Avista Suites
Astra Suites
Cavo Tagoo Santorini
Aenaon Villas
West East Suites
Andronis Concept Wellness Resort
Honeymoon Petra Villas
Amber Light Villas
Azar Luxury Villas & Suites
Chromata
Vora
List of Santorini hotels with Infinity pools in Fira
Adamant Suites
Villa Bordeaux
White – Ark
Pantelia Suites
Amera Suites
Desiterra Suites and Villas
Erosantorini
List of Santorini hotels with Infinity pools in Firostefani
Infinity Suites & Dana Villas
Villa Etheras
The Tsitouras Collection Hotel
Villa loli Anastasia
Questions you might have about the 35 Stunning Santorini Hotels with Infinity Pools
Which Santorini hotels with infinity pools are close to Santorini Airport?
These hotels with infinity pools are close to Santorini Airport:
Which Santorini hotels with Infinity Pools are 5 Stars?
These hotels with infinity pools in Santorini are 5 stars hotel:
La Perla Villas and Suites
Andronis Luxury Suites
Canvas Oia Suites & Spa
Perivolas Hotel
Andronis Boutique Hotel
Aspaki by Art Maisons
Saint Legendary Suites & Spa
Art Maisons Oia Castle
Andronis Arcadia Hotel
Mystique
Villa Bordeaux
Desiterra Suites and Villas
Chromata
Cavo Tagoo Santorini
West East suites
Andronis Concept Wellness Resort
Honeymoon Petra Villas
Pegasus Suites & Spa
What are the best hotels with infinity pools in Santorini?

Some of the best hotels with infinity pools in Santorini are:

Which Santorini hotels with infinity pools offer a gym?

A gym is available to guests at the following hotels with infinity pools in Santorini:

Which Santorini hotels with infinity pools have rooms with a private balcony?

A private balcony can be enjoyed by guests at the following hotels with infinity pools in Santorini:

Which Santorini hotels with infinity pools have rooms with great views?

These hotels with infinity pools in Santorini have great views and are well-liked by travellers:
Which Santorini hotels with infinity pools are romantic?

These hotels with infinity pools in Santorini have been described as romantic by other travellers:

Which Santorini hotels with infinity pools offer an adult pool?

Travellers enjoyed the adult pool at these hotels with infinity pools in Santorini:

Which Santorini hotels with infinity pools are good for families?

Families travelling in Santorini enjoyed their stay at the following hotels with infinity pools: