Wondering which destinations you should visit on your epic road trip from London to France? Whether you are a luxury traveller or a budget traveller, this cross-country road trip planner stops will give you clear guidance on how to tackle these dreamy destinations France has to offer on a road trip.  France is alive with a truly eclectic range of destinations from dreamy lavender fields, to wine hideouts and classic French seaside towns. Here, we take a look at 13 of the top hotspots that every traveller should have on their France bucket list and Europe road trip planner.
How to get from London to France
There are two ways to get from London to France.
Euro Tunnel from Folkstone also know as Le Shuttle
Ferry from Dover, Portsmouth, Poole, Plymouth, and Cork
Road Trip Planner Stops from London to France
For your complete road trip planner stops from London to France, you might want to consider the destinations you wish to visit. I created this road trip planner stops for my Summer road trip from London to France.  I didn't want to drive directly from London to Nice and I decided to stop at each destination in France for a minimum of 2 days.
It was my first attempt at slow travelling and I thoroughly enjoyed visiting each destination. The initial plan was to drive from London to Nice however when I got to Nice, I discovered that Monaco was just 25 minutes away and I thought it was the perfect opportunity to see Monaco as well. I have included Monaco in my guide as an extra destination if you wish to follow my road trip planner from London to France.
This is the detailed road trip planner stops I used.
London to Calais. Duration: 45 minutes.
Calais to Lille – Duration: 1 hour 12 mins
Lille to Reims -Duration: 1 hour
Reims to Paris – 46 minutes
Paris to Versailles – 34 minutes
Versailles to Saint-Malo – 3 hours 8 minutes
Saint-Malo to Mont Saint Michel – 51 minutes
Mont Saint Michel to Rennes – 1 hour 5 minutes
Rennes to Nantes – I hour 20 minutes
Nantes to Bordeaux – 3 hours 26 minutes
Bordeaux to Toulouse – 2 hours 43 minutes
Toulouse to Montpellier – 2 hours 40 minutes
Montpellier to Marseille – 1 hour 52 minutes
Marseille to Nice – 2 hours 11 minutes
Nice to Monaco – 25 minutes.
13 Road Trip Destination from London to France.
From my road trip planner stops, you will discover that I didn't want to drive for long hours at a time and I wanted to see the most beautiful destinations in France.
To drive from London to France, you will obviously need to go through the Euro Tunnel. The short 25 minutes on the Euro tunnel takes you to Calais.
Here are the 13 best road trip destinations from London to France that I visited.
Lille: 1st Road Trip Planner Stops From London to France.
How long is Calais to Lille ?
Duration: 1 hour 12 minutes.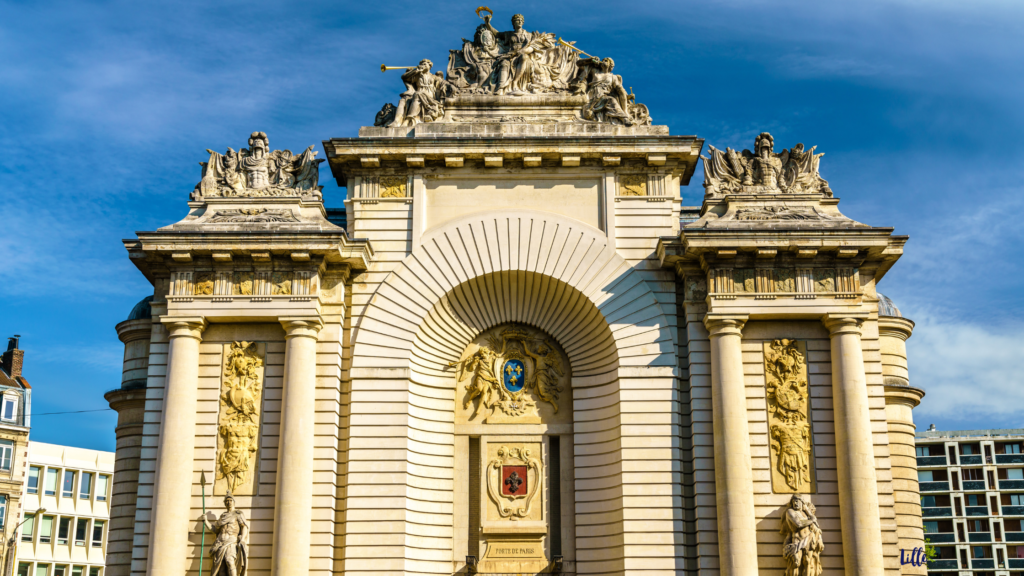 Lille is the fourth major city in Northern France as a  commercial and cultural hub. There is a unique blend of French and Flemish cultures here due to Lillie's closeness to the Belgium border. It is only over an hour's drive from Calais making it the ideal stopover if you are travelling to Belgium, Amsterdam, or further into France. If you are here for a stop-over, here are the best things to do.
Best Things to do in Lille
Visit the Place Du General-de-Gaulle Square: Start at the Grand Place, the main meeting point in Lille. Place du General-de-Gaulle Square is a bubbly square featuring one of the city's most famous landmarks – The column of the Goddess. The Column of the Goddess monument was completed in 1875 to mark the siege of 1792 (the french revolution war).  The Fountain of the Goddess is a lovely place to relax, watch people go about their business, go for a drink at the restaurants, or have something to eat. There is a 24-hour car park, cafes, restaurants housed in fascinating historical buildings.
Reims: 2nd Road Trip Planner Stops From London to France.
How long is Lille to Reims?
Duration: 1 hour.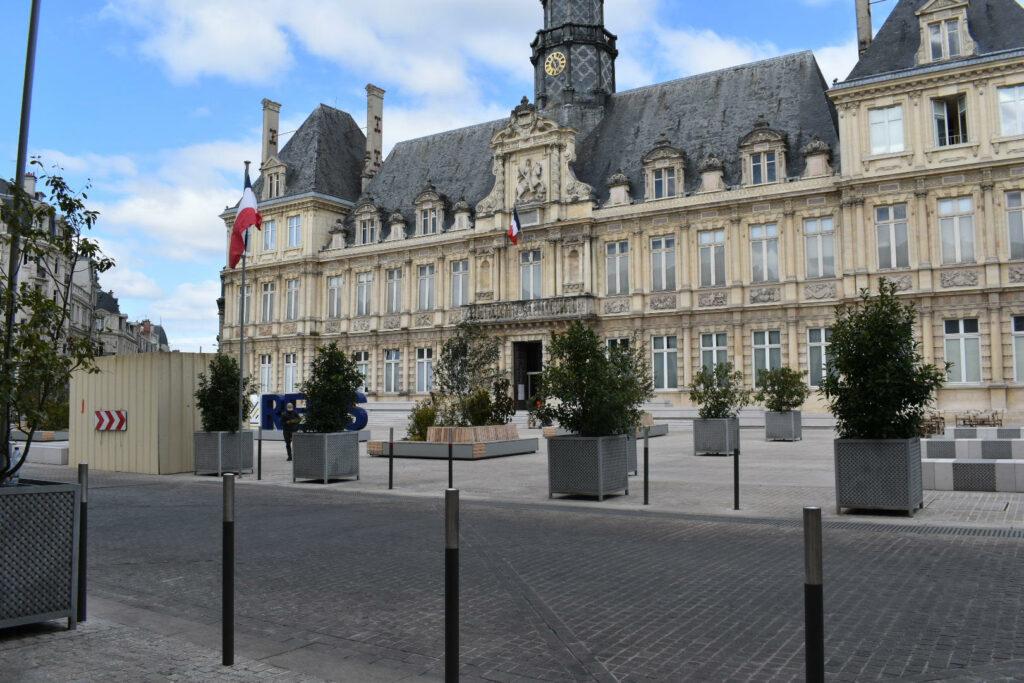 Reims is the largest city in the Champagne region with a crop of UNESCO World Heritage sites.
Best for Champagne and history lovers
Where to stay in Reims: The best place to stay for a luxury weekend away in Reims is the Best Western Premier Hotel. A stylish and central hotel.
Best Things to do in Reims
Start with a visit to Rue du Temple, explore Les Halles du Boulingrin – The city's home to fruits, vegetables, meat, olive oil, and wine. Make a visit on  Saturday in time for the market which opens between 6 am and 2 pm.
Paris: 3rd Road Trip Planner Stops From London to France.
How long is Reims to Paris?
Duration: 46 minutes.
Paris is the city of light and a must-see place on your road trip from London to France.
Versailles: 4rd Road Trip Planner Stops From London to France.
How long is Paris to Versailles?
Duration: 34 minutes.
The Palace of Versailles is an intriguing palace with extensive gardens. It has been a UNESCO World Heritage site for over 30 years and rightly so, it was the centre of political power during the French Revolution. It offers numerous rooms and galleries. The palace is open every day and online reservations are necessary for large groups. However, due to the current pandemic, the Palace of Versailles, the Grand and the Petit Trianon are closed. The park of Versailles, the lake of the Swiss Guard and the Estate of Marly are open to walking from 8 a.m. to 6 p.m.
The Best Things to do in Versailles
Explore the Gardens of Versailles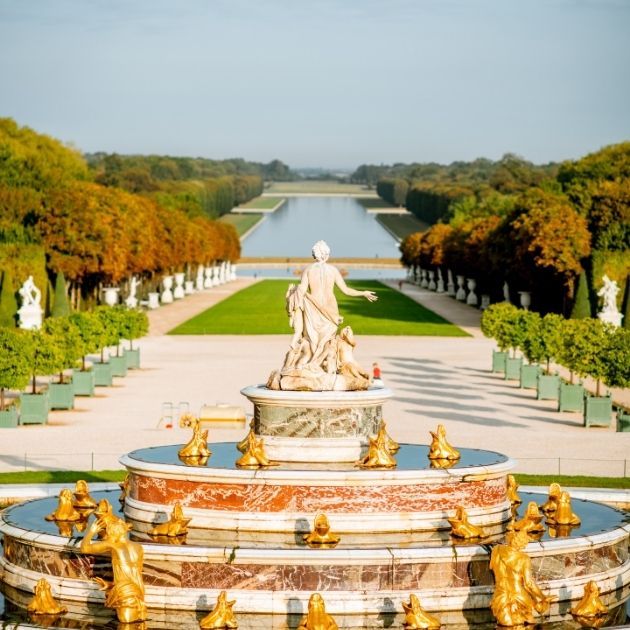 With over 800 hectares of land, the garden of Versailles deserves a separate post for you to fully grasp the elegance, the splendour and beauty of this dreamy garden. Explore the freshly manicured lawns, a grand fountain, rare flowers, sculpture. During the Summer, there is a water show similar to the dancing fountains of Dubai. This garden holds a separate UNESCO World Heritage Status in 1979.
See the Majestic Halls of Mirrors
The halls of Mirror is a beautiful gold and crystal hall located inside the Palace of Versailles. It is believed that there are over 350 mirrors used to decorate in the design of this hall. There is 17 mirror – decorated arches reflecting 17 glided and arcade windows. If you plan to see the majestic halls of mirrors, it is best to visit in the morning to avoid the crowds.
Relax at the Royal Opera of Versailles (Chateau de Versailles Spectacles)
The Royal Opera of Versailles is located in the North Wing of the Palace of Versailles. It was cleverly designed with wood to improve the acoustic and sound of the building. It holds an audience capacity of about 1,200 and in line with the glamour of the Palace of Versailles, it features some dazzling chandeliers, wooden flooring and alfresco on the ceiling.
Marvel at the Pink Marble Building of the Grand Trianon
The Grand Trianon was the brain-child of King Louis XIV and the private romantic hideaway of King Louis XIV to pursue his affair with Madame de Montespan away from the intruding eyes of the staff at the Palace of Versailles. It had thick forest hedges and its own private parking.  It was designed by Jules Hardouin – Mansart in 1687 and has hosted prominent guests in the past including Princess Marie Leszczynsta from Poland, The Grand Trianon is now used to host visiting foreign dignitaries.
Visit Petit Trianon
Petit Trianon was designed in 1768 by King Louis XVI then gave Petit Trianon to his bride Marie Antoinette who redesigned it lavishly with Anglo oriental designs. It has exceptionally rich embellishments, marble columns, garden areas which surround the palace. If you are looking for an elegant building to visit, Petit Trianon is the place
Stroll to Notre-Dame de Versailles
The church – Notre Dame de Versailles is a few minutes walk from the central market and the Garden of Versailles and was designed in 1686 to serve the needs of the community. Notre-Dame de Versailles is a great example of Neo-Classical architecture with sculptures by Pierre Mazzeline.
Check out Versailles Cathedral
The Versailles Cathedral is the seat of the Bishop of Versailles and such a beauty to hold. Its architecture is the baroque style and it has a great number of interesting period painting.
Explore the Royal Chapel
The Royal Chapel is another stunning place to see in the Palace of Versailles. It features some exquisite altarpieces and monumental pillars. It has large sculptures, marble flooring and illustrious paintings. It is used for musical concerts and private events now.
Grab a bargain at the Versailles Market
The Versailles Market is famously known for organic produce and fresh french food, the market is an ideal place to visit if you are looking for the freshest organic produce in France.
Where to stay in Versailles
Hotel de France, Versailles
Hotel le Versailles, Rue Sainte – Anne
Waldorf Astoria Trianon Palace Versailles.
Saint-Malo: 5th Road Trip Planner Stops From London to France.