Renaissance Amsterdam is a Marriott group hotel, and that means that you can use points to buy your stay here. It is a newly designers hotel, completed in 2018. The hotel has a nature theme; it looks modern and tastefully designed.
Location:
Although it is an Amsterdam Schiphol Airport hotel, it is not located around the immediate surrounding of the airport. You will find Renaissance Amsterdam Schiphol Hotel in Aalsmeer. Just a 10 minutes complimentary bus ride from the hotel will take you to Schiphol Airport in Amsterdam.
The location of the Renaissance Amsterdam Schiphol hotel is perfect in many ways. First, with a twenty minutes drive, you will be at the city centre of Amsterdam but you also get to steal the views of Amsterdam Bos right from your bedroom window. If you are looking for a quiet location with extensive parking spaces and a 24- hour complimentary shuttle service to Amsterdam Schiphol Airport, then Renaissance Amsterdam Schiphol hotel will be prefect for you.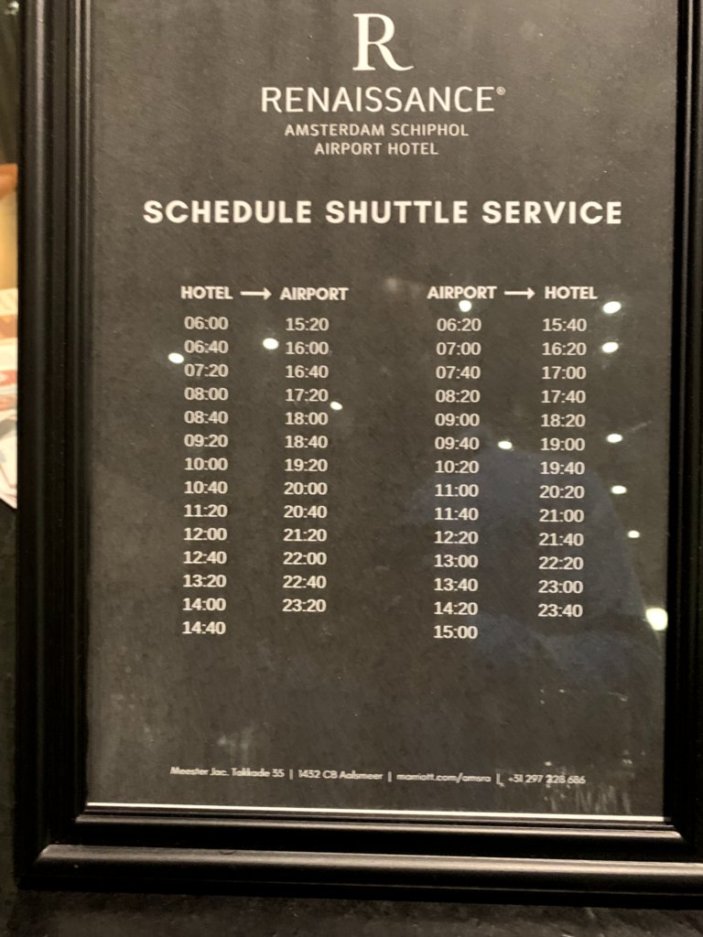 The Complimentary bus schedule time table
Classification and first impression:
Renaissance Amsterdam is a 4 Stars hotel.
The first impression you will get as you get to this property is the high level of security. The entrance to the car park is remotely controlled, the entrance has a porter on guard and the front desk provides a reassuring sense of privacy and security.
The design of the hotel is inspired by its lush environment, a nature theme from Amsterdam Bos and it provides an intriguing atmosphere, as if you are walking in the Amsterdam Forest with light peeking through the woods. The furniture offers a natural colour palette and soft fabrics, striking shapes and lines from De Stijl. The windows of Renaissance Amsterdam Schiphol Airport are accentuated by brass panels, in an abstract leave pattern decorated in reference to Amsterdam Forest which is adjacent to the hotel. The nature theme is well played out.
Room Category at Renaissance Amsterdam Schiphol:
Renaissance Amsterdam Schiphol is a 250 bed hotel, the rooms are comfortable with a lush minimalist design. The room has USB ports, a spacious desk with a lamp and socket, a minibar fridge, a Magimix Expresso machine with pods and a spacious wardrobe with ironing board. The rooms on offer include a superior king room, a superior twin room, a deluxe king room, a deluxe twin room, an executive king and a bedroom suite which has 1 king and I corner whirlpool. I stayed at the bedroom Suite with stunning views of Amsterdam Bos and the Ring Vaart. The room had a travel cot and an interconnecting room for my girls.
The bathroom is spacious with a large shower cubicle, again designed with plain natural colours. The bath accessories are products from TokyoMilk Brand.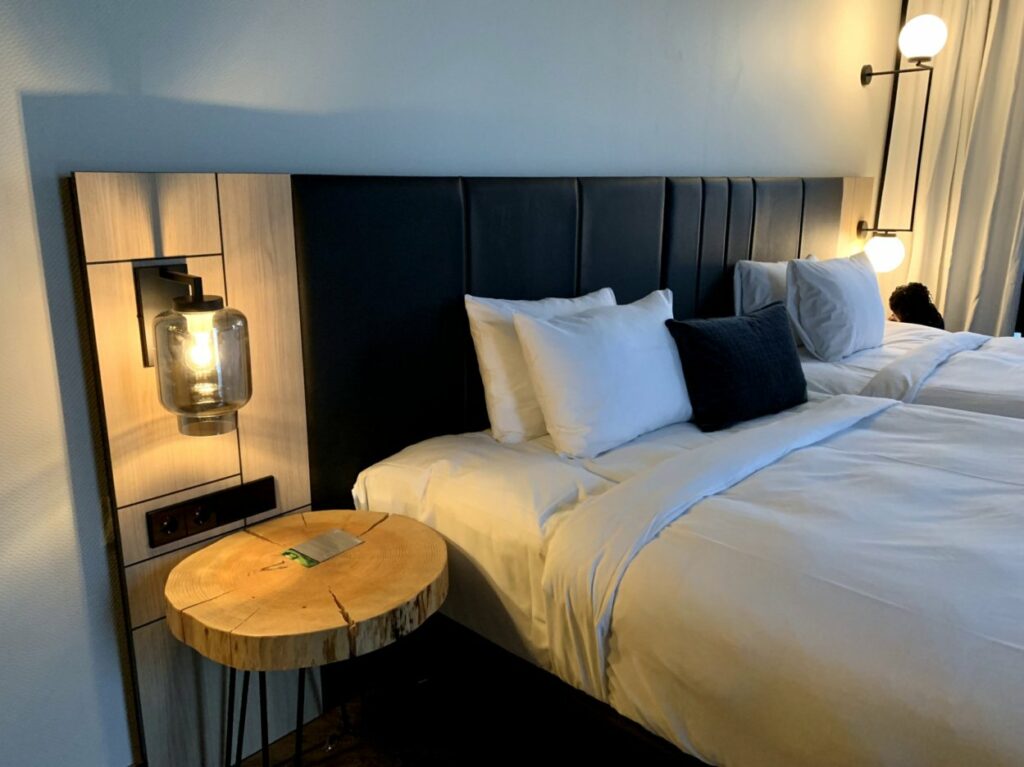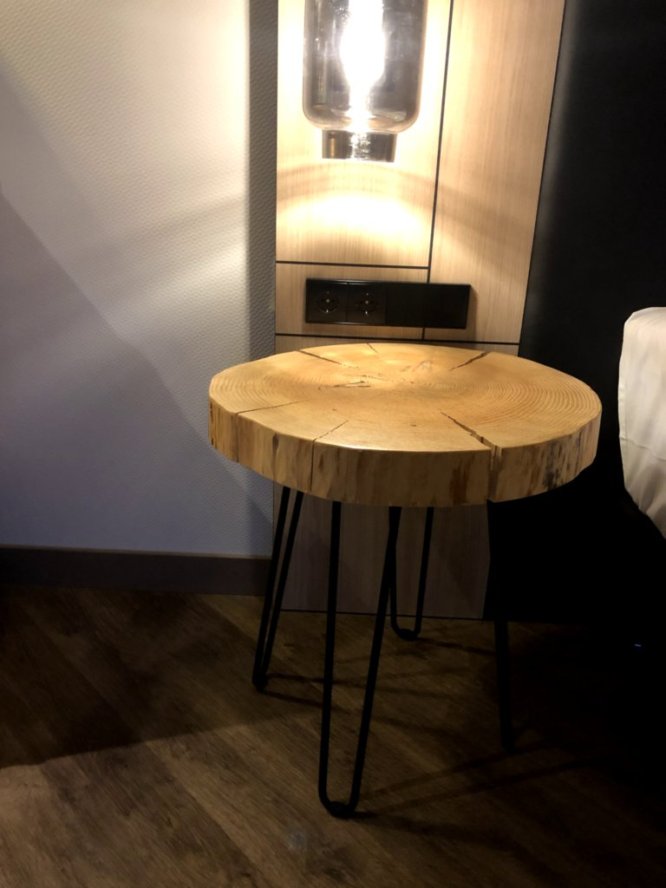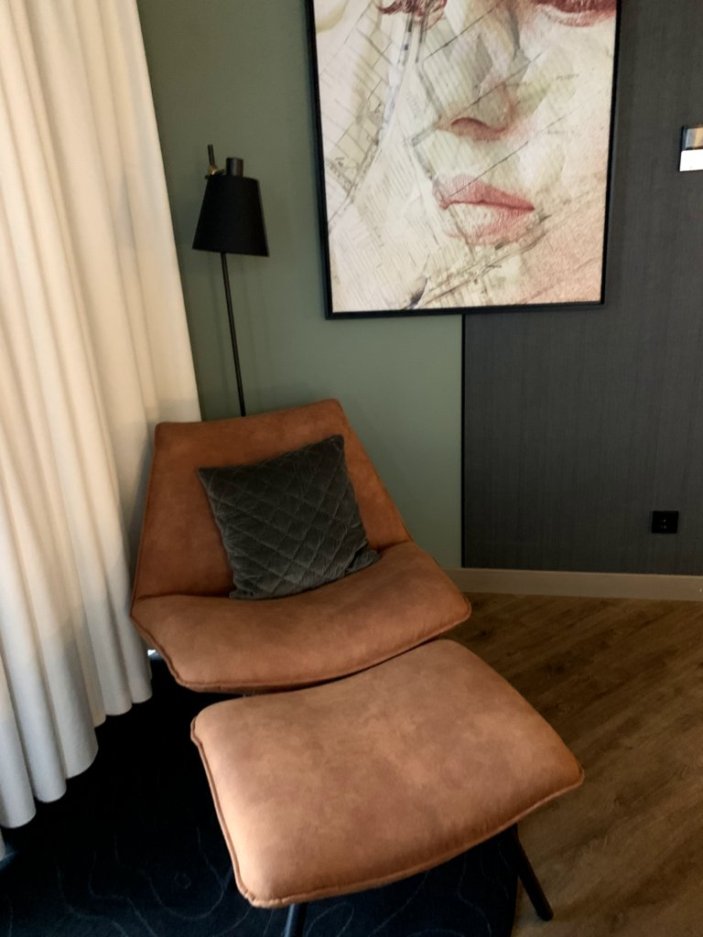 Breakfast at Renaissance Amsterdam Schiphol Hotel
The breakfast at Renaissance Amsterdam was a buffet style breakfast. However, you could place additional orders on the specifics you would like. The staff at the hotel were helpful and eager to help.
Dinner at Renaissance Amsterdam Schiphol Hotel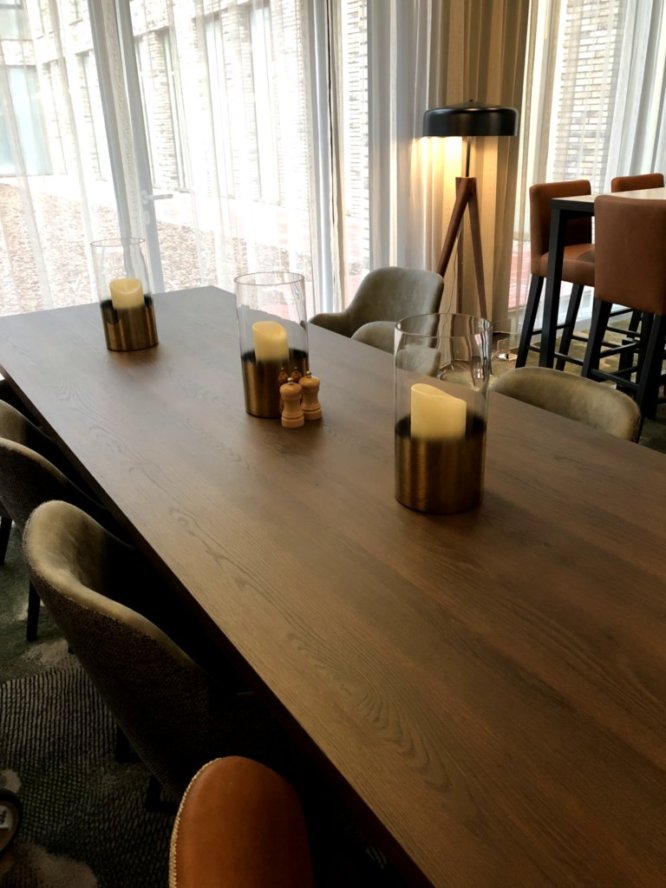 The hotel has a restaurant called Signature which offers international cuisines for breakfast, lunch and dinner. You have an option to dine in your room for a surcharge of 15 Euros. If you don't want to pay that money, you need to dine at Signature restaurant.
Is Renaissance Amsterdam Schiphol Hotel Family-Friendly?
Yes, the Renaissance Amsterdam Schiphol is family-friendly. The twin rooms work best for families and you could request for a travel cot if you have toddlers travelling with you. The suites have interconnecting rooms ideal for travelling with tweens and teenagers. The Signature restaurant has high chairs for convenient feeding.
Facilities: The hotel has 150 free parking spaces ideal for road trip travellers.
The hotel offers a complimentary bus shuttle from the hotel to the airport every 30 minutes for 24 hours.
The hotel is pet-friendly.
Overall impression of Renaissance Amsterdam Schiphol Hotel
The Renaissance Amsterdam Schiphol hotel was clean, modern with a beautiful nature theme. It is family-friendly and pet-friendly. You can dine in or out. The complimentary 24-hour shuttle service is fantastic. I like that the hotel is not at the airport. Opt to stay at the top floor for the stunning views of Amsterdam Boes.
If you are considering your options for the best way to travel to Amsterdam, read my comprehensive post on the 3 best ways to travel from London to Amsterdam here.