All Inclusive Holidays Spain
Spain is a nation filled with lots of interesting attractions with a rich heritage, making it a wonderful holiday destination. A holiday in Spain is one you would enjoy to the fullest, with plans to visit again soon.
Looking for a country with diverse cultural heritage? Spain is a nation with attractive cosmopolitan cities, beautiful islands and lively villages, making it one of the most sought-after travel destinations for tourists. Here are helpful tips for an extraordinary all-inclusive holiday in Spain.
Hotels or Apartments: which is best in Spain?
The choice of accommodation is very important as you plan your holidays, and you may consider your options in booking hotels or apartments as you plan to visit Spain. It hugely depends on what you prefer and the number of people travelling with you.
In Spain, you will find different options to choose from, ranging from simple family-run guesthouses to extravagant 5-star hotels with tremendous designs. The sweet part here is that you will get good value for your money with your preferred choice of accommodation in Spain.
Are you the type who enjoys preparing meals yourself or trying out new restaurants at your destination? If yes, then a luxury holiday apartment would be a better choice because you won't only have the chance of preparing meals yourself, you can also sit down around the table with your family for a sumptuous dinner.
However, if you want a stress-free holiday, opt for hotels with all-inclusive facilities, particularly those that offer room service for that extra-ordinary experience in a Spanish hotel.
If, as you visit Spain, you intend doing things your own way with no one bothering you, and a great deal of social distancing, then an apartment will be better for you. However, if you don't want to get involved with the cleaning and don't mind sharing common rooms and dining rooms with others, then a hotel is for you.
If you are planning your all-inclusive holidays to Spain with your family, consider a luxurious apartment for the space and privacy it offers. However, if you plan to visit alone, then a hotel would serve you better.

Disclosure: I am compensated financially or otherwise for any link or image you click on through this site. Read my full disclosure here.
Airports in Spain
As a very busy tourist country, Spain boosts of many airports, both international and local ones. There are over 40 airports scattered across different parts of Spain, and most of them are very busy, running international and local flights. As expected, Madrid and Barcelona have the largest and busiest airports in the country, namely Madrid Barajas and Barcelona El Prat.
The airlines operating within the country are cheaper, and a flight within the country is likely to take less than two hours. However, it could take longer if you are travelling to the Canary Islands.
To save time and possibly cost, flying is the fastest way of reaching the Canary Islands and other unique islands. It would take about three hours to travel from Madrid to the Canary Islands, and there is a slight change in the time zone, about an hour difference.
Travelling to Spain from the UK
There are frequent EasyJet flights to Spain and the Spanish Islands from London Gatwick Airport, London Stansted, London Luton, Manchester Airport, Bristol Airport, Edinburgh Airport, Liverpool Airport and Newcastle Airport.
If you are looking for an all-inclusive holiday to Spain, your best bet is Jet2holidays. Jet2holidays have all-inclusive, half board or self-catering packages to these Spanish destinations:
Ibiza
Majorca
Menorca
Palma City
Fuerteventura
Gran Canaria
Lanzarote
Las Palmas City
Tenerife
Costa Blanca
Costa Brava
Costa Calida
Costa del Sol
Costa Dorado
Girona City
Moving around Spain on your all-inclusive holiday in Spain
A visit to Spain for your holidays is one to explore the rich culture and beautiful landscapes of the country, therefore ensure that your moving around is convenient and fun. Here is a guide to what is available.
Cabs
There is a massive system of highways in Spain, both free ones and roads with a toll which means you can hire cabs or cars and move from one destination to another.
Uber
Uber is easily accessible in Spain and operates in over 60 locations in Spain, especially in cities like Madrid, Barcelona, Seville and Malaga. Uber also operates in all-inclusive holiday destinations like Ibiza, Lanzarote, La Palma and Alicante.
The official train network in Spain is RENFE, operating regularly across the country. The Spanish government has modernised the train lines, making the train network highly efficient. If you want to travel long distances in Spain, then you should opt for a high-speed train which connects most of the major cities in Spain. Check out your tickets here.
Food
The culture of Spain is unique, so is the food. Each region has its own traditional food and special methods of preparing them. The aroma and distinctive taste of meals will overwhelm you, making you ask for more.
With many tapas bars, Catalan restaurants and eating joints in Spain, there's a lot of Spanish food to try. If you visit Spain without having a taste of the popular tapas, you have missed a lot! Another sumptuous meal to taste in Spain is the tortilla, famed for its tasty flavours and attractive appearance. My favourite Spanish food is Paella and I can't seem to get enough of it when I am in Spain.
Spain Weather
Spain is home to lots of festivals, and the weather seems to support these activities. There are three major climate zones in Spain. A Mediterranean climate dominates most parts of the country, with hot summers falling between 24 to 30 degrees, while the winters are wetter and mild.
However, the central plateau of Spain is more extreme, with boiling and dry weather during summer and temperatures that are freezing in winter times.
Heading to the northern part of the country, summer seems to be cooler, with high hopes of rain showers and a cloudy sky too.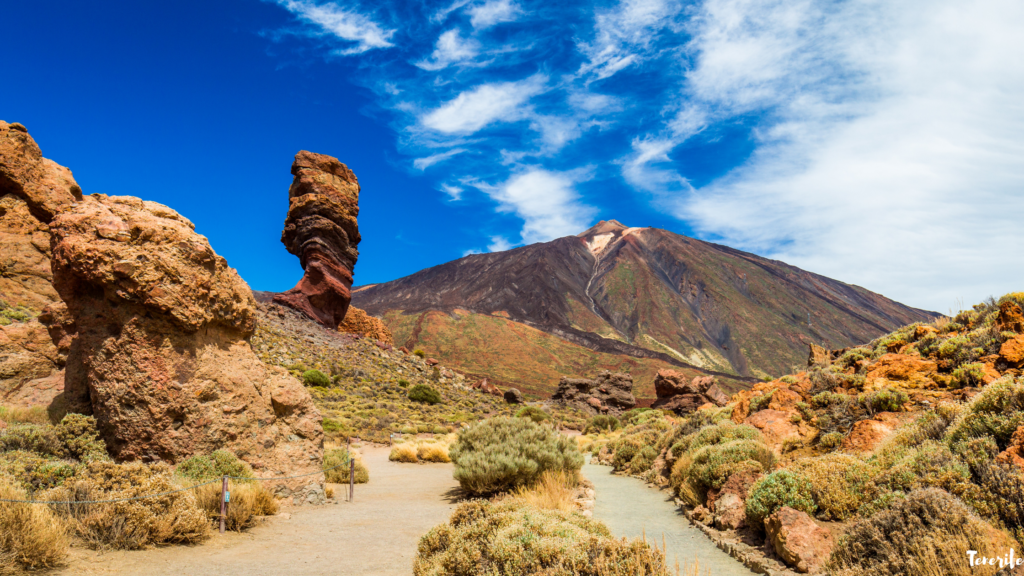 15 Stunning Destinations for all-inclusive holidays in Spain
It would be difficult and also expensive to truly explore the whole of Spain on your first visit, however, you can still make your holiday in Spain a memorable one.
Spain is very entertaining, and while you can go away on a short weekend away trips to Madrid, Barcelona and other cities on the mainland, consider an all-inclusive stay to the islands. If you haven't decided yet on where to visit for all-inclusive holidays, Spain, here is a detailed guide to the 15 stunning destinations for all-inclusive holidays in Spain. The best places to spend your holidays in Spain.
Canary Islands
Does this name ring a bell? Yes, the famous Canary Islands is a must-visit in Spain. With lots of beaches, landscapes and fun activities, you would definitely get to know why the Canary Islands attracts lots of tourists yearly and is very famous. The Canary comprises several individual islands and here are a few of them you shouldn't miss.
– Tenerife
One of the wonderful islands that makes up the Canary Islands, Tenerife is filled with stunning unique landscapes and geographical feature. The largest and most populated among the Canaries, this island is ideal for those who love moving with crowds.
In Tenerife, they present you with an opportunity to watch whales and other big sized creatures of the sea. What about visiting the Teide national park where the highest mountain in Spain is located? There are also lots of activities which are family-friendly, so never miss this island as you visit Spain.
There's hardly any island that has such diverse scenery, with several landscapes and natural elements you'll hardly see anywhere else.
To the south of Gran Canaria, you'll find the classic sands of Maspalomas. It also houses rugged mountains, subtropical forests with various unique flora and fauna, together with sandy beaches. Lively at night, Gran Canaria is also a great destination for hikers.
– Fuerteventura
Windy, Fuerteventura is the second largest among the Canaries. With shifting sands of Jandia and Corralejo, this Island is a great destination for lovers of wind-sport.
One of the main hotspots for tourists in Fuerteventura is Corralejo, which is in the northern part of the island. The resort in this part of the island is a great place for catching fun, a place where British families interact with locals and surfers from different parts of the globe.
– Lanzarote
A cool place among the canaries, this island is the youngest amongst the main Canary Islands. It is an abode of many aesthetically pleasing architectural structures, with lots of projects beautifully designed.
An Island shaped by many volcanic activities, Lanzarote is home to awesome vegetation and special wine. In the south of this island is Playa Blanca, a very attractive family-friendly resort destination.
–  La Palma
Want to see nature at its finest? Then La Palma is an island you must visit! The landscape, trees, heights, and entire scenery gives this island a jaw-dropping scenery, an astonishing view that will make you speechless.
This island is diverse, with different ecological features. In La Palma, some parts are lush rainforest, while other parts are highly volcanic. You get to see different habitats on one island, an experience you'll hardly get elsewhere.
– La Gomera
This island is famous for hiking activities, and if you want to get away from the crowd, La Gomera is the perfect place for you. A mountainous island, you'll enjoy hiking on this part of the Canary Islands.
-El Hierro
Looking for a total escape? If yes, then El Hierro is a perfect island. A place where nature is at its finest, this island is full of mystery, with lots of twisted roads, rugged hills, sheer cliffs and many more.
Though there aren't bustling resorts on this island, it is still a great place for diving. If you want somewhere so natural and calm, somewhere to find solitude and escape the hectic modern life, then you shouldn't miss El Hierro when you visit the Canary Islands.
– La Graciosa
A volcanic island, this is the most serene of the Canary Islands. Though it is not a popular tourist destination, it is a place to find peace and reconnect with nature. Interestingly, it is one of those places where you won't find any asphalted road!
Balearic Islands
Just like the Canary Islands, the Balearic Islands is a collection of several islands, with Mallorca, Menorca, Ibiza and Formentera being the main individual islands. These individual islands are unique and have distinctive features you'll enjoy as you visit Spain.
–Mallorca
A special Mediterranean holiday spot, Mallorca is an awesome tourist centre, with unique attractions and entertainment landscapes. To the north of this island is the imposing mountain range which covers the western shore of the island. With many hiking trails on this island, hikers always visit Mallorca for a great holiday experience.
-Menorca
In terms of size, it is ranked second among the Balearic island. Tourists from all around the world troop in numbers to visit Menorca because of the many superb features and natural elements. Rural, this island has two principal towns, namely Mao and Ciutadella, which are notably small. There are lots of rolling fields, humpy hills and rolling ravines in Menorca, together with prehistoric monuments which show how rich their culture has been from the past.
– Ibiza
Called Eivissa in Catalan, Ibiza is famous for its beautiful cove beaches and thick pine forests. I well know it for its clubbing activities, with lots of famous DJs around the globe trooping in, especially during summer. They line the whole shoreline with dozens of adorable cove beaches where you'll get a better view of the sea and feel the refreshing cool breeze.
– Formentera
With a population less than 10,000, this island is the smallest of the Balearic Islands. Don't be deceived by the size though, here you will find wild rosemary plants cover almost every part of this beautiful island. With lots of white, long, and least crowded beaches, Formentera has something special for every tourist visiting the island. Since it is less crowded, tourist prefers this island when searching for solitude.
Costa Dorada
Priding itself as Spain's golden coast, Costa Dorada is an aesthetically pleasing tourist spot in Catalonia. The waters are shallow and sparkling, with golden sandy beaches adorning it.
You will discover ancient towns and villages scattered around this coast, with castles and fortresses built many centuries ago. This makes Costa Dorada interesting and with lots of historic monuments and attractions, especially if you yearn to know more about the history of Spain and its islands.
There are several beach resorts here, the famous ones are Salou, La Pineda and Cambrils. Each of these resorts will make your all-inclusive Spanish holidays a memorable one.
Costa Brava
They translate Costa Brava as "Rugged Coast" this tourist attraction boasts of high cliffs, wooded covers, deep blue waters and attractive beaches too. Rich in culture, there are coast houses, several ancient monuments, museums, and also a touch of ancient Roman and Greek settlements. It houses E Empúries, one of Spain's most vital archaeological sites, which is a ruined Roman and Greek settlement. At this coast, you'll find lots of coves and crashing rocks, making your all-inclusive holiday a special one to remember.
Costa del Sol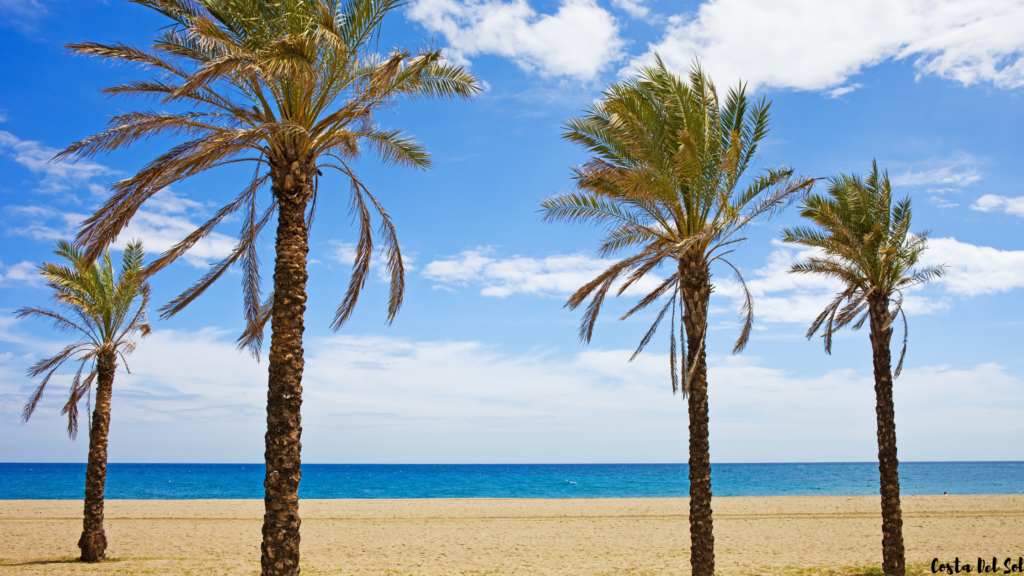 Costa Del Sol means Sun Coast of Spain, and yes, it is very sunny and trendy amongst tourist, not only those visiting Spain but also amongst tourists visiting the whole of Europe.
The climate here is very awesome, with over 300 days of sunshine in a year! The sun coast also boasts of blue flag beaches, a relaxed atmosphere, vibrant nightlife, sumptuous meals, and classic beaches too. No wonder it is one of the most famous European spots for tourists.
The 10 Best All-Inclusive Resorts Spain.
Spain has beautiful resorts and attractive tourist spots, thanks to its closeness to the sea and friendly near-perfect weather. Here are some of the best all-inclusive resorts in Spain. You can book your all-inclusive resort at Booking.com or Expedia.
Sandos Benidorm Suites, Alicante
A family-friendly resort located close to the beach, this resort is an awesome choice as you spend your holiday in Spain.
FERGUS Style Bahamas, Sant Josep de Sa Talaia, Ibiza
Just within 2km from Bossa Beach and Aguamar Water Park, this resort on the beach is great for a wonderful all-inclusive holiday in Spain.
Gran Castillo Tagoro Family & Fun, Playa Blanca, Yaiza, Lanzarote
This all-inclusive resort is located just 10 minutes from the centre of Las Coloradas Marina. It is a perfect resort with spa facilities for adults only.
Barceló Tenerife, San Miguel de Abona, Tenerife – Beach Resort
The Barcelo chain of hotels offers remarkable service in Spain, and this is no exception. I stayed here during my family holiday to Tenerife and I can confirm that this all-inclusive resort is exceptional. It has beautiful sea views, 8 swimming pools, hydro massage baths, spacious rooms, elegant designs, fantastic buffet service and close to Siam Park. Our stay came with a complimentary ticket to Siam Park. It is located close to the airport and offers various types of amenities to make your holiday worthwhile.
Iberostar Las Dalias, Costa Adeje, Tenerife
Iberostar Las Dalias is a family-friendly, couple loving hotel. It is located 300m from the volcanic sands of Playa de El Bobo and 500m to La Pinta Beach. It has 3 heated outdoor pools, relaxing spa facilities, and high-quality dining service.
PortBlue Club Pollentia Resort, Alcudia resort, Mallorca
PortBlue Club Pollentia Resort is on the seafront in Majorca's Pollensa Bay to Can Cap de Bou Beach. It is close to bars and restaurants of Alcudia old town and a perfect choice for families. This resort which is just 5 minutes' walk of Alcudia Port and beach is a great option for the family.
Palladium Hotel Palmyra, Sant Antoni de Portmany, Ibiza
This resort is great for the family, offering various services and amenities which will ensure that you enjoy every moment in Spain.
Tagoro Family & Fun Costa Adeje, Tenerife
An all-inclusive resort in Costa Adeje, this resort looks promising.
Marinas de Nerja Beach & Spa, Malaga
A great resort in Malaga, families from the UK and around the globe find it very fascinating.
Occidental Lanzarote Mar, Lanzarote
Just like the others, this family-friendly resort is located close to the beach and is great for tourists of all ages.
Best All-Inclusive Hotels in Spain for families
A famous tourist destination, there are lots of classic hotels in Spain, and here are some of the best all-inclusive hotels in Spain.
VP Plaza España Design, Madrid
In the heart of Madrid, this beautifully designed hotel offers maximum comfort.
Hyatt Centric Gran Via Madrid
Having stylishly decorated rooms, this hotel offers exclusive services for your maximum comfort.
Things to do during your all-inclusive holidays in Spain.
Check out and book the tours and experiences you wish to do at any of the 15 stunning destinations in Spain with Viator.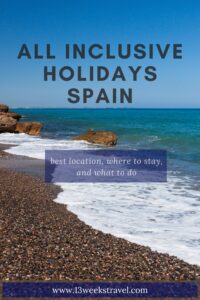 As you visit Spain, there are lots of activities and sightseeing to make your journey an excellent experience, and here are some of them.
Shopping
There are lots of shopping options in Spain ranging from picking souvenirs from a local street market to doing serious shopping in malls and other outlets in Spain.
Sightseeing
With lots of historic monuments and structures from the days of old, there's plenty of sightseeing to do in Spain. One of the famous sightseeing tours in Spain is a visit to Park Guell, an outstanding masterpiece of Antoni Gaudi, a popular Spanish architect.
Museums
The diverse culture of Spain makes it a really interesting country to visit, and one way to explore most of its culture is through the museums. Some brilliant suggestions for the family include Catalonia's national art museum, the Guggenheim Museum in Bilbao, and Museo Thyssen-Bornemisza, amongst others.
Nightlife
I know Spain for its bustling nightlife, and there are lots of parties, clubs and bars to make your night a fantastic one.
Sports
There are lots of sports activities in Spain, with football amongst the main sporting events. Apart from football, there are other entertaining sporting events like quad adventures, Formula 1, Grand Prix, MotoGP, and road bike races, amongst others.
Why visit Spain for your All Inclusive holiday
Visiting Spain with the family for the holidays is a very wonderful idea, a holiday that is surely worth it. There are several reasons to visit Spain, and one of them is the many gigantic mountains and beautiful beaches scattered throughout Spain, making it a country full of amazing landscapes and natural beauty.
There are over 5,000 miles of coastlines together with thousands of beaches, making a holiday in Spain the dream of most tourists. Apart from the beaches, jaw-dropping landscapes and beautiful scenery, the food in Spain is fabulous!
What about the big cities, Madrid, Barcelona, Valencia and the rest? These cosmopolitan cities are full of unending surprises and sightseeing, together with great cultural heritage and historic monuments to make your holiday an exciting one. Even if you want a break from the busy cities, Spain has beautiful villages and islands which will give you a deeper feel of ancient Spain, especially as you interact with the locals. Spending the holidays with your family in Spain is a trip you should embark on!
Let me know in the comments where you would love to explore in Spain.