The October school holidays or the winter break are the best time to escape the miserable cold and head for a cheap  holiday to Gran Canaria. Gran Canaria is the third largest of the Canary Islands (Tenerife, Gran Canaria, Lanzarote, Fuerteventura, La Palma, La Gomera and El Hierro) and Gran Canaria ticks all the right boxes if you're looking for guaranteed sunshine, superb beaches, fascinating sights and natural scenery.
A cheap holiday to Gran Canaria will offer you the best destinations for families, solo travellers, and couples of diverse backgrounds.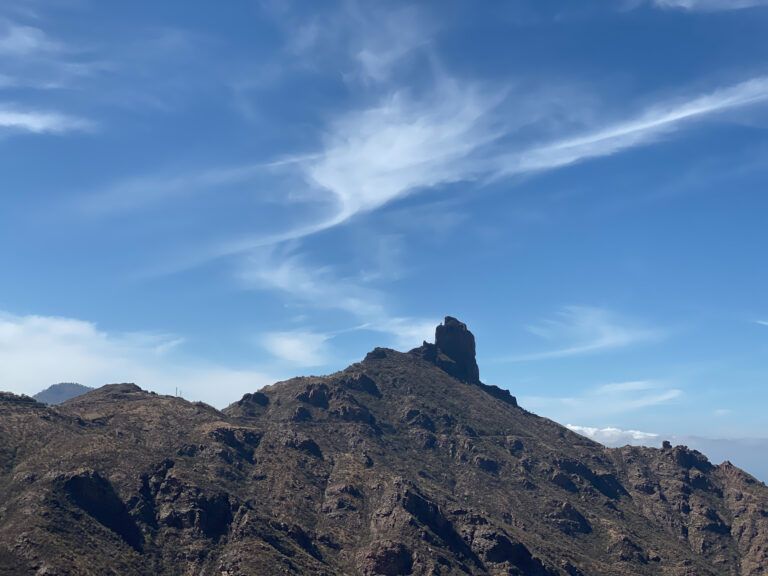 For family travellers, a cheap holiday to Gran Canaria is convenient because the flight time is around 4 hours and 25 minutes. Gran Canaria has no time difference (at 0 GMT) with the UK (so there is no chance for jet-lagged children). Families can also enjoy cheap holidays to Gran Canaria because there are a variety of resorts with professional child care services and entertainment for children. 
For solo travellers, cheap holidays to Gran Canaria is welcoming and vibrant. You will discover amazing restaurants, beaches and bar well suited for your personality.
For couples of diverse backgrounds, cheap holidays to Gran Canaria offers a wonderful array of colour and celebration. Every May, Gran Canaria's Gay Pride takes place in Maspalomas.
Gran Canaria is situated just off the coast of North Africa, it offers year-round sunshine, well equipped all-inclusive hotels, family-friendly activities, sightseeing, day trips and tours. 
Direct Flights for cheap Holidays to Gran Canaria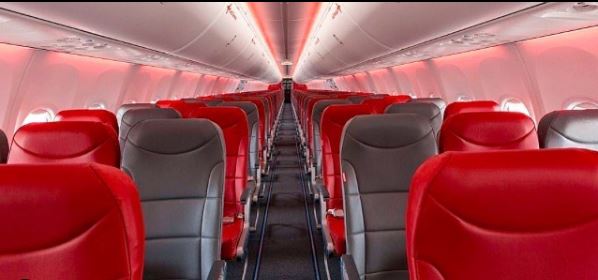 There are a variety of direct flights from UK airports for cheap holidays to Gran Canaria.
They include:
Easy Jet
Iberia
Norwegian Airways
Ryanair
Tui
My favourite direct flight, Jet2 offers an amazing fleet of nine direct flights from the UK to Gran Canaria.
They are:
Tui offers direct flights from 11 different locations in the UK.
They are:
Flights from London Gatwick to Gran Canaria
Flights from London Stansted to Gran Canaria
Flights from Birmingham to Gran Canaria
Flights from Bournemouth to Gran Canaria
Flights from Bristol to Gran Canaria
Flights from Cardiff to Gran Canaria
Flights from Doncaster to Gran Canaria
Flights from Exeter to Gran Canaria
Flights from Glasgow to Gran Canaria
Flights from Manchester to Gran Canaria
Flights from Newcastle to Gran Canaria
Cheap Holidays to Gran Canaria
When to visit Gran Canaria
Gran Canaria can be visited year round because of its amazing temperatures. After all, it is closer to North Western Africa than it is to Spain.The weather is warm and sunny virtually all year round. Around August, the temperatures soar to highs of about 30 degrees Celsius while in the cooler winter months (November to March), the temperatures are around 21 degrees Celsius. 
We visited in October during the school half term holidays and the temperatures were prefect for hiking, walking, lodging on the beach and sightseeing.
Cheap Holidays to Gran Canaria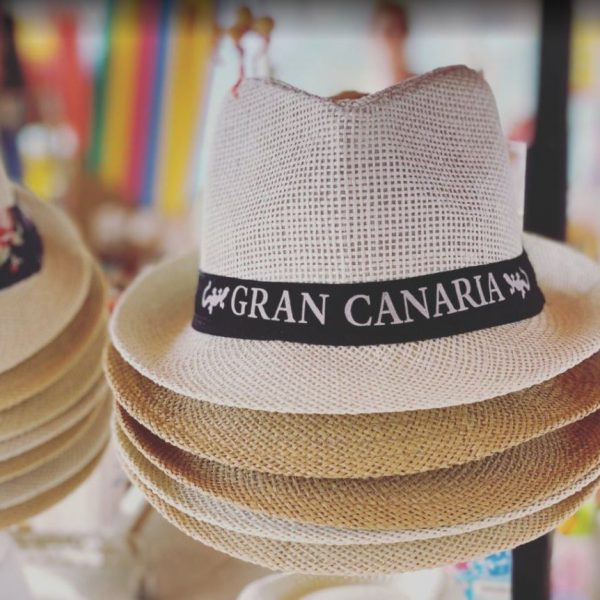 What to pack for Gran Canaria
Gran Canaria travel essentials aren't very demanding. You just have to plan in advance what activities you want to do in order to match them with appropriate wardrobe essentials. 
The Spring season stretches from April to October with the exception of soaring temperatures in August. As such, summer clothes are appropriate. 
During the Winter months (November to March), there might be a need for you to pack a light jacket and probably a travel portable umbrella. The temperatures are usually between 20 to 22 degrees Celsuis. This is good enough to still surf and swim.
If you plan hiking, remember to pack appropriate foot wear. You really don't want to climb El Roque Nublo wearing your flipflops.
Cheap Holidays to Gran Canaria
Best places to stay in Gran Canaria
The best places to stay in Gran Canaria are:
Maspalomas – Great for families.
Las Palmas de Gran Canaria – Great for cultural trips.
Meloneras – Great for luxury travellers.
Playa del Ingles – Great for Nightlife.
Puerto Rico – Great for Sailing activities.
Puerto de Mogan – Great for its local markets.
San Agustin – Great for Scrub diving and snorkelling.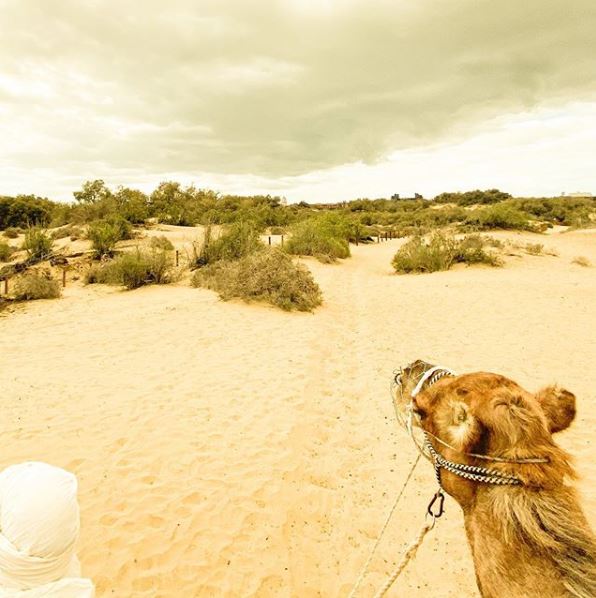 Maspalomas is the beautiful, popular resort town in the Southernmost part of Gran Canaria. With sun-sparkled sand dunes and the magnificent lighthouse that actively serves the town. 
I believe Maspalomas is popular for a reason, a high number of tourists visit every year, there are ample cheap all-inclusive hotels, restaurants, bars and beaches for every type of traveller. 
It is by far the best-known area in Gran Canaria with lots of travel suppliers like Tui and Jet2 holidays offering cheap all-inclusive package holiday deals.
There are several things to see and do in Maspalomas and it serves as a perfect base for exploring the surrounding villages and other areas.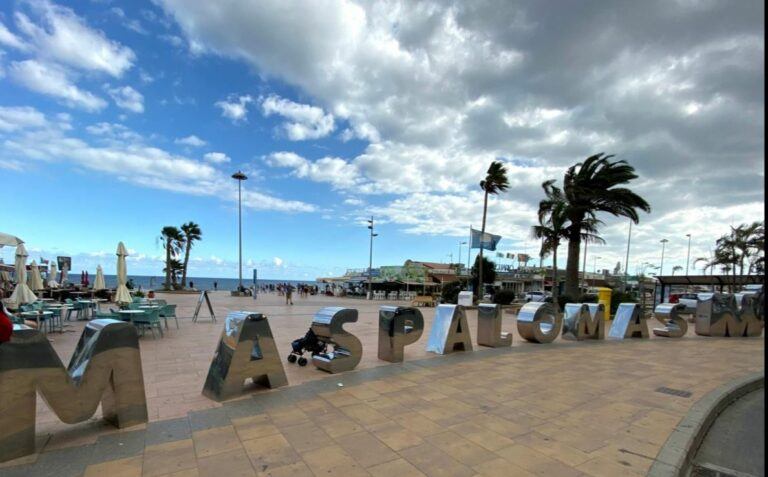 Families will love Maspalomas, it is home to Aqualand – one of the largest water parks in Europe. Nestled close to Aqualand is Palmitos Park – a botanical zoo boasting of exotic plants and animals from 5 continents. Last, every type of traveller can enjoy The Holidayworld, Maspalomas. It is the entertainment arcade in Gran Canaria with Amusement park rides, bars and restaurants. It opens around 4 pm until late. It is a glorious spot for travellers willing to groove until the eel hours of the morning.
If theme parks and entertainment spots are not up to your street for your cheap all-inclusive holidays in Gran Canaria, you will find your spot on the beach. Maspalomas beach is where the pristine desert meets the sea. The beach is lovely for children to roll on end in and houses beautiful displays of sand sculptures. The beach is also home to nudist. Check the well signposted Maspalomas Nudist Area so you don't wander into the nudist area unprepared.
Las Palmas de Gran Canaria
Las Palmas de Gran Canaria is the capital city of Gran Canaria and where Gran Canaria Airport Gando is. Stay at Las Palmas during your cheap all-inclusive holidays in Gran Canaria for a cultural trip and history of the beautiful island. There are cheap, all-inclusive resorts and houses to rent. 
In this city, you will explore the rectangular Plaza de Santa Ana (Saint Anne's square). A square which served as a social and commercial arena and now home to the Town Hall and the Bishop's Palace. Vegueta, the name of this historical district. The architecture here dates back to 1100 and holds some fascinating facts including The Alameda de Colon (Columbus Boulevard), the site believed to be where Christopher Columbus stayed when he visited the Island.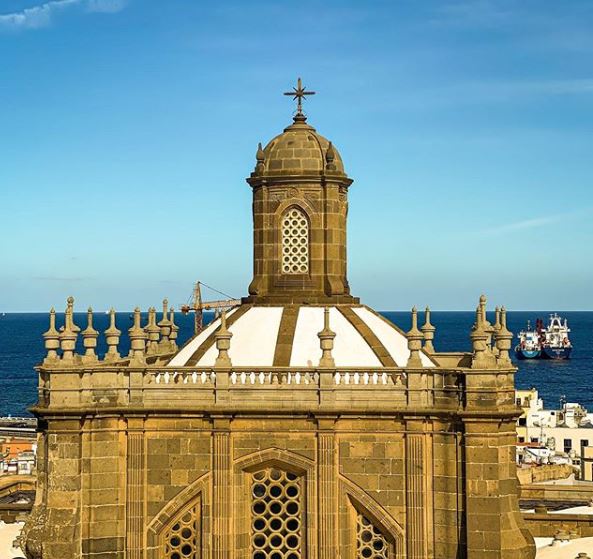 The Plaza Santa Ana in Vegueta is impressive with historic buildings, including the magnificent Cathedral of St Ana where you can enjoy the views of the town and learn about its architecture. It is an immersion of history and architecture at its best. It is a definitely must see if you are going to Las Palmas! It is a stunning cathedral with even more breathtaking views from above. Only €1.50 will take you to top through an elevator up the cathedral.
Tip: not many people know they could keep walking up but you certainly can! There are stairs on the right of the elevator and you can go up to the towers but it is very narrow.
The views from the top of the #laspalmascathedral is outstanding.
Starting from the rectangular Plaza de Santa Ana in #Vegueta to views of the beach of La Laja and part of the city of Telde to neighbouring San José and San Juan.
It is truly an immersion of history and architecture.
The beautiful bronze statues of dogs (eight statues – two sets of four) adore the lower part of the square in front of the stunning Cathedral de St Ana. The historical stories of the dogs are interesting. Some people believed, when the Spanish invaded the Island for a forceful takeover, the original habitats of the Guanche from North Africa had their dogs who protected them. The dogs called Canis are now a symbol of Gran Canaria. Others believe The Canary Islands (all seven of them) are named after the hunting dogs that the Spanish found there (Canis – dog).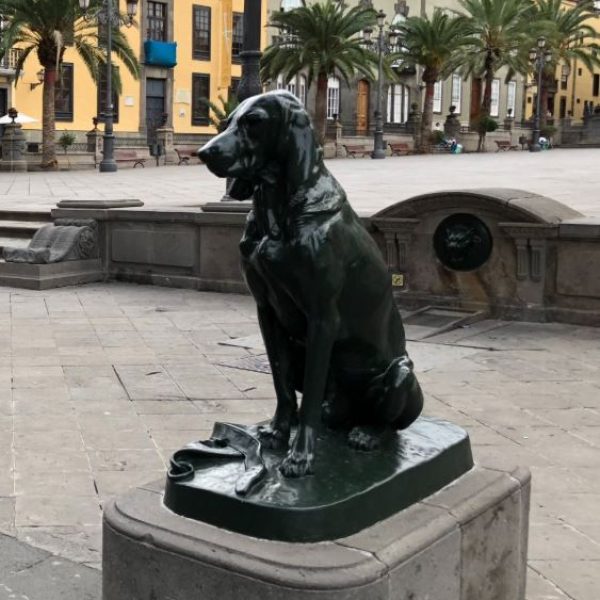 Las Palmas is home to secluded beaches. If you're looking for cheap all-inclusive holidays in Gran Canaria away from everyone else, head to these beaches:
A great beach for naturist, you will love the secluded coves of this beach.
Head to this bustling district with your kids where they can learn how to Kayak. 
A local beach offering grilled fish at its seaside restaurant.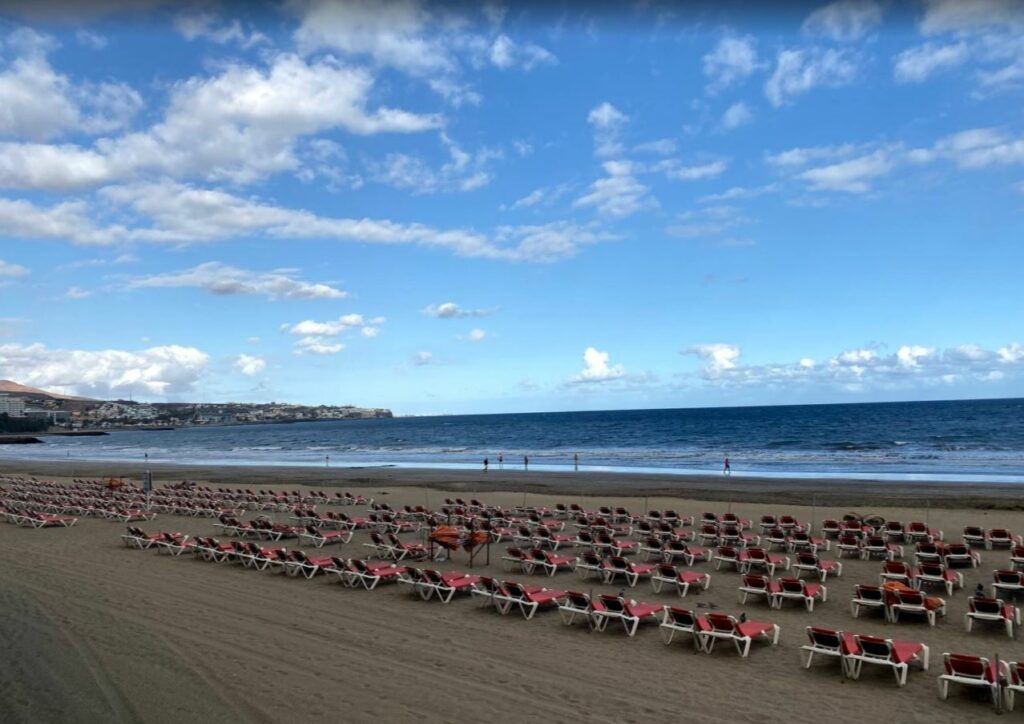 Meloneras
Possibly not totally for cheap all inclusive holidays in Gran Canaria but if you're like me and you love a bit of class then Meloneras is the best place to stay. 
It is peaceful here with fine dining restaurants from the best chefs on the island and cool live music at the night.
Meloneras is the perfect for luxury travel enthusiasts.
Playa del Ingles
Playa del Ingles popularly known as the tourist destinations of the English is the perfect area to stay for your cheap holidays in Gran Canaria. The vibe in this area is nightlife, music blazing, live bands on the beach, sea front restaurants and international pub showing football matches. This area will definitely appeal to you if you crave this vibrant lifestyle.
Puerto Rico
Puerto Rico has a more relaxed vibe to it. It is a great area for families on cheap holidays to Gran Canaria who have a love for sailing and relaxed beach vibes. It has a walkway which leads directly to Playa de Amadores. It also has all the amenities you would expect such as a centrally located shopping centre with taxis, buses, bars, restaurants and nightlife.
Families will love Angry Parks Activity Park – a friendly place for kids to spend the day.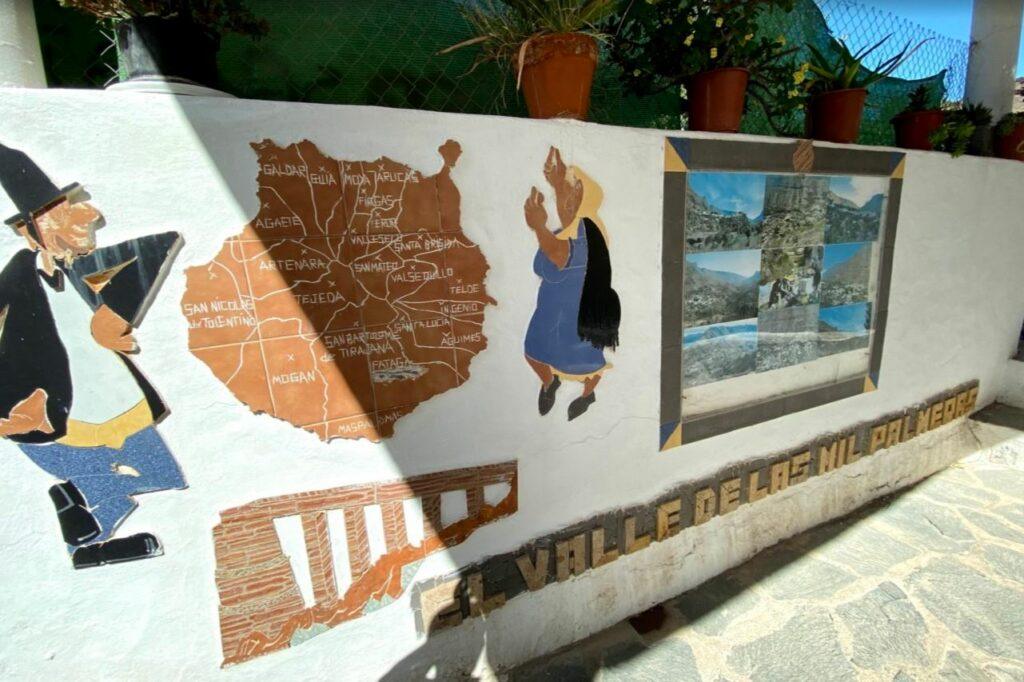 Puerto de Mogan
This area is nicknamed 'Little Venice' for all the right reasons. It is a picturesque port with amazing vibes. It is for travellers on cheap holidays to Gran Canaria  who value quality over quantity.
Cheap Holidays to Gran Canaria
To spice up your cheap holidays to Gran Canaria, try out this family-friendly things to do in Gran Canaria. I will divide it into three sections:
1. Attractions and Activities
2. Boat trips
3. Road Trips.
Kids Friendly Things to do in Gran Canaria: Attractions and Activities
Maspalomas Sand Dunes
Aqualand Maspalomas
Palmitos Park Maspalomas
Angry Birds Activity Park, Puerto Rico
Beach and Scuba Diving, Taurito
Holiday World Maspalomas
The Lighthouse, Faro de Maspalomas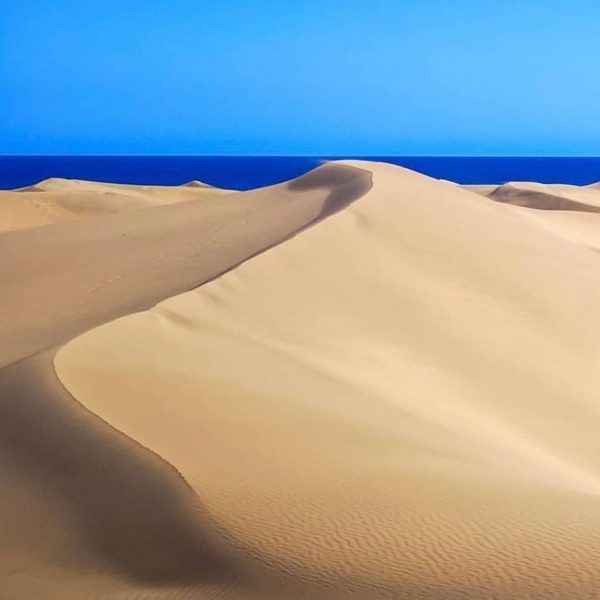 If you think you will only find interminable stretches of fine golden sand in the Middle East and Africa, then I will implore you to think again.
Introducing the Maspalomas Dunes!
We can find the Maspalomas Sand Dunes in the South of Gran Canaria and they are a protected site. The area is about a thousand acres and history has it the Atlantic Ocean formed the sand Dunes from many years ago.
It is easy to get to the dunes from Playa del Ingles and from Maspalomas Beach. From Maspalomas Beach, walk to the west of the beach and you will discover the massive sand-dunes.
For an extensive tour of the sand dunes, go with a guide. We went with Arabian Night, and the tour was beautiful and comfortable for the kids. It felt completely the same as the Dubai Desert Safari Tour.
Combine a visit here with a visit to Gran Canaria Botanic garden. A unique place for the kids to explore plants and understand the most important plant in Gran Canaria – The Cactus.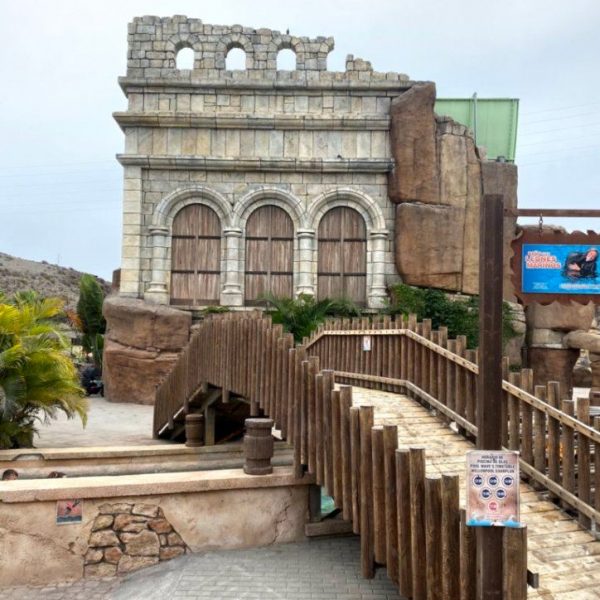 A cheap all inclusive holidays in Gran Canaria can restrict your movements if you choose that option. It can also be a fun, adrenaline-pumping holiday if you visit Aqualand. Entry to Aqualand was complementary and was part of the cheap all inclusive holiday package offered by Jet 2 holidays.
Aqualand, Maspalomas opens at 10 am and honestly, you will need up to 7 hours to explore all the thrills it offers. As you arrive here, you will find a lovely free parking space. Enjoy an adrenaline fuel experience with Tornado or Boomerang – a half-pipe slides that shoot up and down the slide at top speeds on an inflatable boat. For a more relaxed, peaceful time, opt for the Pirate's River – a slow movie perfect for the lazy afternoons. Don't miss the Discovery Beach, which has the newly built wave pool. The park is generous and wearing water shoes will go a long way in saving your feet.
There are several refurbishment going on and although it is a fantastic place to visit, it will be better once the refurbishments are complete.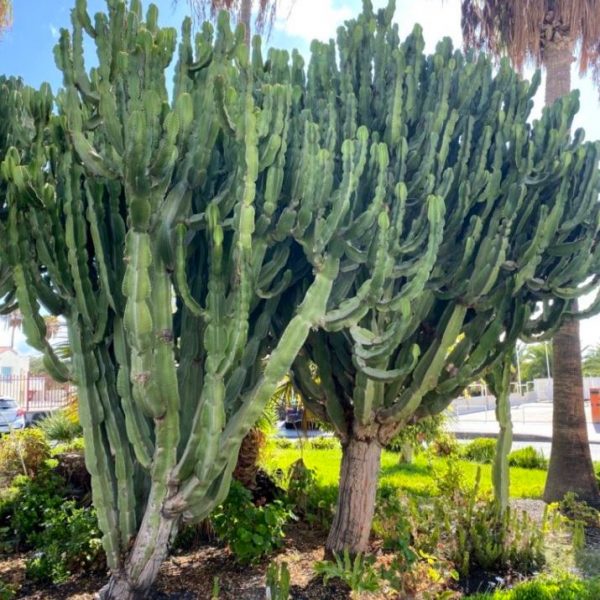 If you're a flora and fauna enthusiast like me, you will love the Cactus garden at Palmitos Park. The beauty, variety and shapes of plants available are a beauty to behold and everyone will appreciate the plant symbol of Gran Canaria – The Cactus.
This wonderful natural environment boosts of exotic animals like aardvarks and gibbons, houses one of the biggest houses of butterflies and a not to be missed spectacular and educational dolphin show.
Angry Birds Activity Park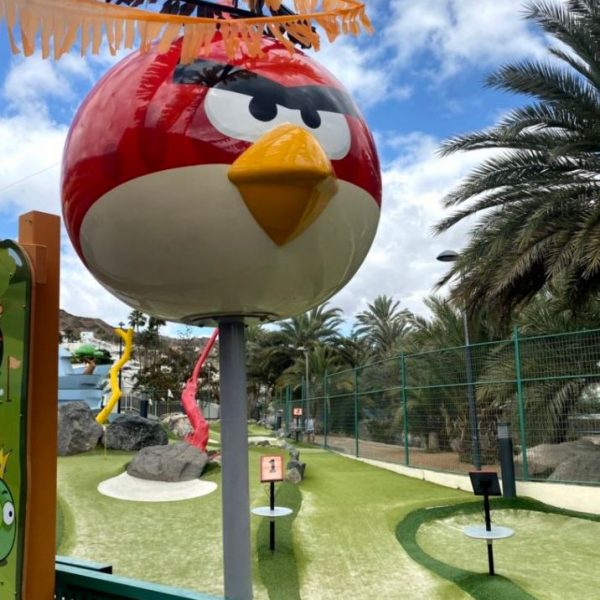 For the most amazing family day out, visit the Angry Birds Activity Park. They lay the Angry Birds activity park out so you and the kids can explore and enjoy the several activities for children. My 14 months old son found love at the newly designed splash area. There is a go -Karts, scooters, trampolines, zip line, soft play area, ball shooting, foam party and football wall.
Don't be put off by the size from the entrance and the cost. It is good value considering what is on offer. Don't miss the 10D (Yes, 10D) cinema experience.
Your cheap holidays to Gran Canaria will not be complete without going to the beach. Gran Canaria has about 38 beaches. Literally a beach for everyone. While some beaches are great for scrub diving, others are great for waterboarding, sunbathing, partying, nudisms, running and walking.
For kids scrub diving lessons, drive to the beautiful valley of Taurito where highly trained PADI instructors will guide your kids through the process of scrub diving. 
They will have time to discover the underwater world and perhaps swim with the turtles.

Holidayworld Maspalomas is an amusement and theme park in Maspalomas. It is open in the evenings from 5 pm on weekdays and from 12 noon at weekends. It is modern, small and great value for money. There is free parking for four hours and once you pay once, you get to go on all the rides. There are no queues here and you get amazing views of Gran Canaria on the big wheels. The younger children can enjoy the double-decker carousels and bumper rides, toddlers will love the soft play area, tweens and teenagers will enjoy the traditional roller coaster rides, bowling alley and arcade. Adults will love the sports bar and the mini cafe and restaurant Nomad Gusto Market, which offers cuisines from around the world. I strongly recommend the Toro ride where you try to stay on a rolling bull with innovative ideas to avoid falling off.
At night, Holidayworld Maspalomas lights up and twinkles in the night.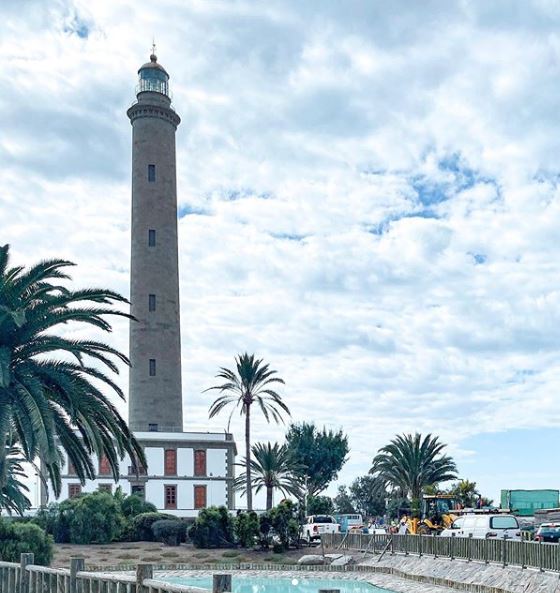 Have a lazy stroll from Maspalomas beach and along the promenade will lead you to the 60 metre tall Lighthouse, El Faro de Maspalomas. The lighthouse is a unique landmark which stands boldly by the Maspalomas beach. There is free entry to the small museum inside which gives a glimpse into the history of the crafts of the people of Maspalomas.
Admire the architecture of the lighthouse and climb the stairs (if you can) to the garden at the top which presents an amazing view of the beach and the city from the garden terrace.
Kids Friendly Things to do in Gran Canaria: Boat Trips
Spirit of the Sea Boat Trip from Puerto Rico
As you walk around the promenade of Maspalomas, you will discover an array of boat trip suppliers lurking you to discover the waters surrounding the Canary Islands. 
We set sail from Puerto Rico and explored the south-west coast in search of dolphins and whales in their natural habitat.
The impressive catamaran comes complete with a glass bottom which ensures you don't miss a thing at sea. The crew will keep you entertained with some facts about the tremendous diversity of sea life found here. There is also an option to swim, snorkel or feed the fish.
It takes around 3 hours of experiencing the life below, and the ocean waves above.
Pirate Boat Trip from Puerto Rico
A pirate boat trip is lovely for anyone but even more super special for kids. For this unforgettable experience, the pirate boat departs from Puerto Rico and arrives at Morgan to a view of causes and tiny coves.
On board the pirate ship, the crew on the pirate boat trip took on the character as pirates, hoisting a pirate flag and telling the kids they were going on adventure. The kids had so much fun. They had songs, a 3 course meal, face painting, dancing and a display from a speedboat. There was swimming and snorkelling at Costa de Morgan. It took about 5 hours and was the best boat trip experience so far.
Kids Friendly Things to do in Gran Canaria: Road Trip from Maspalomas to Las Palmas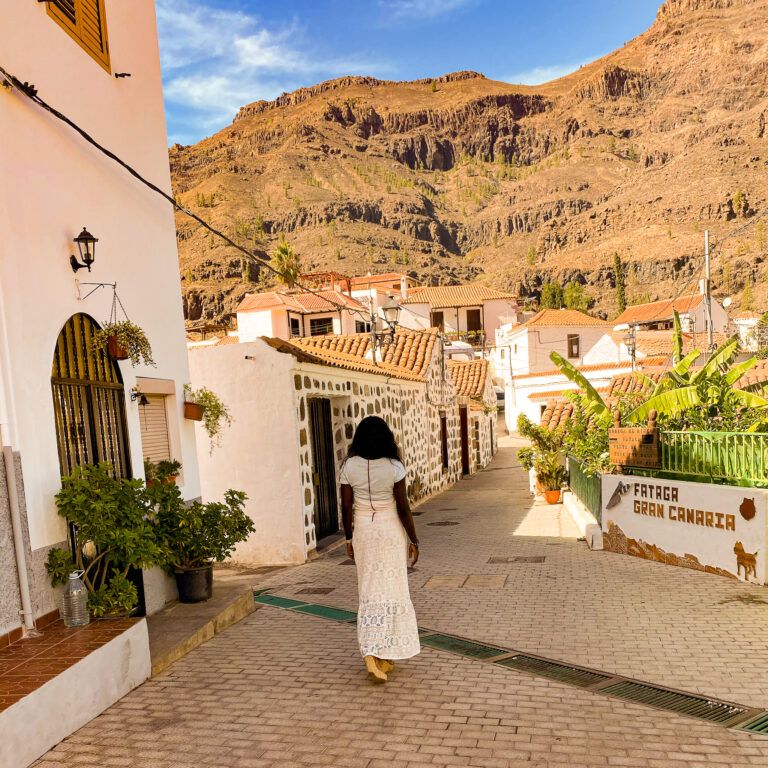 To complete your cheap holidays to Gran Canaria, explore the lush green valleys on a road trip from Maspalomas to Las Palmas. 
First stop at Fataga, a beautiful village in the Valley of a Thousand Palms. Fataga is rich in history with narrow lanes and stone paved roads.The white houses and brown roofs provides a beautiful contrast.
There are various stops on the route, but the views of Mount Teida from Tenerife is the most breath-taking view I have ever seen. 
Cheap Holidays to Gran Canaria - Final thoughts
A cheap holiday to Gran Canaria is the best value for money. The options to decide how you want to spend your cheap holidays in Gran Canaria are open. This post looks at the direct flights available from the UK to Gran Canaria, the best places to stay in Gran Canaria and the family- friendly things to do in Gran Canaria to maximise your cheap holidays in Gran Canaria.
Let me know in the comments if you have been to Gran Canaria and what your best experiences are or  if you will plan to visit Gran Canaria one day, what experiences and activities will you love to do there.