I had an open mind when I arrived at Amathus Beach Hotel, Limassol, Cyprus.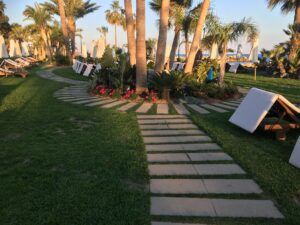 You see, Cyprus is my go – to country. I have visited every year since I first visited about five years ago and I have joked that I will retire in Cyprus one day. I love Cyprus so much because of its similarities to Cambridge, England where I live.
The similarities includes
driving on the right hand side of the road
English speaking
Safe for families
The difference, obviously is the weather. While Cyprus can boast of year round encouraging sunny climate, Cambridge is trenched with the usual United Kingdom climate – rain, grey and gloomy.
Amathus Beach Hotel, Limassol is a 5 star hotel located in the prestigious, reserved area of Limassol Marina. It is a member of the Leading Hotels of the world and this means that the quality of the facility on offer is top-notch.
Arrival
My arrival was greeted with a glass of cold orange juice and wine. Checking in was smooth and the smile from the staff who had memorised my 10 letter surname with correct pronunciation sold me.
I knew straight away that I was in a luxurious hotel without any element of doubt. I was led to my room again with precise professionalism that is expected in a luxurious hotel.
Private Beach
The hotel has a direct access to a private beach from its ground which is great for outdoor activities like jogging, scuba diving and jet ski. I particularly enjoyed strolling down the private beach straight after breakfast and late evenings to watch the sunset.
Family
My family and I enjoyed the beach pool and water slides and the highlight for my children was the Pelican kids club. The Pelican kid club had taken into consideration what children enjoy the most and they offered them a great experience. My children enjoying getting the souvenir the club offered as well as learning new skills in drawing, knitting, painting and role-play. The pelican club was well staffed and the staff spoke English clearly.
Dining
The fine dining from the restaurants must be experienced to appreciate how fantastic it was. The Grill room with an array of mouth-watering food makes me smile every time I remember. You will need to dress up for this restaurant. Kalypso restaurant was more chilled out with the rich buffet on offer. We had breakfast here every morning.
Overall Experience
We really enjoyed our stay at Amathus Beach Hotel. The staff were welcoming, requests were met promptly and it was such a great experience, one which we would love to relish again.