Kenya Africa Safari
See Africa through our eyes.
Made with love
Beautifully crafted for you
Kenya Africa Safari has been designed by 13 Weeks Travel to provide you with the best classic Safari experience in Kenya.  
You will be at the heart of the premier safari destination, enjoying the undiluted wilderness, pinch yourself views and outstanding beauty.
Experience Magical moments by hovering quietly above the most unexpected scenery in the plains of Serengeti.
Watch the greatest Serengeti Wildebeest Migration, Meet the Masai tribe and combine your visit to Kenya with a trek up mountain Kilimanjaro. 
Travel in Kenya: Summary Card
Capital of Kenya: Nairobi
Population of Kenya: 40 million
Languages in Kenya: English, Kiswahili, indigenous languages
Time in Kenya: GMT+3
International dialling code in Kenya: +254
Voltage in Kenya: 240 V, 50 Hz
Visas for Kenya: Kenya visa
Money in Kenya: Kenyan shilling (Ksh). Most main towns have ATMs. Dollars are useful for tipping and payments at lodges. Haggling is commonplace.
Kenya travel advice: Foreign & Commonwealth Office
Kenya tourist board: Kenya Tourist Board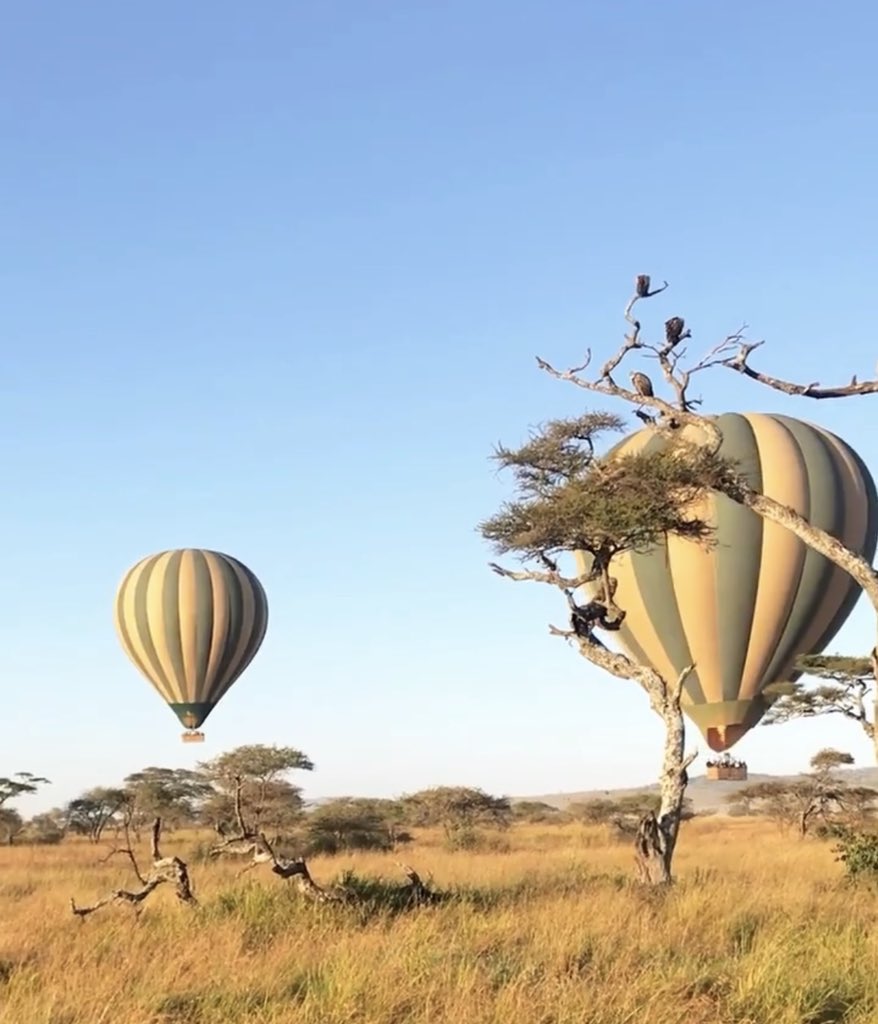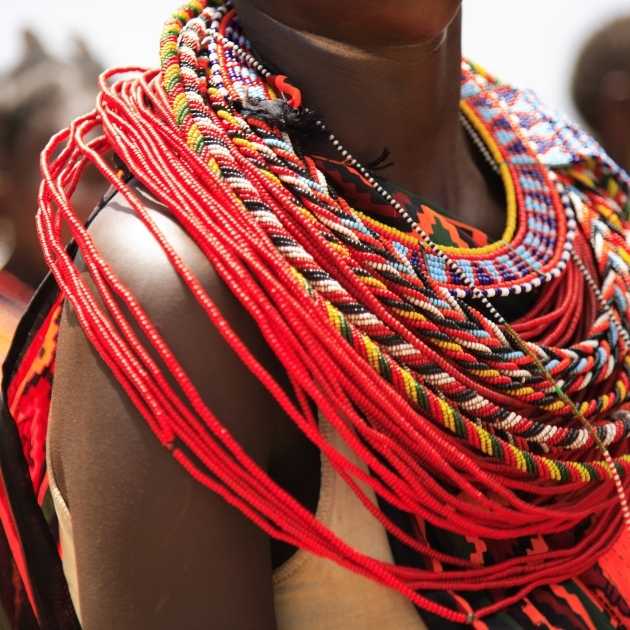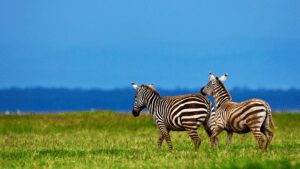 Are Kids welcomed on Kenya Africa Safari?
Every child responds differently to situations and you will be the best judge of that. This Kenya Africa Safari has been designed to be all-inclusive for children. Please get in touch.
Kenya Africa Safari Trip overview
Accommodation
*5 Star Luxury Accommodation

*One night at Giraffe Manor (valued at £850 per night)
Airport Service
*Get a meet & greet service on arrival.

*Direct service to your accommodation.
Transformational Experience
Afternoon Tea with Endangered Rothchild's Giraffe
*Exclusive service to guests at Giraffe Manor Boutique Hotel
Transport
4 x 4 Safari Land Cruiser (Model SuV - 2016 -2019)
* Features include: Pop up roof

* Refrigerator with cold drinks
Luxury Experience in Kenya
Hot Air Balloon Safari
Breath-taking views of Masai Mara Ecosystem
Enjoy the breath-taking views over Masai Mara ecosystem and the snaking Mara River. See hundreds of animals in their natural habitat.
Walking Tour of a Masai Village
Discover the traditions of the Masai People
Experience authentic Masai tribe and learn why they love colourful clothing. Go behind the scene and let the Masai Tribe entertain you with singing and dancing.
Masai Mara National Reserve
World- Famous Game Reserve
This wildlife corridor serves the migration of animals from Tanzania to Kenya. It is best experienced in July to fully grasp the beauty and splendour of the Great Migration.
Daphne Sheldrick Trust
Feed Rescued Baby Elephant
Observe rescued baby elephants playing in safety and help feed them along with the staff who rescued them.
Explore Lake Nakuru National Park
Explore the wildlife-rich Lake Nakuru National Park on a game drive, home to lions, rhinos, buffalo, and see the huge numbers of pink flamingos on the sweeping grassland of Lake Nakuru.
Amboseli National Park
Magnificent Views of Mount Kilimanjaro
With the backdrop of Mount Kilimanjaro, Amboseli National Park is popular with tourist for a good reason. See herds of elephants at Amboseli.
What's Included on your Kenya, Africa Safari?
A Complete Guide to Kenya
This includes key items for use before and during your holiday.
A safari essential packing list

Travel health requirement checklist

Emergency numbers & flying doctor service on all safari

Professional English speaking tour guide
All-Inclusive Service
All government's taxes (VAT) and services

All ground transportation including boat ride for schedule activities Professional English-speaking safari guide and drivers

All entrance, national reserve, conservation fees for mentioned activities and parks.
What's Not Included on your Kenya, Africa Safari?
Travel Documents
Health Certificate including all vaccinations

Personal Travel Insurance
Personal Expenses
Tips and gratuities to drivers, guides and porters

Alcoholic and bottled non-alcoholic beverages

Extra expenses and activities outside the itinerary
13 Weeks Travel offers the most competitive prices for a safari to Kenya. We offer a payment plan to help you plan ahead, pay monthly towards your holiday without extra pressure. Let us make your dreams for a Kenyan African Safari become a reality.
Full board Safari

£2,500pp

Based on 2 people sharing a room
(WITH RETURN FLIGHTS FROM THE UK)
Full board Safari

£3,250pp

Based on 2 people sharing a room
Payment Schedule (Without Flights)
Payment Schedule (with Flights)
Sign-ups will stay open until the trip is full.
If you sign up late we will provide adjusted payment schedules for you to catch up on your monthly payments by June 30th.
The payment towards your trip can be paid out monthly or in full. You can also choose to pay for multiples months at once.
This trip is family-friendly but also open to solo travellers and couples.You will be paired with another solo traveller or a friend if you bring one along.
When a booking is confirmed,  these Terms shall apply.
When 13 Weeks Travel, or an authorised agent acting on 13 Weeks Travel's behalf, have received the applicable deposit from the Client, the client will receive written confirmation from 13 Weeks Travel regarding this book.
The Client confirming the booking must be no less than 18 years of age and agrees to provide full, complete, and accurate information as requested by 13 Weeks Travel to confirm such booking. 
You may cancel your participation in a 13 Weeks Travel Luxury Experience at any time, but please be aware of the following cancellation policy:
It is a commitment to bring these experiences to our guests and, therefore the deposit is non-refundable and ALL payments made towards the balance of your trip are non-refundable 7 days after the payment is made, including late fees, full payments and instalment payments.
The ONLY exception to this policy is if the trip must be cancelled in its entirety for any reason in which case 13 Weeks Travel will notify all parties via email and provide refund instructions.
The Client acknowledges that depending on the nature of the luxury experience booked, or the location(s) in which such luxury experience is to operate, there may be a significant degree of personal risk involved.
The Client acknowledges and agrees that 13 Weeks Travel is not responsible for providing information or guidance to the Client with respect to local customs, weather conditions, specific safety concerns, physical challenges or laws in effect in any locations where luxury experiences are operated.
13 Weeks Travel strongly encourages that Clients locate or make contact with his/her local embassy or consulate in each destination prior to departure on any 13 Weeks Travel luxury experience.
13 Weeks Company reserves the right to cancel your reservation if your Total Payment is not received on or before the payment due date and you will not be eligible for any refunds of any amounts paid (including the deposit). 
All cancellations by you must be in writing and emailed to 13 Weeks Travel at the contact email address specified on the Website (info@13weekstravel.com).
If cancellation takes place prior to the payment due date, any payments made by you will be refunded, except for your non-refundable deposit.
If cancellation takes place after the payment due date, you forfeit the entire amount remitted to 13 Weeks Travel.
How to visit Kenya Safari
What do I need to handle for my Kenya safari?
All payments must be made through the website using any major debit/credit cards and PayPal, you will receive an automated invoice.
Deposits are non-refundable because the accommodation and activities are paid for once your spot is confirmed.
Please note that the deposit is non-refundable and you have up to 7 days after payment is made to request a refund for all payments made towards the remaining balance after the deposit.
13 Weeks Travel is all about planning stress-free luxury experiences, we take the guesswork out of planning and make experiences affordable through our monthly payment plans. For more information get in touch.
You can join us for another epic luxury experience.
Seychelle Experience
Seychelle Experience
Travel Date | 23rd  to 30th October 2021
Duration | 7 nights
Indulgent Escapes 

World Wonders

Private Photographers
Private Transfers
Suitable for families
Egypt Experience
Egypt Experience
Travel Date |  18th to 28th December 2021 
Duration: 10 nights
Indulgent Escapes
World Wonders
Private Photographers
Private Transfers
Suitable for families
Dubai Experience
Dubai Experience
Travel Date | 18th to 28th December 2021
Duration | 7 Nights 
Indulgent Escapes
World Wonders
Private Photographers
Private Transfers
Suitable for families
Do you have questions or queries? Please get in touch.
Savour Your Kenya Africa Safari Holiday Today
© 2022 All rights reserved​
Made with ❤ by 13 Weeks Travel
© 2020 All rights reserved​
Made with ❤ by 13 Weeks Travel