Cambridge is the best kept secret location to reside in. It is truly an international city, rich in history and popular with tourist. It is a beautiful city and I'm proud to call it home. Cambridge is the prefect destination to spend a ladies getaway, a relaxing family weekend away or perhaps a solo traveller's weekend trip.  In this Local's guide to Cambridge, UK,  you will get a detailed guide on how to get to Cambridge, where to stay in Cambridge, what to do in Cambridge and where to get all your Instagram pictures in order to tick off all Cambridge has to offer. 
How to get to Cambridge, UK
Cambridge is located in the East of England approximately 45 minutes on the train from London King's Cross Station and 1 hour 10 minutes from London Victoria Coach station and about the same time if you are travelling with a car from London.
If you are coming on the train from London King's Cross Station, you will have the options of two Cambridge train stations depending on the location of the accommodation you have booked. The two Cambridge train stations are Cambridge railway station located at Station Road Cambridge and Cambridge North railway station located at North Station Road. It is easy to find taxis from either of the train stations to your accommodation. I will suggest stopping at Cambridge Train station because it will be more convenient to walk to the city centre from here.
If you decide to use the National Express Coach from London (Stratford), you will arrive at Cambridge Parkside Bus Station which is a 2 minutes short walk through Parker's Piece to the city centre.
If you are driving to Cambridge, you will notice signs of Park and Ride Stations. It is a good idea to park here because most Park and Ride stations are free, as such, you can park your car, take a Park and Ride Bus to the city centre without worrying about parking charges.
Where to Stay in Cambridge, UK.
Where to stay in Cambridge will be subject to preference and the experiences you wish to get out of your stay.
If you have always wondered what it will look like to be a student at one of Cambridge's 31 Colleges known famously world wide as Cambridge University then, this is your opportunity to book one of Cambridge's University Colleges with University Rooms. University Rooms rents out student accommodation to visitors. The prices here are a bargain. Starting at just about £46 a night for bed and breakfast. There is a choice of Ensuite or rooms with shared bathrooms.  It is a no brainer if you want to inspire your aspiring teenager into walking the footsteps of famous people like Darwin, Newton and Prince Charles.
If budget accommodation is not your thing, then opt to stay at The Varsity
The Varsity is my kind of accommodation. It is contemporary luxury with English quirkiness. It is tucked between two prestigious Cambridge university Colleges – St John's College and Magdalene College right on the bank of River Cam. Book the Spa Escape combination which offers a facial treatment, a message and accommodation for about £500 per night for 2 adults.
If you are looking at a mid range luxury accommodation with easy access to all you want to do in Cambridge, then consider University Arms or Hilton City Centre Cambridge both hotels are unique in their ways and the breakfast on offer at Hilton City Centre is exceptional.
What to do in Cambridge, UK
My top 5 must do things when you are visiting Cambridge are:
Fitzwilliam Museum
Punting
The University Colleges
Great St Mary's Church
Cambridge Market's square
Fitzwilliam Museum
There are tons of museums in Cambridge to educate and inspire people of all ages. It doesn't matter if you like hands – on experience or wanderlust experiences. Cambridge has a museum for you. My pick is the Fitzwilliam Museum. 
The Fitzwilliam Museum building is designed in a neo-classical design style just like a Roman temple with columns and archways. It holds a significant amount of medieval manuscripts, Turner's watercolour paintings, Egyptian carvings, Michelangelo's sculptures and history antiquities from around the world that can be compared to what you might see at the British Museum in London. There is always an exhibition going at Fitzwilliam Museum.
Entry to this museum is free and it opens on Tuesday to Saturday between 10:00am and 5.00pm and on Sundays between 12:00noon and 5.00pm.
Punting
Cambridge water routes made popular by the annual Oxford and Cambridge boat races, is definitely a must do activity on your trip to Cambridge. Although punting is not a boat race,  it is a lovely, relaxing activity that can be done all year round. It simply means exploring Cambridge City waters in a traditional wooden boat called punt. 
To go punting, simply take a taxi or walk to Magdalene street, here you will find the Scudamores, Cambridge's oldest punt hire service.
They run a range of different tours that will take you through the back of several University Colleges on River Cam. You will see the famous Mathematical Bridge, the Bridge of Sighs and Trinity college.
A guided tour costs about £20 per adults or you could punt yourself for £30 per hour.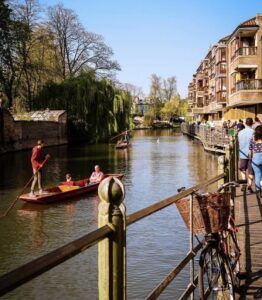 The University Colleges
Cambridge has 31 colleges that make up the University of Cambridge. Each college is unique in its traditions, customs and rites. Most are open to visitors (times vary during exam periods).
The three most popular colleges are
King's College
Trinity
St John's
Although, I love Magdalene and Jesus College as well, they are not as popular.
King's College Cambridge
King's College is the iconic Cambridge University College that you will often find on postcards from Cambridge. It is a beauty to behold, walk around the College grounds and head to King's College Chapel to attend choral service at around 5.30pm, and also to marvel at the world's largest fan vaulted ceiling and huge stained-glass windows.
King's College Chapel opens at 9:30am and closes at 3:45pm for sightseeing.
Trinity College Cambridge
Trinity college library was designed by the brilliant architect Christopher Wren (the architect behind the design of St Paul's Cathedral). The Wren library is home to interesting manuscripts like that of Winnie the Pooh and Isaac Newton's notebook.
St John's College
With its beautiful grounds and iconic Bridge of Sighs, it is definitely a must see place in Cambridge.
Great St Mary Church
Cambridge is home to some beautiful architectural designed churches. Church of St Mary the Great, Cambridge: Popularly known as GSM is one of them, with 123 steps on a spiral stair case that takes you to the top of the church tower for a breath-taking panoramic view over the city and uninterrupted views of the colleges ground.
Cambridge Market Square
Wander around Cambridge like a local and stop at the Market square for all things fresh including fruit smoothies, street food, jewellery and flowers. During the summer, the market square often hosts outdoor film showings which is very popular with both families and groups of friends.
Where to eat in Cambridge, UK
I love eating out so choosing where to eat is quite tricky because there are so many lovely places to eat in Cambridge.
Let's start with The Varsity rooftop bar where you can get stunning sunset pictures and 360 degrees view of Cambridge city.
For stunning views of King's College, head to Cambridge Chop house which serves traditional English food.
If you like quirkiness, then Michaelhouse café will appeal to you. It is housed in a converted medieval church. The menu changes daily and features home made cakes and soup.
For ice cream while you are wandering around Cambridge, head to Jack's Gelato on Bene't street –  the range on offer will surprise you.
For a bit of history inspired dining, head to The Eagle pub on Benet Street where DNA discovery was announced.
For family dining experiences head to Aromi on Bene't street for mouth watering and authentic Sicily food.
If you are around Market square, head to Zizzi with traditional pizza oven and inspiring interiors.
For afternoon tea, Fitzbillies, famous for its sticky Chelsea Buns which is made using original recipe developed in 1922.
Another place for those that love all things quirky is Charlie's Coffee Company located at Burleigh street with walking distance to Parker's Piece. Charlie's Coffee company is very laid back and relaxing.
Local's Guide to Cambridge, UK – Where to get your Instagram worthy pictures
The Eagle –
 The Round Church
 The Corpus Clock
King's College Chapel
 The Bridge of Sighs
Mathematical Bridge